3 reasons why anti-hindu political parties fear K. Annamalai unlike past BJP Tamil Nadu presidents.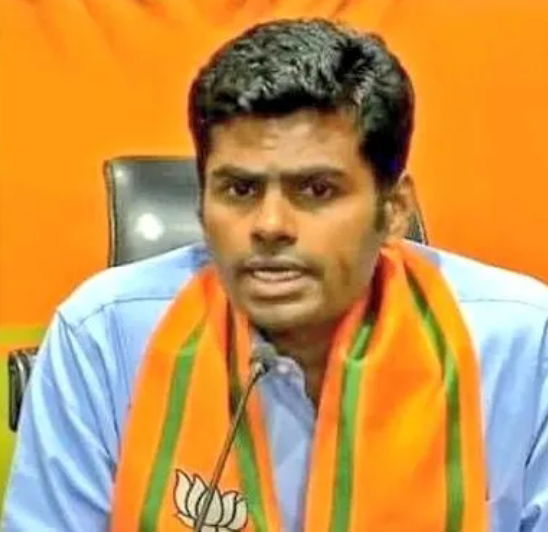 The Recent speech of Nawabzade Rahul Gandhi at the Lok Sabha clearly showed the fear of BJP Tamilnadu President K Annamalai inside anti-hindu political parties in Tamil Nadu.
Rahul Gandhi went up to hit Bhartiya Janata Party that they will never be able to politically conquer Tamil Nadu but the question rises why Rahul Gandhi and other dhumeel political parties are so desperate about the politics of Tamil Nadu. Is this because of the rising stature of K. Annamalai.
A twitter user Ganesh( username – @me_Ganesh14) wrote a brilliant thread on twitter to explain 3 reasons why Dhumeels fear K. Annamalai unlike past BJP TamilNadu presidents.
1) Whenever BJP used to rise a valid issue DMK trolls used discredit issue by calling BJP leader as Parappan(Brahmin) but Annamalai is not Brahmin but OBC so Anti Brahmin card fails here.
2) When Dr Tamilisai and Murugan were BJP Tamil Nadu presidents Dhumeels tried to Trivialize them with cheap memes via SM Troll brigade. Tried to paint them illiterate. Point to note Tamilisai Soundararajan is a MBBS degree holder & L Murugan is PHD holder. Both have educational qualifications way above MK Stalin & his son Udhay Stalin who are just some small "Graduate". Whereas it's well know that K. Annamalai is ex IPS officer who know in and out about law & police so none of cheap memes troll brigade of DMK fails here too.
3) K.Annamalai is fire brand leader & no-nonsense leader unlike couple of past BJP TN leaders who were motormouth. He don't give even a inch of content to biased Tamil media. Never lose temper & his control over language is absolute so gives back to media way they deserve.All these make K.Annamalai an ideal leader & he is emerging as biggest opposition leader in state & becoming big head ache to Stalin govt. His popularity is in rise and clearly panic button has been pressed. So all these "I am Tamil" nonsense coming from Rahul Gandhi
K. Annamalai is one of leader to watch out. He may become a big leader in whole of South soon. He has time with his side too. He can also get ample support in Karnataka where his stint as IPS officer has made him cult figure as Singham. By 2031 you can hear "Annamalai Kuppusami ennum naan sattapadi amaikpatra Bharat araisil unmeyana nambikeyum.." live on New channels. When BJP form govt in Tamil Nadu it will rule for very long time. Tamils have started to embrace BJP Puducherry is just a beginning of it.
DISCLAIMER: The author is solely responsible for the views expressed in this article. The author carries the responsibility for citing and/or licensing of images utilized within the text.