AAP's Nikita Jacob Illegally 'Arranges' Foreign Celebrity Campaign Against Indian Farm Laws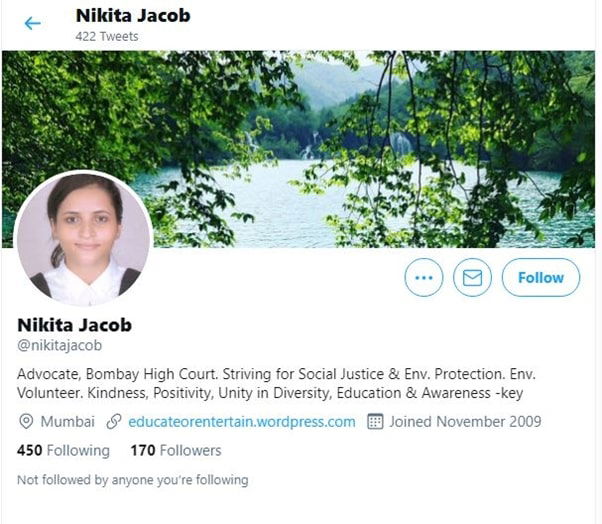 Aam Aadmi Patry's Advocate Nikita Jacob has been found arranging campaigns by foreign celebrities against the new Farm Laws passed with due deliberation by both houses of the Indian Parliament.
It was surprising to see Porn Stars like Miya Khalifa, weed snorting Rihanna and political starlets like niece of Kamala Harris were seen tweeting their support to the violent farmers protest paralyzing normal life in Delhi-Singhu border for the past more than 70 days.
Then we had yesterday, Greta Thunberg tweeting literally the global manifesto to derail and decapacitate the government of India, headed by PM Narendra Modi by a concerted plan to put global illegal pressure to withdraw the visionary reforms in the farm sector which would invigorate India's economy and help the small and marginal farmers double their current income.
The Aam Aadmi Party which from its avatar as an anti-corruption movement called, India Against Corruption under the leadership of Arvind Kejriwal, who was then a Revenue Service Officer took huge amount of funds from nefarious organisations like the Ford Foundation, which is backed by the Church and American Deep State, ran a campaign though ostensibly was against corruption but it aimed to have a puppet like Arvind Kejriwal take over the reigns of the country by overthrowing Manmohan Singh's government weakened by corruption.
Arvind Kejriwal also allegedly was hugely supported by the funds from Khalistanis in Canada, who are propped up by ISI funds and aid, to take over the reigns of the country from a weak Manmohan Singh.
The idea of Ford Foundation, CIA, Pakistani ISI, perhaps even the Chinese was that since it was a given that Congress would be defeated in the 2014 General Elections and BJP would be victorious by default as the opposition party and it was sensed by these global mafia that BJP's candidate could be Narendra Modi, which would make India have a very strong and well assured leader not pliant to these forces.
So, the Ford Foundation, Christian missionary, Pakistani ISI, Khalistani and leftist cabal propped up Arvind Kejriwal as the challenger to Narendra Modi. But to their utter disappointment, BJP won a historic election with full majority on its own and Kejriwal who was slated as a challenge to Modi bit dust and lost even his deposit when he was pitted against Modi in Varanasi constituency.
Modi came back in 2019 with even greater majority and started taking path breaking decisions like neutralizing Art. 370 to integrate Kashmir with India, enacting the CAA to help minorities in Pakistan, Bangladesh and Afghanistan to get Indian citizenship and enact the visionary new Farm Laws.
These moves by the Modi government would accelerate and strengthen India's growth so the jihadis-leftists- Christian missionary cabal hatched a plan to highjack democracy and ensure mob-rule by proxy by absuing the democratic right to protest and freedom of expression.
Hence, for the past 1.5 years we can see many fake protests, well planned, funded and mobilised for months together putting governance to disarray.
It is therefore not surprising to know that AAP's advocate who practices in Bombay High Court, Nikita Jacob under the garb of social activism for social justice and environmental protection is garnering foreign celebrities to condemn the Modi government as an autocratic, oppressive government and getting support for the unruly, riotous farmers' protest.
Perhaps, Nikita Jacob also enlisted support of Porn Star Miya Khalifa, weed snorting Rihanna and teenage global environmental terrorist Greta Thunberg by offering them suitable compensation for lending their name to the nefarious farmers' protest which is enforcing mob-rule on the majority peace loving citizens of India by undermining laws duly passed by both the Houses Of the Parliament Of India.
The Legal Rights Observatory has therefore, registered its complaint to the Delhi Police against Aam Aadmi Party's leader, a controversial Bombay High Court lawyer for arranging campaign by foreign celebrities against the new Farm Laws duly passed by the Parliament of India.
DISCLAIMER: The author is solely responsible for the views expressed in this article. The author carries the responsibility for citing and/or licensing of images utilized within the text.