After massive international pressure, Sri Lanka now backpedaling on announcement to ban burqa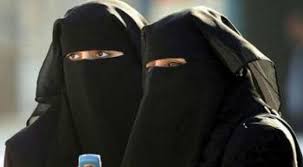 Sri Lanka is backpedaling on its decision to ban the burqa, after announcing definite plans to do so. After the deadly 2019 Easter bombing, Sri Lanka banned the burqa, but the issue is back on the table now: somewhere in between now and then, the burqa evidently returned. And the latest announced ban may never go into effect. Now the government says "it would take time to consider a proposed ban on the wearing of burqas."
Apparently (as is the case everywhere), memories run short when it comes to jihad terror, while appeasement continues to appear in the face of jihad brutality and bullying. The Easter jihad massacre in Sri Lanka in 2019 saw at least 250 murdered, but seems to have been been forgotten. Not long before the suicide bombings, many Tamil Christians and Hindus in the country were being ordered by Muslims to convert to Islam or leave the villages where their families lived for generations. Following the bombings, Sri Lanka immediately expelled 600 foreign nationals, including 200 Islamic clerics, and banned the burqa. So what happened between then and now is a mystery, since the original ban was never announced as temporary. As reported by Jihad Watch right after the bombing:
While Sri Lanka was still in a state of shock following the deadly Easter Sunday jihad bombings, the country looked like it was doomed in the midst of a sudden, deadly jihadist onslaught. Churches were shut down while the country deployed thousands of security forces to protect mosques. This disappointing news followed earlier dispiriting news that "Indian intelligence officials had warned their Sri Lankan counterparts of the attack just hours before the first bomb was detonated, but the Sri Lankans failed to act." To add to the blow, its own archbishop Malcolm Ranjith met with Muslim envoys from jihad sponsoring states who assured him that the jihad bombings had "no connection to Islam," and he shamefully and shamelessly believed them.

But then appeared a sudden ray of hope: Sri Lanka banned the burqa on security grounds, and ignored the reactive outrage of Muslim leaders. Hilmy Ahmed, vice-president of the All Ceylon Jamiyyathul Ulema organisation, which represents Muslim clerics, in the face of the ban, accused Sri Lanka of "interfering with the religion without consulting the religious leadership". Then, in a followup sweep, Sri Lankan authorities raided the headquarters of jihadist group National Thawheed Jammath–suspected of involvement in the Easter bombings, and discovered the existence of another suspected jihadist group. The two groups called for a jihadist "war against non-Muslims."
It appears that pressure from Muslim leaders and their water-carriers led to a lifting of the original ban, unannounced; now Sri Lankan officials are waffling again. This is likely because some activists have been denouncing the burqa ban as "racist." Once again, Islam is not a race. The burqa is a symbol of oppression of women, and their inferiority in Islam:
(Quran 24:31) And tell the believing women to reduce of their vision and guard their private parts and not expose their adornment except that which appears thereof and to wrap [a portion of] their headcovers over their chests and not expose their adornment except to their husbands, their fathers, their husbands' fathers, their sons, their husbands' sons, their brothers, their brothers' sons, their sisters' sons, their women, that which their right hands possess, or those male attendants having no physical desire, or children who are not yet aware of the private aspects of women. And let them not stamp their feet to make known what they conceal of their adornment. And turn to Allah in repentance, all of you, O believers, that you might succeed.
If a woman does not cover, she can be abused:
(Quran 33:59) O Prophet, tell your wives and your daughters and the women of the believers to bring down over themselves of their outer garments. That is more suitable that they will be known and not be abused.
Meanwhile, jihad terror is still alive and thriving in Sri Lanka. Recently, a Qatari charity funded Hizballah to advanced jihad terror activities there. Remember, Hizballah is an Iranian proxy.
The burqa has been banned in China, Tajikistan, Morocco, Latvia, Cameroon, Congo-Brazzaville, Gabon, Chad, Austria, Denmark, Belgium, Netherlands, Bulgaria, and France. Algeria banned the burqa in the public sector last year. In Chad, two Boko Haram jihad suicide bomb attacks killed 23 people in 2015, which led to the country's Prime Minister Kalzeube Pahimi Deubet condemning the use of the burqa as "camouflage," and ruling that all burqas on sale in markets must be burned.
Sri Lanka also seeks to shut down 1000 Islamic schools over national security concerns. That may not happen, either.
"Sri Lanka says it 'requires time' to consider proposed burqa ban," Al Jazeera, March 16, 2021:
Sri Lanka's government says it would take time to consider a proposed ban on the wearing of burqas, which a top security official called a sign of "religious extremism".

Sri Lanka's minister of public security, Sarath Weerasekara, last week said he was seeking cabinet approval to ban burqas – a garment worn by some Muslim women covering the body and face – a move he said would have a direct impact on national security.

However, government spokesman Keheliya Rambukwella on Tuesday said a ban was a serious decision requiring consultation and consensus.

"It will be done in consultation. So, it requires time," he said without elaborating at the weekly media briefing held to announce the cabinet decisions.

Earlier, a Pakistani diplomat and a United Nations expert expressed concern about the possible ban, with Pakistani Ambassador Saad Khattak saying a ban would only injure the feelings of Muslims.

Khattak tweeted on Monday that the ban would "only serve as injury to the feelings of ordinary Sri Lankan Muslims and Muslims across the globe".

The UN special rapporteur on freedom of religion or belief, Ahmed Shaheed, tweeted that a ban was "incompatible with international law" and the rights of free religious expression.

The wearing of burqas in Sri Lanka was temporarily banned in 2019 soon after the Easter Sunday bomb attacks on churches and hotels that killed more than 260 people in the Indian Ocean island nation….
Article: https://www.jihadwatch.org/2021/03/after-massive-international-pressure-sri-lanka-now-backpedaling-on-announcement-to-ban-burqa
DISCLAIMER: The author is solely responsible for the views expressed in this article. The author carries the responsibility for citing and/or licensing of images utilized within the text.