Anti-Coversion Activist Bawi Singh Harassed, Illegally Detained & Kept Away From Her Infant Children By Congress Gehlot Govt's Jaipur Police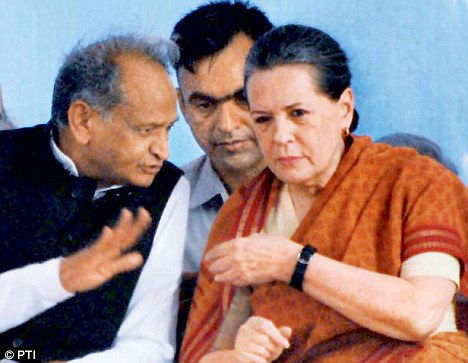 Bawi Singh, an anti-conversion activist and an admin for the online portal No Conversion's Telegram and WhatsApp group has been facing severe harassment by the Jaipur Police under Congress CM Ashok Gehlot's government.
Bawi Singh and a dozen other activists are being tortured and harassed for standing up against illegal conversions of vulnerable Hindus by the Christian missionaries and raising awareness about their nefarious conversion business under the guise of providing service for the poor.
Bawi Singh tweeted about her ordeal from her Twitter handle @BawiSingh that she has been detained illegally by the Jaipur Police in Mumbai for hours together for the past few days. She stated that it has been a harrowing experience for her as she has to leave her very young kids all alone while she is being questioned for long hours just because she is the admin for the No Conversion Telegram Group.
The Congress government's dictatorial attitude of only allowing freedom of expression and liberty to people who are slavish towards the Nehru family is well known right from the times of Nehru, it became very evident during Indira Gandhi regime by the imposition of National Emergency to crush growing unpopularity and political opponents.
Bawi Singh is Mumbai based anti-conversion activist and her Twitter bio says that she is a Zoroastrian married to a Hindu. Bawi Singh also has a very popular YouTube channel called SaffronPride with more than 15000 subscribers. Her YouTube videos majorly inform about ancient Vedic science, art, culture, temple architecture and great Indian scientists of yore.
Bawi Singh does not own No Conversion. She supports the efforts of No Conversion to raise awareness about predatory Abrahamic conversion mafia as a means to stop conversions of Hindus in India by exposing the various deceptive methods used by the Christian missionaries with foreign funds and tagging them to law enforcement agencies to curb conversions.
Bawi Singh's problems started when a tweet by No Conversion showed a JIS image of Sonia Gandhi which was controversially morphed. Bawi Singh states she never shared the controversial tweet nor did she like it or Retweet it. She is being repeatedly troubled by the Jaipur Police in Mumbai by subjecting her very long hours of interrogation and letting her not move out to even meet her very young children who need a mother's care.
The Jaipur Police is also pressurising her by threatening to take her to Jaipur, all this is happening while she has not been served any legal notice or warrant by the Police for the need for interrogation.
Bawi Singh also states that her YouTube channel has been targeted by leftists as it started gaining popularity for its intellectual content contesting the distorted version of Vedic period propagated by the communist distorians passing off as historians.
Bawi Singh is totally dismayed due to the harassment and says that being a proud Hindu and supporting anti-conversion initiatives is a crime in India as one gets targeted for just defending one's faith.
The Legal Rights Observatory (LRO) is a NGO which exposes routinely foreign funds being used by front shops of Christian missionaries for illegal conversion activities in gross violation of the FCRA provisions and rules. The LRO has come forward to help Bawi Singh register a complaint under the Juvenile Justice Act against Jaipur Police Cyber cell, DCP and others for harassment by them and keeping the young infant children of anti-conversion activists from not meeting them for hours together. The LRO tweeted of filing the complaint under JJ Act against Jaipur Police on June 23rd.
On June 25th Bawi Singh tweeted that she has filed a complaint with the National Commission of Women, Chief Rekha Sharma against her Jaipur Police for illegally taking her to police station and keeping her detained for hours together leaving her young children all alone at home. She stated in her complaint that the harassment by the Jaipur Police was baseless and is a punishment for supporting spreading awareness against conversions.
On 26th June the NCPCR, the national child rights body chief, Priyank Kanoongo reportedly took cognisance of the harassment meted out to Bawi Singh and her children. The NCPCR chief issued a notice to the Rajasthan government and Rajasthan Police for gross violation of child rights and safety in the Bawi Singh matter.
The NCPCR Chief wrote a scathing letter stating that the commission received complaint from anti-conversion activist Bawi Singh against her illegal apprehension by the officers of the Crime Branch, Maan Singh Rathod and Sanjay Chaudhary under the direction of Jaipur Crime Branch DCP Satyapal Yadav.
The NCPCR Chief has reportedly asked the Rajasthan DGP to enquire into the harassment suffered by activist Bawi Singh and her young children due to the illegal actions of Jaipur Police and file a report within 3days with the NCPCR.
Notably, the Ashok Gehlot's Congress government in Rajasthan had earlier made it mandatory for all the state government employees and sportspersons desirous of getting state sponsorship to not be associated with the RSS, while they could very well be associated with any Maoist front NGOs or Islamist institutions or Christian evangelist organisations.
The Congress supported government in Maharashtra continues to harass anyone who has a contrarian opinion from the Sonia family, senior journalist Arnab Goswami harassment by the Maharashtra government began the day he questioned Sonia Gandhi's silence over the Palghar Sadhus' brutal lynching. Even common citizens who criticized the Maharashtra Govt on social media platforms were targeted with arrests and physical bullying by political goondas.
In this background it is evident that Bawi Singh is facing mental and physical harassment from Congress' Rajasthan government due to her steadfast commitment to curb fraudulent conversions of vulnerable Hindus by the Christian missionaries as the Congress party and its leaderships close ties with missionaries is well known.
DISCLAIMER: The author is solely responsible for the views expressed in this article. The author carries the responsibility for citing and/or licensing of images utilized within the text.