Apology letter or a letter of self praise ?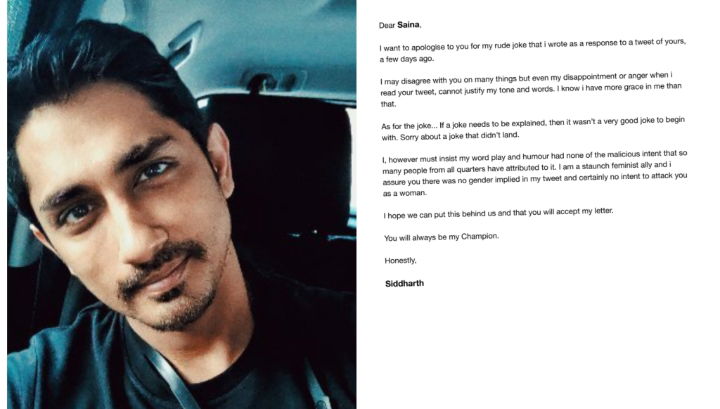 Few days back , a long forgotten actor, Siddharth resorted to sexual slurs against Bharat's pride, Saina Nehwal to grab limelight because of which the actor had to face the wrath of neitzens.
Now the actor has come up with an apology letter where he writes a letter to Saina Nehwal apologizing for the tweet he made. But the apology letter seemed more like a "letter of self praise". Siddharth in his letter wrote "Dear Saina I want to apologize for my rude joke that I wrote as a response to a tweet of yours a few days ago. I may disagree with you on many things but even my disappointment or anger when I read your tweet can not justify my tone and words. I know I have more grace in me than that. As for the joke …if a joke needs to be explained then it wasn't a good joke to begin with. Sorry about a joke that didn't land. I however insist my word play and humour had none of the malicious intent that so many people from all quarters had attributed to it. I am a staunch feminist Ally and I can assure you that there was no gender implied in my tweet and certainly no intend to attack you as a woman. I hope we can put this behind us and that you will accept my letter. You will always be my Champion. Honesty."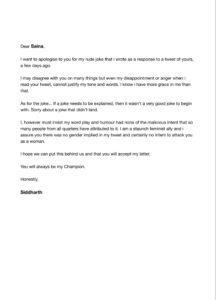 But the apology letter seemed more like a "letter of self praise". Every single time in his letter he referred to his pathetic tweet as a an innocent joke and indirectly pinned the blame on the neitzens of not getting the joke in the right sence. He also referred himself as a "Staunch feminist Ally" but the many a times his tweets suggests the other way round. Moreover he offered no apology to Times Now journalist Navika Kumar for a tweet which was more pathetic. Siddharth is a repeated offender, this was not the first time he resorted to sexual slurs for women.
DISCLAIMER: The author is solely responsible for the views expressed in this article. The author carries the responsibility for citing and/or licensing of images utilized within the text.