Are Khalistanis planning for exodus of Hindus from Punjab?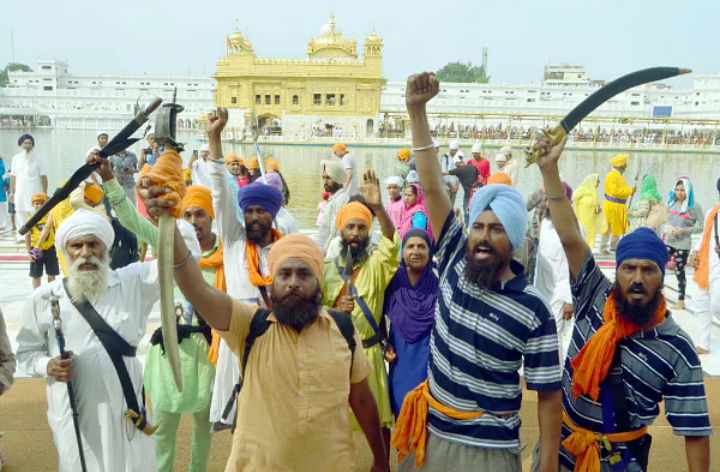 We normalised eulogizing of Jarnail Singh Bhindranwale. We normalised calling Bhindranwale a 'Saint'. We normalised songs that had enmity filed against the Indian State. We normalised Khalistani sympathizers like Siddhu Moosewala just because we liked his songs. We normalised separatist views in the name of free speech. And now suffer the ramifications !!!
After the threats given by Gopal Singh Chawla, a Khalistani leader hidden in Pakistan, Ludhiana police have restricted Hindu leaders Amit Arora, Yogesh Bakhshi and national joint coordinator of All India Congress Committee (Kisan Congress) Gursimran Singh Mand from stepping out from their houses and increased security outside their respective residences. These Hindu leaders were also not allowed to travel to Amritsar where Shiv Sena Taksali President and popular Hindu leader Sudhir Suri was brutally murdered in broad daylight in front of police officials. The present state of Hindus in Punjab suggests that Khalistanis are planning the exodus of Hindus from Punjab. Hindus are the greatest obstacle in the path of creation of Khalistan and therefore Khalistani sympathizers are trying their best to remove the obstacle from their path.
There is no place safe for Hindus. Be it Bharat or any foreign country. Even Bharat, which is a civilizational homeland of Hindus is unfortunately not a safe place for Hindus to live. More and more states of India are getting added to the list of states which can be considered hell for Hindus. In a span of 20 years, Kerala, and Westbengal got added to the list and the newcomer which is joining is the state of 'Punjab'.
On the 5th of November Sudhir Suri, a Hindu leader in Punjab, was shot dead on a busy street in Amritsar while there were over a dozen cops around him. He was the leader of Shiv Sena Taksali and used to raise his voice for Hindus. The Hindu leader was shot dead in a busy market area of the city, where he had sat on a dharna outside the local Gopal Mandir on Majitha Road where he was protesting against the desecration of Hindu Gods idols by the temple management. The attack was recorded in the camera. The arrested attacker has been identified as Sandeep Singh, alias Sunny, who pumped multiple bullets into Suri using his licensed weapon. He was in the crowd that surrounded Suri and fellow protesters, when he shot the leader and ran into a nearby house for cover. Amritsar Police Commissioner Arun Pal Singh said the Sikh youth was arrested from this house. On social media platforms, some Sikhs who are Khalistan sympathizers could be seen celebrating the death of a Hindu.
The separatist sentiment is spreading very fast into the cities and villages of Punjab. Political parties have successfully managed to awaken the Khalistani sentiments which went down into deep slumber after Operation Bluestar. The view of the social and political changes in Punjab is frightening. Punjab is slipping from our hands. "Sant Jarnail Singh Bhindranwale" comes more into the ears than "Terrorist Jarnail Singh Bhindranwale" if you are walking into the unwashed streets of Punjab. There is a need to hammer and crush the glorification and eulogizing of each and every idea associated with the creation of Khalistan.
DISCLAIMER: The author is solely responsible for the views expressed in this article. The author carries the responsibility for citing and/or licensing of images utilized within the text.