Are Muslims really unsafe Under the Modi Government?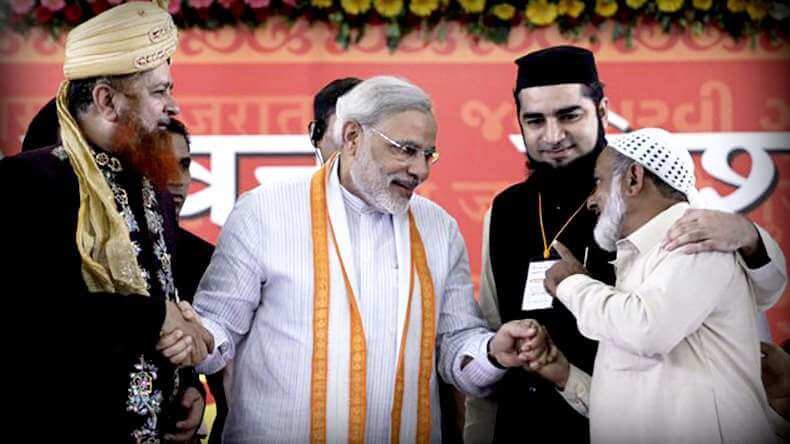 Are Muslims really unsafe Under the Modi Government?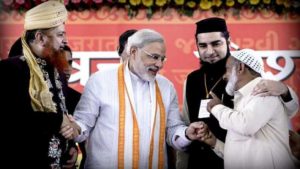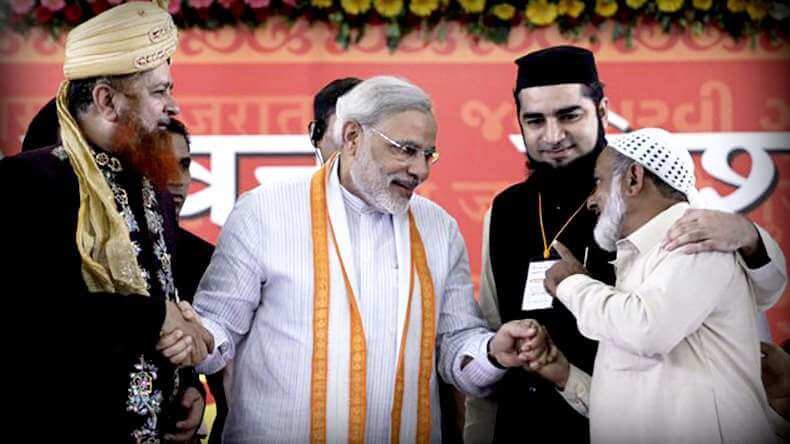 The Indian constitution is a perfect document that binds the social fabric of India. In India, the majority population has been Hindus, followed by Muslims. Right from the freedom struggle till today, the politicization of Hindus and Muslims has been done. It is effortless for politicians to play with people's emotions, especially when religion comes into play. When Mohammad Ali Jinnah contested the election for the first time with the narrative "Muslims are unsafe in India," he lost the election. Still, when he changed the narrative to "Islam is in danger in India," he won! Therefore, when it comes to religion in politics, minorities attract a lot of attention from the political parties. Whenever the mainstream media uses the word "minority," the most accepted notion is that the thing is about Muslims. The Constitution of India doesn't define the term "Minority" clearly.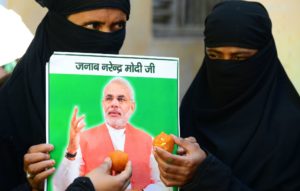 Without a proper definition, India has accepted Muslims as a national minority. For the last seven years, this national minority has been shown by the mainstream media as they are in danger. It is just because India is now ruled by a political party that has the majority of Hindus and has been quite vocal about the rights of Hindus in India. The fear-mongering is so much that every Muslim incident is tied with the BJP and RSS. This article will try to answer a bigger question, "Are Muslims Unsafe Under Modi Government?". The question is quite essential to be answered because it's not only about Modi, but about Hindus in general. Today Narendra Modi is PM, next time; he might not be! But in the name of targeting a politician, the media and opposition have resorted to blaming Hindus worldwide. 
The Reality of Lynchings of India
Killing a person, and that too in the name of religion will always be the worst crime ever. The word "mob-lynching" has gained more significance after the 2014 era. There have been multiple communal riots and mob-lynchings in India pre-2014, but how the media house gives a communal angle to every crime is horrible. The word "mob-lynching" has been tied to just Muslim Community. The process of making the environment anti-BJP starts when media houses and politicians attack the government on this issue by cherry-picking the cases related to Muslims only. So, let us dive deep into the analysis of mob-lynching incidents that have happened in the past, the data related to this, and finally, the truth!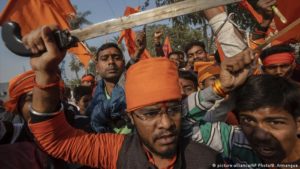 In 2017, a website IndiaSpend published a report saying that 97% of cow vigilantes since 2009 struck during the Modi regime. Even till today, the NCRB doesn't maintain separate data for mob-lynchings. After this report was published, every Indian and international media house published dozens of blogs on the same issue. Politicians used it for framing their narratives. Just for a minute, let's look at how IndiaSpend collected this data and made a dataset. 
Just through Google searches, they collected the data. Data is collected not through police records but through Google searches, and they call it data journalism! The most surprising thing is that after people exposed them to their faulty data collection method, they deleted the entire research! But did other media platforms and politicians delete their blogs and tweets? No, they are still on the internet tarnishing the image of BJP, Hindus, and RSS. 
The results of the 2019 general elections were quite shocking for leftists and the opposition. Opposition (the so-called MahaGathbandhan) was expecting people to vote for them after successfully running multiple anti-BJP and fake news campaigns. But they failed, and just after the elections, the opposition and leftist media grabbed the world's attention towards the "Jai Shree Ram" slogan. Every day an incident came out where a Muslim was shown to be lynched by Hindu fanatics by chanting "Jai Shree Ram." Let's again focus on the reality of these cases. 
Incident 1: Asif Khan Murder case: On 17th May 2021 almost every media portal wrote an article "Muslim man lynched to death in Haryana by Hindu groups by chanting "Jai Shree Ram".
Mulsim Man Lynched to Death in Haryana
Asif Khan lynched to death by Hindutva extremists in Haryana
Haryana: Several Mahapanchayats Held to Support Those Arrested for 'Lynching' Muslim Man
Reality: After an investigation by Haryana police, it was found out that this was a case of personal rivalry and there was no evidence of chanting of "Jai Shree Ram". 
Incident 2: An incident occured in Bhainsa, Telangana where it was blamed that Hindu groups wrote "Jai Shree Ram " on the walls of a mosque. Communal tensions started rising immediately and again the media reported the incident, the way they have been doing it since ages. After investigation, through CCTV footage, it was found that it was none other than Mulsim youth who carried out this whole task. 
Conspiracy for riot, Muslim youths wrote 'Jai Shree Ram' at mosque then complaint in police
Incident 3: On September 8, 2020, a fake news was paddled by the media that a Muslim cab driver, Aftab Alam, was lynched by Hindu mob and he was forced to chant "Jai Shree Ram". 
Reality: The cab driver was not lynched by a Mob. A scuffle took place between the driver and passengers in his car which led to his death. 
Incident 4: On July 5, 2019, an auto driver in Kanpur named Aatib was beaten by some people. The media tried to give a communal angle by claiming that he was dragged to a public toilet and forced to chant "Jai Shree Ram".
Auto driver beaten up, locked over 'Jai Shri Ram' chant in Kanpur
Reality:  Later through police investigation Aatib himself refuted the claims of such a thing. The driver was beaten due to a heated argument when people refused to pay him the fare. 
कानपुर में 'जय श्रीराम' न बोलने पर पीटने की कहानी गुरुग्राम की तरह झूठी साबित हुई
Incident 5: On June 2, 2019, the whole twitter was discussing how a Mulsim man from Karimnagar, Telangana was beaten by BJP/RSS workers for not chanting "Jai Shree Ram ".
Reality: Later through police investigation, it came to light that the Muslim person was beaten over a "love story". He was harassing a teenage girl and the family of the girl had a scuffle with the Muslim boy. Later the boy's father also apologized for his son's actions and refuted the communal angle. 
Muslim Man Beaten For Not Chanting 'Jai Shree Ram' Found to be a Fake News. Here is What Happened
And there are hundreds of such incidents, which can be quoted as an example where the communal angle was given to murders and personal rivalries. So, does this mean that mob-lynching doesn't happen? No, it does happen, but the way an environment is created in India, which is anti-Hindus, anti-BJP/RSS, is wrong. Extremist groups do lynchings from both sides, Hindus, and Muslims. In recent times, the lynchings of Bajrang Dal activists, the lynchings during Delhi Anti-CAA riots, and the Karnataka Hijab Ban row can not be ignored. Therefore, we as citizens should try to maintain peace and harmony and not get away with our emotions when such incidents come to light, especially on social media. 
What has BJP done for Muslims?
A question was asked to the Minister of Minority Affairs, Mukhtar Abbas Naqvi in Lok Sabha on 05/08/2021 regarding the implementation status of the Sachar Committee report. Following schemes have been implemented till now: 
During the last 7 years, achievements made under the major Schemes of the Ministry are given as under:
More than 4.52 crore beneficiaries have been provided different scholarships through the National Scholarship Portal (NSP) and Direct Benefit Transfer (DBT) out of which more than 53% beneficiaries are female.
69,544 candidates have been benefited under the Naya Savera scheme and approx. 3.92 lakh persons have been benefited under employment oriented scheme 'Seekho aur Kamao'.
Under the USTTAD Scheme, the Ministry has organized 28 "Hunar Haats" in which more than 5.5 lakhs artisans and people associated with them have been provided employment and employment opportunities, out of which more than 50% beneficiaries are women.
Under the "Pradhan Mantri Jan Vikas Karyakram" (PMJVK) more than 43 thousand basic infrastructure projects have been created such as schools, colleges, hostels, community centers, common service centers, ITIs, Polytechnics, Girls Hostels, Sadbhavana Mandap, Hunar Hub etc in backward Minority concentrated areas across the country.

The Ministry of Minority Affairs implements programmes/ schemes for socio-economic and educational empowerment of the six (6) centrally notified minority communities. These communities are notified under Section 2 (c) of National Commission for Minorities (NCM) Act, 1992. The Jain Community has been included as the sixth minority community vide notification dated 27th January, 2014.

Educational Empowerment
Scholarship Schemes- Pre-Matric Scholarship, Post-Matric Scholarship and Merit-cum-Means based Scholarship.

During the last 7 years, more than 4.52 crore beneficiaries have been provided different scholarships through the National Scholarship Portal (NSP) and Direct Benefit Transfer (DBT) out of which more than 53% beneficiaries are female.

Maulana Azad National Fellowship Scheme, provides financial assistance to students from notified minority communities and whose annual income is below Rs. 6.0 lakh per annum from all sources, to pursue higher education such as M.Phil and Ph.D.

In addition, the Maulana Azad Education Foundation implements the scheme viz. Begum Hazrat Mahal National Scholarship for meritorious girls belonging to notified minority  communities studying in Classes IX to XII.

Naya Savera – Free Coaching and Allied Scheme which aims to enhance skills and knowledge of students and candidates from notified minorities to get employment in Government Sector/ Public Sector Undertaking, jobs in private sector, and admission in reputed institutions in technical and professional courses at under-graduate and postgraduate levels. During the last seven years about 69,500 candidates have benefitted from the coaching scheme of this Ministry.

Nai Udaan – Support for notified minority community students, on clearing Prelims conducted by Union Public Service Commission (UPSC), State Public Service Commission (PSC) Staff Selection Commission (SSC) etc.
Seekho aur Kamao (Learn & Earn): It is a skill development initiative for minorities and aims

to upgrade the skills of minority youth in various modern/traditional skills depending upon their qualification, present economic trends and market potential, which can earn them employment or make them suitably skilled to go for self-employment

.

Since, 2014-15 approx. 3.92 lakh persons have benefited from this employment-oriented program.

A mission has been launched by the Ministry of Minority Affairs under "Upgrading the Skill and Training in Traditional Arts/Crafts for Development (USTTAD)" scheme to give an effective platform to minority artisans and culinary experts from across the country to showcase and market their finest handicraft and exquisitely crafted products through "Hunar Haats" organized by the Ministry. The Ministry has engaged institutions of national repute namely, National Institute of Fashion Technology (NIFT), National Institute of Design (NID) and Indian Institute of Packaging (IIP) to work in various craft clusters for design intervention, product range development, packaging, exhibitions and brand building etc. So far,

the Ministry has organized 28 "Hunar Haats" in which more than 5.5 lakhs artisans and people associated with them have been provided employment and employment opportunities, out of which more than 50% beneficiaries are women.

Nai Manzil – A scheme to provide education and skill training to the youth from minority communities.

Gharib Nawaz Employment Training Programme provides short-term job oriented skill development courses to youths belonging to minority communities.

National Minorities Development Finance Corporation (NMDFC) Loan Schemes provide concessional loans for self-employment and income generating activities for the socio-economic development of the 'backward sections' amongst the notified minorities.
The Scheme for providing Education to Madrasas/Minorities (SPEMM), which comprises two previously existing schemes namely, Scheme for Providing Quality Education in Madrasas (SPQEM) and Infrastructural Development in Minority Institutions (IDMI) has been transferred from the Department of School Education & Literacy, Ministry of Education to this Ministry with effect from 1st April 2021. The objective of SPQEM is to encourage traditional institutions like Madrasas and Maktabs by giving financial assistance to engage teachers to teach Science, Mathematics, Social Studies, Hindi, and English in their curriculum so that academic proficiency for classes I-XII is attainable for children studying in these institutions. The process of modernization of traditional Madrasas and Maktabs is voluntary. The objectives of IDMI are to facilitate the education of minorities by augmenting and strengthening school infrastructure in Minority Institutions (elementary/ secondary/ senior secondary schools) in order to expand facilities for formal education to children of minority communities.
With the launch of the National Scholarship Portal (NSP) in 2015-16 and the revamped version of NSP 2.0 in 2016-17, the three Scholarship Schemes for minorities are being implemented through Direct Benefit Transfer (DBT) Mode. The NSP with its features of sanity check avoiding deduplication, thereby resulting in the elimination of middlemen, ghost beneficiaries, etc. Thus, during 2016-17 to 2020-21, a total of 9,35,977 fake and ineligible applicants were identified and removed from NSP. The community-wise and State/UT-wise data are not maintained. 
SI
Name of Scheme
2018-19 to 2020-21
Budget Allocation
Actual Expenditure
1
Contribution to equity of NMDFC
435.03 
435
2
Grants-in-aid to Maulana Azad Education Foundation.
293.76
144.42
3
Research /studies, monitoring & evaluation of development schemes for Minorities including publicity
130.00
89.50 
4
Merit cum means Scholarship
1163.51
943.14
5
Free Coaching & Allied Scheme  for minorities
139.00
77.02
6
Grants in aid to State Channelizing Agencies (SCA) engaged for implementation in the NMDFC programme.
5.00
4.90
7
Pradhan Mantri Jan Vikas Karyakaram(Earlier MsDP)
3880.23
3946.29
8
Pre-matric scholarship
3798.82
3826.59
9
Post matric scholarship
1517.66
1296.48
10
Secretariat
70.40
74.40
| | | | |
| --- | --- | --- | --- |
| 11 | Maulana Azad National Fellowship for minority  students | 383.00 | 271.35 |
| 12 | Qaumi Wakf Boards taraqquiti Scheme. | 40.94 | 23.82 |
| 13 | Sahari Waqf Sampati Vikas Yojana(Earlier GIA to Waqf) | 9.32 | 9.32 |
| 14 | Scheme for Leadership Development of Minority Women. | 33.00 | 26.93 |
| 15 | Interest subsidy on educational loan for overseas studies for students belonging to minority communities. | 92.00 | 79.62 |
| 16 | Scheme for containing population decline of small minority communities. | 12.00 | 11.86 |
| 17 | Skill Development Initiative | 690.00 | 541.28 |
| 18 | Support for students clearing Prelims conducted by UPSC, SSC, State Public  Services Commissions etc. | 26.00 | 18.88 |
| 19 | Upgrading Skill and Training in Traditional Arts /Crafts for Development (USTTAD) | 170.00 | 142.48 |
| 20 | Hamari Dharohar | 14.20 | 6.89 |
| 21 | Nai Manzil | 180.00 | 188.01 |
| 22 | National Commission for Minorities | 28.51 | 25.26 |
| 23 | Special officer for Linguistic Minorities | 6.33 | 5.41 |
| 24 | Haj Management | 186.29 | 167.86 |
As per the 2011 census, the percentages of six notified minority communities out of the total Minority population is Buddhists-3.61%, Christians-11.9%, Jains-1.9%, Muslims-73.66%, Parsis-0.02 and Sikhs-8.91. The Ministry maintains data of community wise beneficiaries only for the scholarship schemes.  The ratio of beneficiaries in the scholarship schemes among the minority communities during the last three years is Muslims 75.58%, Christians 12.15%, Sikhs 8.19%, Buddhists 2.80%, Jains 1.27% and Parsis 0.01%.
| | | |
| --- | --- | --- |
| S. No | Scheme | Funds Released |
| 1 | Pre-Matric Scholarship Scheme | 3826.57 Cr |
| 2 | Post Matric Scholarship Scheme | 1296.47 Cr |
| 3 | Merit-cum-Means based Scholarship Scheme | 943.14 Cr |
| 4 | Maulana Azad National Fellowship Scheme | 271.35 Cr |
| 5 | Padho Pardesh Scheme | 79.63 Cr |
| 6 | Nai Udaan | 18.9 Cr |
| | | | | | | | |
| --- | --- | --- | --- | --- | --- | --- | --- |
| Name of Scheme | Number of Scholarships Sanctioned | Buddhist | Christian | Jain | Muslim | Sikh  | Parsi |
| Pre-Matric Scholarship | 16306171 | 510672 | 1948543 | 183391 | 12318535 | 1342754 | 2276 |
| Post-Matric Scholarship Scheme | 2075539 | 12896 | 262131 | 43419 | 1575034 | 181621 | 438 |
| Meeri-Cum-Means based Scholarship Scheme | 353744 | 1025 | 61245 | 9849 | 272085 | 9507 | 33 |
| Maulana Azad National Fellowship Scheme | 2251 | 112 | 285 | 74 | 1568 | 207 | 5 |
| Padho Pardesh Scheme | 10508 | 183 | 5904 | 1065 | 2612 | 725 | 19 |
| Nai Udaan | 3553 | 199 | 593 | 311 | 2402 | 48 | – |
Source: PIB 
Reply to most common misconceptions used by liberals to speak hatred 
CAA is Anti-Muslim: During the whole debate and riots that happened regarding Anti-CAA included three groups with three different thoughts : 
Thought 1 : This legislation will snatch away the citizenship of Indian Muslims.
Though 2: Why did this legislation not include the Muslims while granting citizenship.
Thought 3: The combination of CAA-NRC is a strategy of BJP to throw away the Muslims of this nation. 
Reality: Not a single provision of the bill said that citizenship will be taken away. Rather it grants citizenship to those who have been persecuted. Are Muslims, who are in majority in Pakistan, Afghanistan, and Bangladesh, in minority? Do they get attacked by Hindus, get killed, kidnapped, raped, and religiously persecuted, converted ? No! And if Muslims from these three countries want Indian citizenship, they can easily apply through the normal rules and procedures. 
"And if you want that all laws should not exclude any religion then let's make the whole constitution equal for all religions. All the special laws for minorities should then be removed and all opportunities should be equal for all. Happy?"
The reality of Gujarat Riots
Before I start going deeper into the analysis of the events that happened, I would say one thing first, "Whatever happened, it was regrettable and should not have happened. Even in the future, such incidents should not take place". 
Due to the Babri Masjid demolition, there was wide anger among the Muslims of India. We must keep in mind that Pakistan also controls the emotions of Indian Muslims-led terrorist groups that infuse millions of dollars and weapons across borders to organize riots. The same happened this time as on March 12, 1993, serial bomb blasts took place in Mumbai, killing a lot of Hindus. The act of taking revenge doesn't stop here as a Muslim mob on February 27, 2002, burnt alive 59 Hindus who were returning from Ayodhya. If you search on Google about the Gujarat riots, thousands of articles will speak about Muslims getting killed in the riots, but how can someone miss the reason for the riots? How shamefully the media forgets the death of 59 Hindus during the riots. A nearby mosque made announcements, "Kaafiro ko Maar Daalo, Islam Khatre mein hai!" 
The second thing that was highly quoted regarding the riots was the story of Kausar Bano, who was raped by a Hindu mob, her pregnant belly slit open, and her fetus flung into the fire. But Dr. J S Kanoria, who conducted her post-mortem, revealed that her fetus was intact. This fact was hidden and was used by leftists to spread hatred between Hindus and Muslims. 
Conclusion
The purpose of writing this article was not to refuse any riots and incidents of mob lynching where Muslims have died or where Hindus have died but to bring out the negative role of media in spreading hatred towards any government. I am in favor of making a law to prevent mob-lynchings. If one observes all mob-lynchings, hurting religious sentiments is the primary reason. I hope our citizens will not get carried away by the hate speeches of politicians or social media posts. India can progress only when there is peace. We must not forget that such riots lead to the destruction of property worth thousands of crores. Let us maintain love, peace, and harmony in the nation. 
Jai Hind! 
DISCLAIMER: The author is solely responsible for the views expressed in this article. The author carries the responsibility for citing and/or licensing of images utilized within the text.