Attacks on Temples a grave concern for law and order in state: DGP andhra Pradesh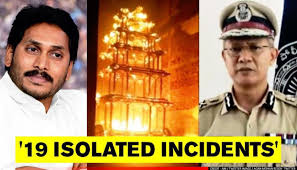 A series of incidents of vandalization of Hindu temples in different parts of Andhra Pradesh is snowballing into a major issue with the opposition targeting the Jagan Mohan Reddy government for its inaction and the YSR Congress party openly accusing the Telugu Desam Party of involvement in the incidents. The state government on Saturday removed Telugu Desam Party (TDP) leader and former Union Minister Ashok Gajapathi Raju from the post of Chairman of the temple. Ashok was removed as Chairman of three temples, which were founded by his family — the Vizianagaram royal family of Pusapati Rajus, for his failure to take steps to prevent the vandalization of the Lord Rama idol, according to a government memo.
In the Latest development, Andhra Pradesh Director General of Police (DGP) D Gautam Sawang has shown serious concern over a series of attacks on idols at Hindu temples by miscreants. The alert comes even as another two instances of temple idols being attacked were reported on Sunday from Vijayawada.
In one instance, an idol of the Hindu deity Sita at Pandit Nehru Bus Station was allegedly vandalized. In another instance, an idol of Ketu was vandalized at Sivalayam at Vuyyuru in Vijayawada outskirts. The clay idol of Mata Sita was found broken in the morning by a priest, surprisingly temple doors were locked. The priest then informed officials of Andhra Pradesh State Road Transport Corporation (APSRTC) who duly informed the Krishna Lanka police station.
The Commissioner of Police Bathini Srinivasulu informed the media that a special team has been formed to examine the CCTV footage to identify the miscreants. The temple police have booked cases under sections 448, 427, 295, and 153 (a) of the IPC against unknown persons. A large number of people associated with the TDP, BJP and VHP gathered at the bus station and protested against the vandalisation of the idol.
The attack comes after the vandalism of a Lord Ram at Ramatheertham temple was reported on January 1. The state government needs to take immediate and apt action to stop these incidents as it may have a simmering impact on the people of the Hindu community as their holy shrines are no longer safe in their own country.
DISCLAIMER: The author is solely responsible for the views expressed in this article. The author carries the responsibility for citing and/or licensing of images utilized within the text.