BaburNama Proclaims: Babri Masjid was named after the homosexual partner of Babur, Babri!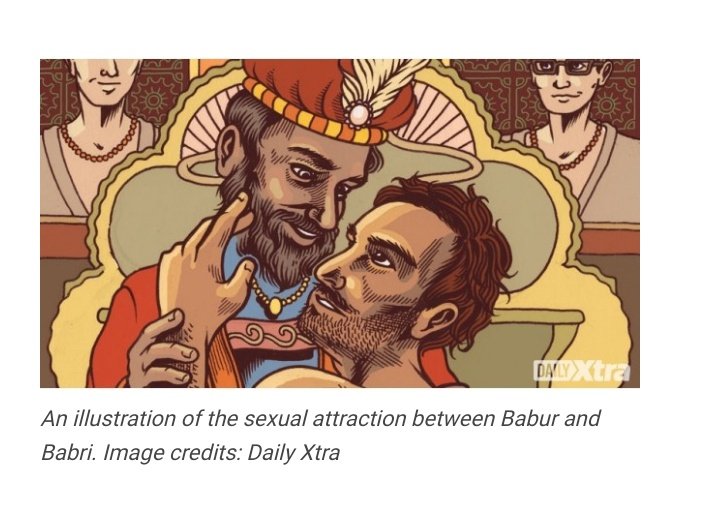 Babri Masjid was built by a homosexual for a homosexual i.e. by Mir Baqi for Babur. Babri Masjid wasn't built to offer Namaz. Here's how it's proved:
Babri Masjid had no place for washing hands and feet before prayers. There was no open space to pray in the Masjid.
These two things are a must usually in Masjid's and Babri not having them indiactes,the intention of this structure was no where near worshipping their god.
Moving forward.Homosexuality was pretty common during 15th Century in Islamic Culture in the area of South Asia.
An excerpt from Tuzuk-i-baburi (9) about Sultan Mahmud Mirza (uncle of Babur):
As per DefenceForumIndia (12):
Now about Babur:
Babar was married to a girl named Ayesha Sultana Begum, but never had any interest in women. Babar was attracted towards men, especially young adolescent boys or younger, but could do nothing because of his impotence.yes, Babar was impotent. The mention of the fact that he had no inclination for anyone proves that.
One more proof of Babar being impotent can be seen in this line where in his own words he says (about his first wife): (5)
About his Homosexual tendencies:
According to the Journal of Pakistan Medical Association, at 17 years of age Babar developed homosexual tendencies and started to love a boy in Urdu Bazar.
A statement by gay rights activist Udayan:Babar loved children, because he had a pedophile nature like Mahmud of Ghazni & like all Muslim Islamic Mughal kings of South Asia, Pakistan and Bangladesh who were slave-traders, homosexual and pedophiles.
So yes, Babur was a pedophile too. Babri Masjid was named after Babar's homosexual lover boy, Babri.
A good amount of insight is present about his love and passion for his male partner in the autobiography of Babar, Babarnama.In Page 120-121 of the biography he says that he was not much interested in his wife but was maddened by a boy named Babri.he had not loved anyone like he was mad for this boy, Babar has confessed.
Here's an evidence that Babur's lover, Babri was a teenage boy.
Most of Babur's slaves were eunuchs. Babur had a harem with more than a thousand attractive women, he captured.
Babur also captured thousands of good looking boys and castrated them, which made them eunuchs. Eunuchs were the guards and guardians of the harem.
Eunuchs also served the royal women – sexually as well as otherwise.
Keeping eunuchs was common among Muslim kings of Bangladesh, Pakistan and South Asia.
Conclusion: Babur wasn't a hero to be glorified, he was an Islamist terrorist who looted our country, tried tooth and nail to destroy our Culture.
He also happened to be a pedophile, impotent person who was brutal towards humanity& sexually tortured young boys making them slavesAll of this information is compiled from different different pieces I read about Babar and Babri. there was some graphic content too but I didn't know if should or shouldn't use it or not so I preferred not to.since these aren't too sensitive.
Source Anjali S Raghuvanshi Twitter handle @okayraghuvanshi https://threadreaderapp.com/thread/1291688083142742016.html
DISCLAIMER: The author is solely responsible for the views expressed in this article. The author carries the responsibility for citing and/or licensing of images utilized within the text.