How India Saved Humanity? CAA, NRC, NPR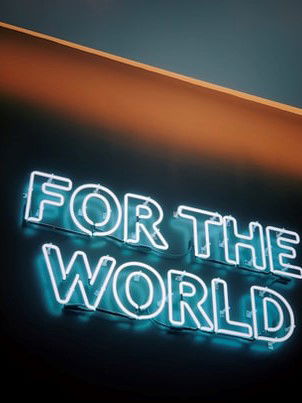 Arizona NRIs
In the pre- COVID-19 period, India had its own endemic. India witnessed extensive violent protests against CAA, NRC and NPR. Here are some facts that the world must know.
CAA has been aimed to provide human rights to Religious Persecuted, Minorities, Refugees from neighboring countries, living in India, for at least 10 years at the time of implementation of the Law. Have you ever heard in a civilized world, a group of human beings, being subjected to FOUR required qualifications, (i) On account of Religion, (ii) Persecuted, (iii) Minorities, (iv) Refugees for at least 5 years, to be granted human rights and some people violently protesting against that? And further, certain persons outside India supporting and justifying those protests and crying for violation of human rights of the protestors? Humanity has gone in a weird loop.
Here are the FACTS:
Minorities' Religious Persecution: Does it really happen?
The World & Pakistan Reports Say:
Pakistani Hindus lose daughters to forced Muslim marriages (Naila Inayat, Special for USA TODAY, February 15, 2017)

The Criminal Law (Protection of Minorities) Bill, 2015, passed by Sindh Assembly in December 2016, rejected by the Governor at the Instance of the National Govt (PPP). Anti- Forced Conversion bill rejected in Sindh Assembly in 2019.
Pakistan Institutionalized Discrimination and Persecution against Minority groups: EU Parliament Report, May, 2019
In practice, non-Muslim minorities do face discrimination and persecution. (Reality Check Team, BBC News, Dec 12, 2019).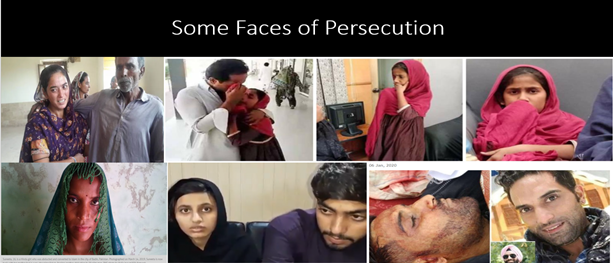 Here below are pictures from the Refugee Camps in India for the persecuted.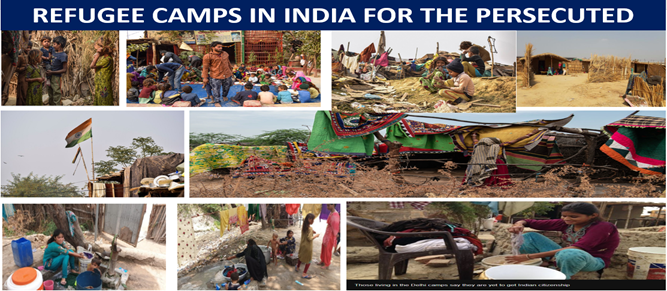 Does anyone need any more evidence of persecution of religious minorities in Pakistan?
There are umpteen more reports and heart- wrenching videos, which you may google. Warning: Many, if you see; you will lose your appetite. Those are so disgusting, so inhuman, so uncivilized.
Is this Persecution Institutionalized there?
The most gruesome fact is that it is institutionalized persecution there. Please take a look at EU Report, 2019, referred above.
Also, take a look at some statistics of decimation of minorities in Pakistan, Bangladesh and Afghanistan, as given below: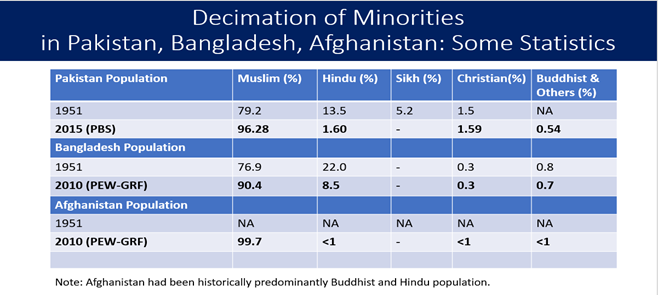 What are the Expectations of those Religious Persecuted Minority Refugees?
The basic expectations of those religious persecuted minority refugees are (enough to put humanity to shame) just:
Human dignity;
Follow their faith without fear;
Live without the fear of their young daughters being stolen.
What is CAA, 2019?
CAA= Citizenship Amendment Act, 2019
Passed by Democratically elected (by 600 million voters) Parliament of India
Lok Sabha (Lower Chamber): 311 Yes; 80 No
Rajya Sabha (Higher Chamber): 125 Yes; 105 No
How many pages is it?
Any guess?
The Three Page CAA, 2019. Please see here below: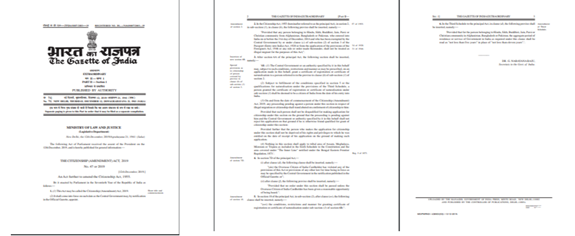 Here is the link: https://egazette.nic.in/WriteReadData/2019/214646.pdf

The Citizenship Act, 1955
(as amended, time to time, multiple times).
It was not amended first time in 2019.

In sum
CAA, 2019 provides opportunity of citizenship of India to members of the minority community, persecuted for religious reasons, of three bordering Islamic Countries of Pakistan, Bangladesh and Afghanistan, who have been refugees in India, subject to three conditions:
Exemption under Passport Act of 1920.
Exemption under Foreigners Act of 1946.
Be in India for minimum of 5 years, on or before 12/31/2014 (which effectively means minimum 10 years as of 2019; they came to India when the opposition political party (now opposing CAA) was in rule, 2004-2014).
The Objection:
Muslims not included, from Pakistan, Bangladesh, Afghanistan!
Is it tenable? is it logical?
You want Religious Majority Community/ Ruling Religious Community of those countries also included, because they may also be persecuted for religious reasons.
They may be persecuted there; for sure, but not for religious reasons. And if they are persecuted for religious reasons, being majority there, they should do mends of that religion there.
If they are persecuted for other than religious reasons like freedom of speech and expression in their home country, they can apply for asylum/ citizenship under the relevant laws of India, as they have been doing for years all over the world, including India.
But make no mistake, their track record in host countries, after getting naturalized is so bad that those, who allowed them in, are repenting; and others are totally put off. UK, France, Germany, Belgium, USA, Australia, Russia are the cases in point.
Restoring Human Dignity to
Persecuted Minority Refugees (Too Little, Too Late)
It is an opportunity for those who have been persecuted and have already fled for years (as of 2014, 5 years; as of 2019, 10 years) from Islamic (religion- based) bordering countries and lived in India. And it is not just for Hindus. It includes all other minorities, namely, Sikhs, Buddhists, Jains, Parsees and Christians.
In the opinion of sane voices: it is too little, too late.
4+ filters for 'historically persecuted groups, to grant human dignity, freedom and rights.
Good News
CAA has been implemented in India wef Jan 10, 2020, despite malicious propaganda, all over, all these days. Thanks to the humane, determined leadership of India.
Those interested seeing malicious propaganda in USA, please visit the websites like https://www.iamc.com/
Is it being done first time on this planet?
Certainly not.
If anyone wants to know, please read Lautenberg Amendment of 1990, in USA.
Incidentally, this amendment is being renewed in USA every year, ever since 1990.
Readily available is a USCIS link:
NRC
NRC= National Register of Citizens
Which country in the world doesn't have a count of their citizens?
You want to plan for your citizens, must you not know who they are and how many are they?
What were they protesting?
No count of citizens.
NPR
NPR= National Population Register. (It is actually National Residents Register (NRR).
For providing daily services of life like electricity, cooking gas, petrol, health, education, etc. in any city, town or village, don't you need to know the count of residents?
Please name one country, county or city, that is well managed, does not have this count?
Does India need NRC and NPR, both?
The answer is Yes!
NRC Counts Citizens.
NPR counts Residents.
Indian Income Tax Act, 1961 already has a definition of Residents and Non- Residents and it counts, and it is the same that NPR has adopted.
DISCLAIMER: The author is solely responsible for the views expressed in this article. The author carries the responsibility for citing and/or licensing of images utilized within the text.