Farm Protests EndGame: Congress-Mukt Punjab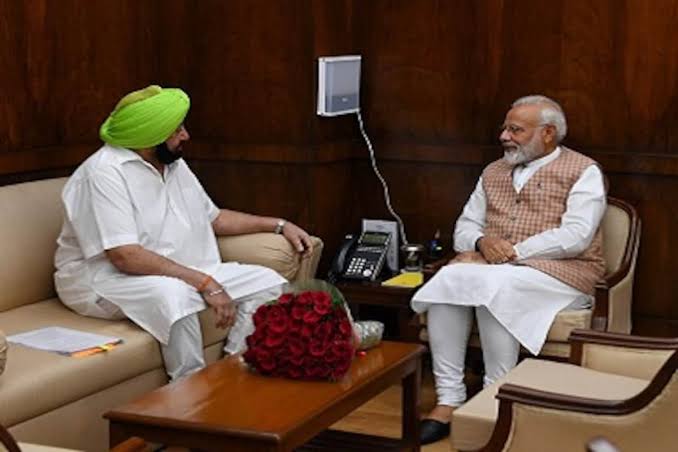 Farm protests have been going on for more than 2 months and reams have been written. However, there are 3 clear patterns emerging:-
Every single political party promised these laws and every single farmer organisation demanded these laws. So, these laws are not detrimental to farmers.
Farm protests have not gained any support from new quarters except irrelevant rent-a-cause international celebrities.
Our media and political analysts are too lazy to capture evolving complexities in rural hinterlands and mainly based their conclusions on old caste fault lines. That's why they are clueless about real reasons behind origin of this agitation.
To understand real reasons behind farm agitation, one need to understand politics of Punjab. Till 1997 elections, A big majority of Hindus (forming 40% of population) used to vote for Congress while majority of Sikh Jats (forming 25% of population) used to vote for SAD with non-Jat Sikhs having a veto power. But make no mistake, power always remained in hands of Jat Sikhs, irrespective of party in power. In 1997, BJP became a force to reckon when it snatched 18 out of 23 Urban Hindu-majority seats from INC which reduced Congress to 14 seats in 117- member assembly, its worst performance in state. Since then, Punjab elections have more often than not, have been decided by performance of BJP in these 23 Hindu majority seats with INC and SAD Neck-to-neck in rest of state. Such was BJP's impact that it bought SAD to power twice in succession in 2007 and 2012, a rare feat in Punjab politics.
However, rise of AAP changed the fortunes for Congress. In years leading up to 2017 elections, a surge of support for AAP among Jat Sikhs and active collaboration of AAP with Khalistan elements Created a strong fear paranoia among Hindus. It is said that Fearful of losing a crucial a Border state to separatists, Modi kind of entrusted Punjab to captain INC under Captain Amarinder Singh. Considering animosity of Gandhi family with captain, anything less than simple majority for INC would have created leadership challenges for Captain. BJP Ensured complete transfer of Hindu votes to INC as Congress won 20 out 23 Hindu seats and also got almost 100% votes of Hindus and non-Panthic Sikhs in Sikh-majority seats, eventually leading to INC winning a majority on its own. However, things started to change by 2019 LS elections and that's where story of farm bills protest start to take shape.
in 2019 LS elections, Congress won 8 out of 13 LS seats. To Delhi's lazy political analysts, it meant that Congress had held on gains made in 2017. However, being a mass leader with ears on ground, Captain was worried. BJP retained its hold on Hindu vote and BJP was leading in 14 Hindu seats and cut congress lead to marginal in remaining 9. Congress was saved blushes due to transfer of AAP vote to Congress in a national elections where AAP was not relevant. So, Contrary to media perception, Captain was on a weak wicket and was on his way out in 2022. It's quite possible that Hindus were voting for Modi in 2019 and they would have returned to Captain in 2022. But Captain was not ready to take chance and adopted Khalistan lite version by manufacturing farm protests. His calculation was to corner SAD and destroy its Sikh Jat votebank permanently. He suffered a massive setback with withdrawal of support by SAD from NDA. It allowed SAD to return to its pre-1997 version of panthic party. Unlike INC and AAP, SAD has nothing to lose if it completely embraces Khalistan and indulge in anti-Hindu and anti-India rhetoric. Among INC, AAP and SAD, SAD is the only party that can claim to make a sacrifice for Sikh (farmer) cause as it lost a central ministry.
However, biggest loss for Captain is not revival of SAD, but loss of credibility among Punjabi Hindus. Optics of Jio mobile tower destruction, creating a legal team to defend people accused of Lal Quila insurrection and failure of Congress in condemning Delhi violence on 26th January has antagonised his Hindu base forever. INC is caught between rock and hard place. If it is not competing in perpetuation and support of violent protesters and Khalistanis, it is losing Sikh vote bank wholesale to AAP and SAD and If it is competing, it is losing its core vote bank of Hindus.

So, let's get back to our political analyst pontificating about end of BJP in Punjab. Come 2022, BJP is going to win 23 seats, not one less. BJP is most relevant political force in Punjab as of now. Contrary to popular perception, BJP used to bring votes to SAD, not other way around. As AAP and INC cannot have alliance with BJP, we can see a post-poll alliance between 38-seat something SAD and BJP. AAP can emerge as main opposition and INC in Punjab can go Into oblivion like in Delhi. A congress-mukt Punjab can be singularly important political outcome of farm protests.
DISCLAIMER: The author is solely responsible for the views expressed in this article. The author carries the responsibility for citing and/or licensing of images utilized within the text.