Best Natural Herbs for ED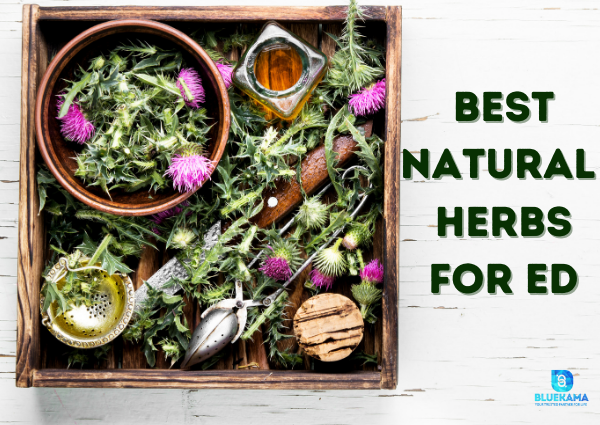 The Best Natural Herbs which can help to cure ED
It is the shortcoming to maintain or get an erection during intimacy. This condition can affect men of any age, but the American Academy of Family Physicians states that erectile dysfunction is most common when a man is 75 or older.
Your physician may diagnose you with erectile dysfunction (ED) if the symptoms remain for more than months. More than 32 million men in the US face this problem.
Erection in men is a complicated process involving the hormones, brain, muscles, proper mental health, and blood vessels. If any of these organs have some type of problem, it can lead to erectile dysfunction.
70 – 80 % of ED cases are usually a cause of physical or psychological issues, such as physical factors including trauma or disease and psychological factors involving depression, relationship problems, and anxiety.
The typical treatment for ED includes prescription medicines, surgery, vacuum pumps, and implants, but most men prefer natural and herbal options. Some studies have shown the link between natural options and improvement in erection degree.
What to do before using any supplement?
Before hopping on medication, whether it is prescribed or natural herbs, it is highly recommended to bring changes in your lifestyle. A healthy lifestyle will help treat various medical conditions, let it be ED, anxiety, and depression.
Various lifestyle changes are remedies for ED, but exercise is the best ED treatment that provides the most remarkable effects. Exercise works on several fronts to fight the development of ED and assist in reversing it once it has become a problem.
A healthy diet helps manage a healthy body weight, which is essential because men who possess a 42-inch waist are more likely to have ED than men with a 32-inch waist. Obesity drastically increases the risk of vascular disease and diabetes, and these two factors contribute to erectile dysfunction.
If these tips aren't beneficial for treating erectile dysfunction, you should consider using these natural herbs to treat ED.
Best natural herbs for ED
ED supplements and other natural remedies have been around for a long time in African, Chinese, and other cultures. Many herbs have proven to be efficient in improving men's sexual function, but little proof exists to support herbal medicines for treating erectile dysfunction. But we have stated some of the best herbs for treating ED. Read below to find out more.
Ginkgo:
Ginkgo is an herbal remedy used to treat various medical conditions such as dementia, fatigue, and Alzheimer's. It is also highly effective for treating erectile dysfunctions. It is a tree native to China that is being grown for thousands of years, and it is also referred to as a living fossil because it is the sole survivor of ancient plant orders.
It intensifies the blood flow in the male part and influences nitric oxide systems, and creates a relaxing effect on smooth muscle tissue.
Horny Goat Weed
Horny goat weed got its name from when a goat herder saw that his flock of goats became sexually excited after eating the plant. Its botanical name is Epimedium, also known as yin yang Huo.
The plant is native to Korea, China, and Japan. Claims about the effectiveness of the plant are expansive. Research proclaimed in the journal of impotent medicine was an experiment done on rats, and it found that rats treated with the extract of Epimedium showed enhanced erectile function.
Panax ginseng
Panax ginseng is a popular herb in many countries of south east and north Asia. A study has proven its effectiveness in treating inner function in men with erectile dysfunction. A cream made of this herb is utilized for premature ejaculation. 
It triggers erection by relaxing the muscles, and the root boosts sensual arousal by promoting energy levels and affecting hormone regulation.
Mondia whitei
Mondia whitei is an african herb which is used in many parts of Africa as a conventional remedy to improve appetite and libido as well as fertility medication.
Several studies provide scientific evidence supporting the traditional uses of this herb as an aphrodisiac and an antidepressant and using Sildenafil citrate 150mg recommended by doctors will help in ED
What to do if these remedies aren't providing desired effects?
Although these herbs effectively treat medical conditions such as seizures and headaches, sometimes they may not be as effective as you want them to be. Alternative to these herbs are two effective medicines that work effectively and efficiently, Generic Cialis 60 Mg prescribed by doctors for severe erection.
However, with the natural herbs there will be less need for higher doses. A male should continue to use herbs for at least a couple of months for desired results.
Conclusion
It does not matter what ED treatment (whether herbal or not) a man decides upon. Experts state that it is essential to consume healthy foods and avoid any bad habits such as heavy drinking and smoking. Moreover, adequate exercise, sleep, and stress reduction can improve erection problems in many men
DISCLAIMER: The author is solely responsible for the views expressed in this article. The author carries the responsibility for citing and/or licensing of images utilized within the text.