BJP District Head Chased & Brutally Hacked To Death In Sivagangai, Tamil Nadu BJP Pramukh, Mutu Pandi from Sivaganga district, Tamil Nadu was shockingly mercilessly chased and brutally hacked to death by assailants bearing sharp swords in full public view in a busy street yesterday (16.09.2021) at 5.30 pm.
Following the brazen barbaric attack on the senior BJP leader, Sivagangai district is in the grip of tension with BJP and Sangh workers protesting against utter state of fearlessness in political criminals, who are confident about getting away with such brutal attacks without dire consequences.
Muthu Pandi, aged 43 years old, hails from Nelmani street in Sivagangai. He is survived by his wife Sewta aged 37 and two young teenaged daughters and a son. Muthu Pandi was also the head of the fishermen community forum in the district.
At 5.30 pm yesterday, Muthu Pandi was attacked by assailants in two motorcycles with sharp naked swords at a tea stall near Pandi's house in Sivagangai Nagar. Pandi was attacked in a very busy street in prime time. When Muthu Pandi tried to escape by running he was chased and attacked very violently by sharp swords. He sustained very serious injuries and was very critically injured. He was rushed to the Sivagangai Government Medical College Hospital. Despite best efforts, he succumbed to his grievous injuries.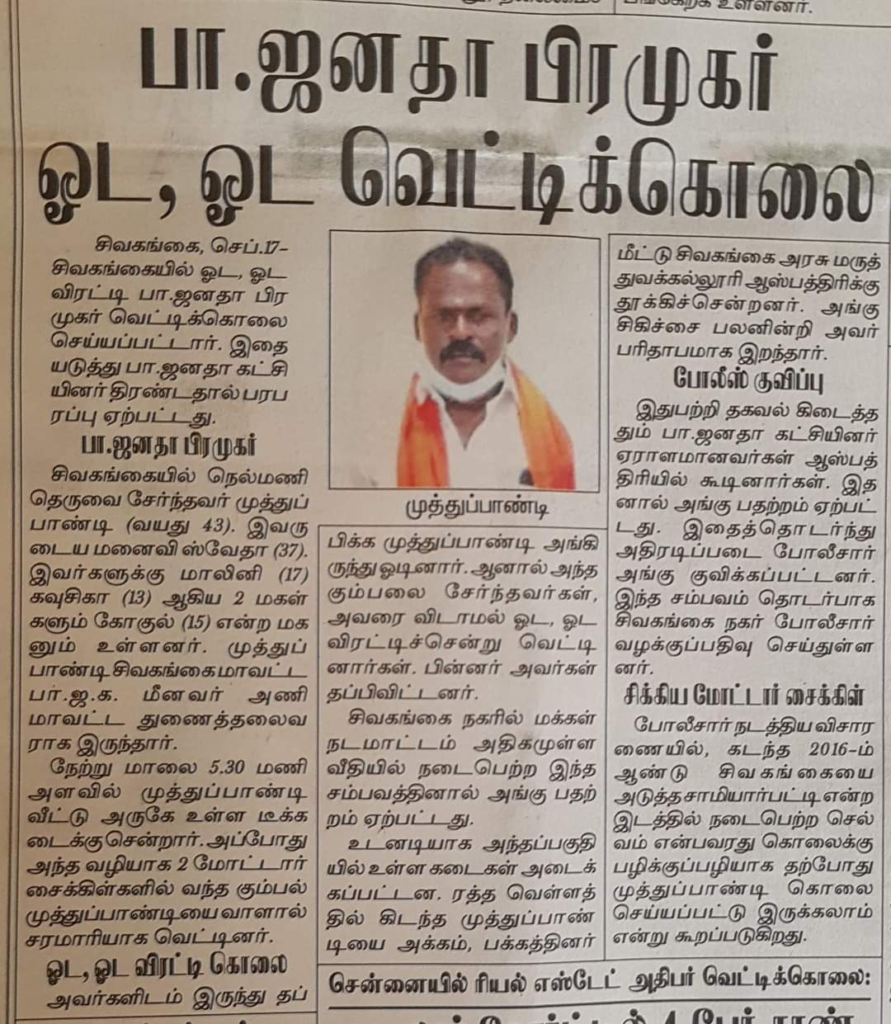 Not only does this incident prove that criminals have scant regard for the law or afraid of the law enforcing authorities, they also easily got away without being caught or stopped by the scores of bystanders watching the dance of devil in full public view. Muthu Pandi was left lying in a pool of blood by the deadly criminals.
This apathy of people to react and come to rescue a person being attacked by lethal weapons emboldens criminals and criminal behaviour. Following his death, the entire shops and other commercial establishments of the area shut down. BJP workers collected in huge numbers and tension prevailed in the area and riot police was pressed in by Tamil Nadu government to keep situation under control.
But the police are still investigating the case and have not yet nabbed the culprits who hacked Muthu Pandi to death in full public view. Muthi Pandi leaves behind wife and very young children whose education and future is in doldrums due to inctreasing brazen criminality in Tamil Nadu.
It is hoped that the BJP and the Sangh Parivar stands by the bereaved family and provides them with financial and social support system to take care of the children's education and welfare. It is also hoped that the Tamil Nadu BJP Chief Annamalai visits the grieving family, extends his support to them and pressurises the MK Stalin government to book the real culprits without brushing the dastardly attack under the carpet.
News and image Input: பாஜக நிர்வாகி மர்ம நபர்களால் வெட்டிப் படுகொலை | Sivagangai BJP Executive Murder – YouTube
DISCLAIMER: The author is solely responsible for the views expressed in this article. The author carries the responsibility for citing and/or licensing of images utilized within the text.