"Broken leg gimmick" on its way. Complaint filed against Mamta Banerjee for disrespecting National Anthem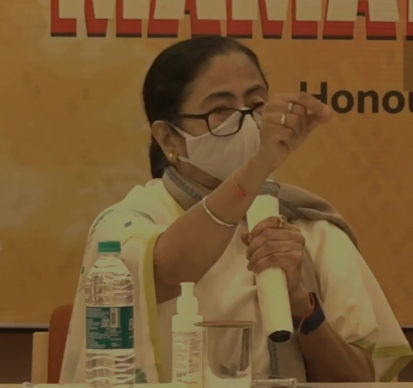 According to the news by Ani, a leader of Mumbai BJP filed police complaint against West Bengal CM Mamata Banerjee for "showing utter disrespect to national anthem" by allegedly singing it while in sitting position & then "abruptly stopping after 4 or 5 verses", during her visit to the city on Wednesday.
Mamta Banerjee had a meetup with some of the "Terrorism sympathizer" and "Anti Hindu". An interactive session with Mamata Banerjee twas conducted at the Y.B. Chavan Centre in Nariman Point in Mumbai, Maharashtra. At this session, notable anti hindu and "Pro Jihadi" people like Munawar Faruqui, Swara Bhaskar, Agrima Joshwa, Javed Akhtar, Mahesh Bhatt, Richa Chadda etc warmed the seats. It was very amusing to see these people requesting Mamta Banerjee to end of so called fascism going in Bharat today. This is the same Mamta Banerjee who unreleased her TMC goons to rape women and kill people after the election results of West Bengal assembly elections came out.When the session was about to end, Mamta Banerjee after her final speech started to sing the National Anthem of Bharat but she kept her audacity of not standing up for the National Anthem. At the middle of the Anthem she remembered to stand up and she stood up. Moreover she didn't complete the whole anthem and terminated it by singing few lines.
Should this not be considered as a distress paid for the Bharat's National Anthem ??
DISCLAIMER: The author is solely responsible for the views expressed in this article. The author carries the responsibility for citing and/or licensing of images utilized within the text.