Can anyone cast a vote in Jammu and Kashmir?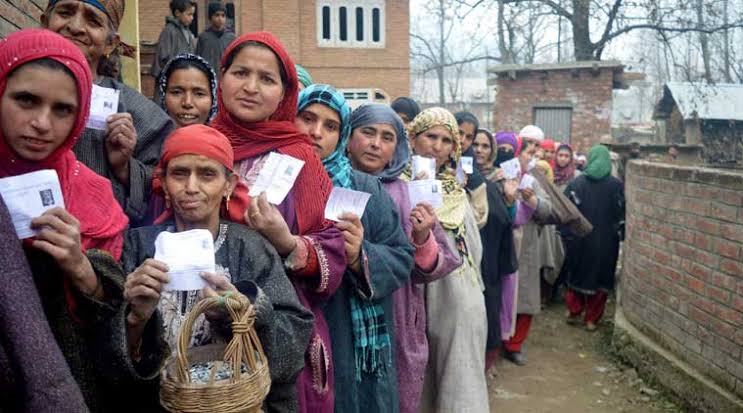 An uproar has spread throughout state following Chief Electoral Officer (CEO) Hirdesh Kumar's announcement that non-locals, such as workers, students, and labourers, as well as anyone from outside who ordinarily resides in Jammu and Kashmir, will be able to register their names on the voting list and participate in the J&K elections.
As per the new announcement by Chief Electoral officer Hirdesh kumar, any Indian citizen, including non-residents who live or work in Jammu and Kashmir, is eligible to register to vote in elections including the members of the armed forces stationed at J&K's peace posts.
National and regional parties responded to the announcement. Political parties in J&K criticised the Centre and expressed outrage. People have also made some assumptions as a result of the proclamation.
A turmoil has been created stating that anyone can cast a vote in Jammu & Kashmir that is anyone can travel to J&K, cast their vote, and then return. Additionally, it appears that a single individual may cast several votes in various states as per the myth created.
But the fact is any citizen of India (residing in the nation) is eligible to vote in any state election. However, this does not imply that a person can cast more than one vote. If a resident of Delhi moves to Chennai and wishes to vote in Chennai, they will need to have their name removed from Delhi's electoral roll and then have their name put to Chennai's electoral roll since election commission officials review all paperwork before adding names to the voters' list (provided they have correct documents).
Another myth is that 20–25 lakh new voters without any link to J&K will be added to the electoral list.
While the process of creating an electoral roll is one that occurs nationwide. Instead of the previous single qualifying date of January 1, there are now four qualifying dates: January 1, April 1, July 1, and October 1. These dates are used to determine eligibility for children to register on electoral rolls.
The J&K electoral roll was last updated on January 1, 2019, which was three years ago. Data available to J&K CEO indicates that between 2019 and 2022, the state will add an additional 20–25 lakh voters to the voter rolls.
For the UT of Jammu and Kashmir, the Special Summary Revision (SSR) exercise has been announced with reference to October 1, 2022, as the qualifying date. This entails that anyone who turns 18 on or before October 1, 2022, qualifies.
Another misinformation spread by political parties such as NC and PDP, the BJP will import voters to win the election. They contend that in order to raise the BJP's voting percentage, others will be brought in and urged to vote because the party is unable to garner the support of the people of J&K.
While factually, a person must regularly reside in the UT in order to register themselves as voters. Only individuals who "ordinarily reside" are eligible to enrol. A person is only permitted to have one primary residence.
These four forms listed below are essential for the elections–
1. Form 6 must be completed if a person wants to add their name to the voter list.
2. Form 7: This form must be completed in order to have one's name removed off the voter list.
3. Form 8: If one needs some corrections to details, then form 8 needs to be filled
4. Form 6B: Linking of Aadhaar and voter ID.
While the controversy erupting now, these modifications went into effect on August 5, 2019. Before Article 370 was repealed, many people in J&K were prohibited from voting that included marginalised groups, West Pakistani refugees, Dalits.
There is no longer a necessity for a Jammu and Kashmir domicile certificate or a permanent resident certificate in order to register to vote as a result of the repeal of Article 370.
On September 15, 2022, a draught of the voters' list will be released and made accessible at each voting place. Since the delimitation, a total of 600 additional polling places have been established, bringing the total to 11,370.
Now, all EROs of the UT are required to publish the integrated draught roll by September 15, 2022, signalling the official start of the revision activities.
Meanwhile, regional parties are not happy with the new regulations. The former Chief Minister and chief of the Peoples Democratic Party (PDP), Mehbooba Mufti recently said, "Voting rights for the non-locals is aimed at conducting fraudulent elections to allow the BJP to rule in Jammu and Kashmir."
She added that the BJP has understood that after three years of rule in J&K, couldn't succeed in breaking the resistance of the silent people. "The situation is not different for Muslims only, but for every community including Dogras and Pandits," said Mehbooba Mufti adding that this is the last nail in the coffin of democracy.
After Mufti, National Conference Vice-President Omar Abdullah too stated that BJP is insecure about support from genuine voters of J&K and hence needs to import temporary voters to win seats.
DISCLAIMER: The author is solely responsible for the views expressed in this article. The author carries the responsibility for citing and/or licensing of images utilized within the text.