Catholic Porn Actor Miya Khalifa finally receives global attention & Pay. #FemaleEmpowerment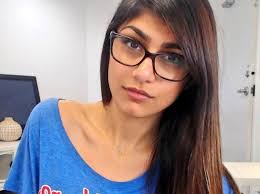 Miya's story is very interesting. There was a point when she was only making $1000 for a "scene" in the adult film industry. Miya's career these days is pretty much non-existent but it seems like her interest in Indian politics is finally getting her the audience and pay she probably desires and deserves.
Khalifa moved to the U.S. in 2001 given the ethnic conflict in Lebanon. Though she was raised in a conservative household, she describes herself as a non-practicing Catholic. She describes her school experience as not the best kind; she was made fun of and bullied for being dark skinned and weird. Miya's family moved to Virginia and the later attended the University of Texas, and majored in History.
Miya started her career in the show Deal or No Deal type Spanish game show where she carried the briefcase and smiled for the cameras. She got married along the way and she and her husband began their career in the porn industry in 2014.
She became a sensation with scenes involving wearing a hijab while filming pornographic scripts. This earned her the wrath of many.
Miya ranked #1 on Pornhub and received a death threat of being beheaded
Khalifa is not afraid. She is a champion of women's rights and believes that a female's rights are far from being taken seriously in Lebanon. She only lasted about 3 months in the porn industry according to an interview. In an interview in 2019 she stated that she made $12,000 only by working in porn and was only earing $1000 per scene.
Miya then began working in Miami as a bookkeeper and has tried to transition her career as a social media personality and webcam model. She mentions that porn was just a phase in her life and after living in Miami she's moved back to Texas where she lives with her high school boyfriend – now husband.
Miya is trying to jump start her career. Perhaps that explains the illogical interest in Indian farmers. She has finally figured out how to use her porn history, Arabic roots and Muslim name to seem relevant to leftists. We hope she was paid more than $1000 for the scene she has created.
Good luck finding your true calling, Miya.
Source: https://en.wikipedia.org/wiki/Mia_Khalifa
Pic: wikibio.in
DISCLAIMER: The author is solely responsible for the views expressed in this article. The author carries the responsibility for citing and/or licensing of images utilized within the text.