Chronology of EVENTS that resulted in division of 'Unified INDIA' into India & Pakistan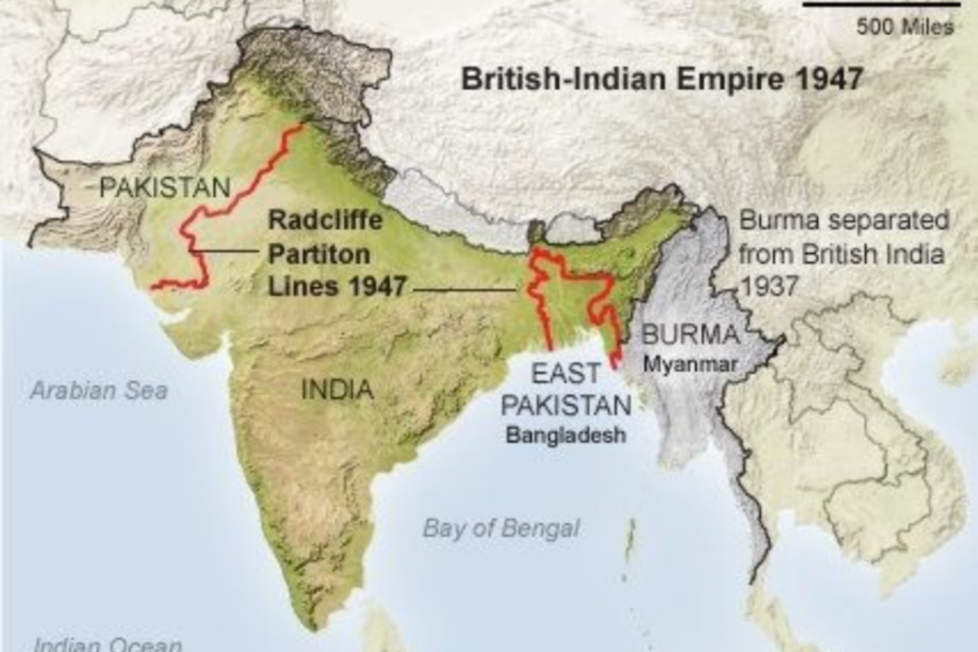 This research is primarily based on the writings of Ishtiaq Ahmed 
Ishtiaq Ahmed – Swedish Pakistani Political Scientist. Ishtiaq is a secular minded person and his writings are unbiased & neutral (truth as it is)
If you want to understand the events that led to Partition of India, watch this 6-part series  

Dialogue between Arvind Saharan & Ishtiaq Ahmed (6-part series – Compulsory Watch) 

History of the British Raj 
Indian National Congress 

Founded 28 December 1885
2 Britishers were its founding members 

All-India Muslim League

Founded 30 December 1906 
Founder – Khwaja Salimullah (4th Nawab of Dhaka)
Headquarters – Lucknow 
Muslim League leadership was overwhelmingly of Urdu & Bengali decent 
*Basis of 2 Nation Theory (compulsory watch 5:50 to 21:02)

*1909 Morley-Minto reforms (Separate Electorate of Muslims) – was the 1st step (structural base) for Division of INDIA 

*YouTube (34:33-36:03 – Compulsory Watch): https://www.youtube.com/watch?v=J3aGWDX7ASs&list=LLk0ZEFnOOCsw9rrN_Xjp59Q&index=2 
The Muslim candidate was no longer obliged to consult the Hindus to get his vote (Muslim candidate, Muslim Voter)
The Hindu candidate was no longer obliged to consult the Muslims to get his vote (Hindu candidate, Hindu Voter)
Integral Evolution in a political system was damaged 
*Edwin Samuel Montagu (British Secretary of State for India) – "By introducing this, we are preventing the creation of Indian National Consciousness"

1916 – Lucknow Pact 

Lucknow Pact – Congress & Muslim League agreed to allow representation to religious minorities in the provincial legislatures.
Jinnah played a crucial role to bring both parties (Congress & Muslim League) to an agreement. 

World War 1

Gandhi asked 'all Indians' to join Indian Army and support British in WW 1 

In return Gandhi thought British would leave India sooner 

1919-24 – Khilafat Movement

Delegation of Congress & Muslim League went to Britain in 1916 and pleaded not to remove caliph of the Ottoman Caliphate
Jinnah was part of Khilafat Movement 
1919 – Britain dismembered Ottoman Empire (Treaty of Sèvres)
Jinnah " 1st they took away our land, now they want to destroy our religion"

1928 – Nehru Report 

There will be no State Religion 
Men & Women will have equal rights as citizens 
India will be a Federation with strong center 

1929 Lahore – Congress called for Purna Swaraj (complete self-rule independent of the British Empire)

Supported by Jamiat Ulema-e-Hind 

1930 – 1st round table conference 
Allama Iqbal

Iqbal was the one who first proposed the IDEA of Muslim Homeland in North-West part of India (with or without the support of British)
Later he disowned his comments 
Died in 1938 

Chaudhary Rahmat Ali 

On 28 January 1933, Ali voiced the idea in a pamphlet titled "Now or Never; Are We to Live or Perish Forever?"
He is credited with creating the name "Pakistan" for a separate Muslim homeland in North-West part of India 

1931-34 

Jinnah practiced LAW in England. 
In-detail information of these 3 years of Jinnah's life is not present 

1935 act – both Congress & Muslim League rejected it 
1936 – Nehru speech in UP – "Socialism – Soviet Union Model"

Rajagopalachari, Kriplani, Rajendra Prasad, Sardar Patel resigned in protest. Gandhi persuaded these 4 to come back to Congress. 
Birla's made a press campaign against Nehru from April to June 1936 

1937 – Muslim League was routed in Muslim Majority provinces of INDIA 

Punjab 2/175
Sindh, North West Frontier – 0 seats

1937 UP Elections – Jinnah took this defeat personally (something in a deeper level changed in Jinnah)

Congress won the Elections 
There was a 'Gentlemen Agreement' in UP – whatever the result is, we will form a coalition government. But Congress alone formed the Government. 
 Rajendra Prasad, Abdul Kalam Azad, Nehru, Rafi Ahmed Kidwai – asked Jinnah to join Congress if he is to be considered for Minister ship. 
*Then on Jinnah assumes the leadership of Muslim Separatism. 

1937 

In provinces Congress won – Congress Flag, Vande Mataram, Wardha Scheme were introduced 
Jinnah felt this is the 1st taste of Hindu Raj even before the British Left 

1937-38 – M. S. Golwalkar – "we should treat Minorities just like Jews are been treated by Germany"
1940 Lahore Resolution     

*YouTube (1:08:19 onwards – Compulsory Watch): https://www.youtube.com/watch?v=J3aGWDX7ASs&list=LLk0ZEFnOOCsw9rrN_Xjp59Q&index=2 
Lahore Resolution – The resolution called for independent states as seen by the statement on 23 march 1940: 

That geographically contiguous units are demarcated regions which should be constituted, with such territorial readjustments as may be necessary that the areas in which the Muslims are numerically in a majority as in the North Western and Eastern Zones of (British) India should be grouped to constitute 'independent states' in which the constituent units should be autonomous and sovereign. 
Observation: Pseudo-intellectuals (on both sides India & Pakistan) quote this statement and say "Jinnah didn't want separate Homeland for Muslims, but he wanted Muslim majority provinces (North West & North East) of INDIA to be much more autonomous" 

22-25 march 1940 – Muslim League meeting in Lahore 
22 march 1940 – Jinnah Speech – in which he lays down his ideas step-by-step – "why Hindus & Muslims can never be One Nation, and why the division of INDIA is important"

*Most Important Speech of JINNAH – JINNAH wanted Partition of India – this speech creates the basis of '2 Nation Theory', which is borrowed from Iqbal & Rahmat Ali without recognizing them being recognizing as original sources  

25 march 1940 – Jinnah gave press conference in the afternoon 

Jinnah Says "23rd march 1940 resolution means nothing else, except that the division of INDIA" 
Observation: What was not mentioned explicitly (on 23rd march) is now definitely clarified  
Jinnah says "It is a fair demand, because these are 2 nations, when India & Pakistan come into being, it will create the basis of the true peace in the sub-continent, because two separate nations will have a full chance to develop according to their genius" 
Jinnah wanted division of INDIA (2nd Proof) 

Later on 100's of times Jinnah said 'I want the Division of India'   

Sundar Singh Majithia (Leader of Sikh National Party) – immediate response to Jinnah's idea of 'Partition of INDIA'

*"If the Muslims want to divide INDIA on the basis of religion, we will have PUNJAB divided on the basis of religion as well"

Bhagat Singh letters  

Bhagat Singh was concerned with the divisive politics of Congress Party 
Congress in its rallies raised following slogans 

Naara e Takbir Allah o Akbar
Vande Mataram 
Sat Sri Akaal 
Instead of 'Hindustan Zindabad'  

4th January 1940 – Meeting between 'Periyar, Ambedkar & Jinnah' in Malabar Hill (Mumbai)

Agenda: to build a united front against CONGRESS
Nothing Fruitful (actionable) came out of this meeting  

Major deference between Gandhi & Jinnah 

Jinnah believed in Constitutional Road towards Self-Rule 
Gandhi believed in Mass Movement (Civil Disobedience) towards Self-Rule 

August 1942 – Gandhi started 'Quit INDIA Movement' 

From 9th August British started arresting Congress Leaders 
August 1942-June 1947 – The whole Congress Party was in jail, and Muslim League had a free hand to go around preaching its Idea of Pakistan (open field to propagate its ideology) 
Jinnah in his rallies talked about 'Islamic State, Justice during the Golden years of Islam', but never used ISLAM in the official documents 

His ideology appealed to the ordinary Muslims 

8th March 1944 – Jinnah's speech at 'Aligarh Muslim University' 

* "When the 1st Indian converted to Islam, that's when the foundation of Pakistan were laid, because that Indian was ostracized by his community, they would not dine with him, they would not sit with him"
Observation:

Jinnah's grand father – Premji Bhai Thakkar converted to Islam

Muslim League supported British in WW2

'we are willing to cooperate during WW2 only if you assure us, after the War there will be the division of INDIA'

*Referendum in Muslim majority provinces for Partition of India 

Jinnah – "In Muslim majority provinces if referendum happens, only the Muslims will vote, the Hindus & Sikhs will not vote"
Gandhi was not willing to accept this demand 
1944 – Talks between Jinnah & Gandhi failed
Observation: 

If referendum happened in Punjab (57.1% Muslims & 42.9% Hindus & Sikhs), 42.9% non-Muslims + at least 15-20% of secular Muslims (Unionist Party) would have voted in favor of united INDIA. 
If Punjab was not partitioned, then India would not have been partitioned. 

May 1945 – WW2 ended in Europe
1945 – Meeting between: Master Tara Singh + Maharaja of Patiala & other Maharajas 

"If partition of India happened, Muslims should be expelled from East Punjab, Sikhs who come from West Punjab should be accommodated in Central Punjab (Indian side) & Princely States" 
Observation:

*The seed (IDEA) of Khalistan (separate homeland for SIKH's) was started in 1945 (not in 1980's)

1945 – Shimla Conference 
1946 – Provincial Elections 

Muslim league started using 'Islamic Sloganeer' 

'Voting for Pakistan is voting for Holy Prophet'
'those Muslims who don't vote for Muslim League, there marriages will be declared invalid, and they will be denied Islamic Burial'

Out of 495 (reserved seats of Muslims) all over India, Muslim League won 440 
43:03 to 48:56 –  https://www.youtube.com/watch?v=2RTXqyI_clM 

1946 – Cabinet Mission Plan 
16th August 1946 – Jinnah called for 'Direct Action Day'  

Jinnah – "in one hand I have Constitutional Methods, in other hand I am holding a Pistol, now through 'Direct Action' we will create Pakistan" 
Muslim League governed Bengal Province in 1946
Communal riots in BENGAL

Calcutta riots (15 August – 17 September 1946) – 7000 to 10,000 Hindus and Muslims killed 
Noakhali riots (September–October 1946) – 5000 Hindus killed 
Happened mainly in Slums 
YouTube: Partition, 1947: How 'United Bengal' Almost Became A New Country | The Quint – https://www.youtube.com/watch?v=J8MNNN2o3Mc&list=LL&index=8 
*The American photojournalist Margaret Bourke-White, who had witnessed the opening of the gates of a Nazi concentration camp a year earlier, wrote that Calcutta's streets "looked like Buchenwald (Hitler's Germany)."

*Extreme HATE speeches by Muslim League Leaders in Bengal 
One sided 'Retaliatory attacks' on Muslims in BIHAR – in response to Bengal Riots 

5000-6000 Muslims killed  
Nehru went to Bihar and condemned the attacks on Muslims 

Western UP 

 Hindu JAT v/s Muslim Meo – approximately 200 people killed (mainly Muslims) 

One-sided Communal Riots in North West Frontier Provence (present day Khyber Pakhtunkhwa, Pakistan) 

In December 1946, the Sikhs and Hindus of Hazara district, NWFP, were subjected to unprecedented savagery of Muslim mobs. Thousands fled to Punjab, some got refuge in Rawalpindi, but most went eastwards where Sikhs were in substantial numbers.
Hindu & Sikh Genocide happened in Hazara district (Mansehra, Balakot, Bafa, Shinkiari) 
Hundreds if not thousands were killed

BRITISH divided INDIA (not Jinnah or Nehru) 

In 1943 Lord Wavell became the Viceroy of India. He saw a document saying 'Trusteeship of India would remain under British for the next 30 years (till 1973)'
American President Roosevelt pressured British Government to make India Independent. 

Churchill (Prime Minister) of Britain was pro Muslim League & anti Congress 
Americans wanted India to be independent & united

British Economy post WW2 

Americans were paying salaries to British Army 
British Economy was really bad 

Jinnah 

22 march 1940 – Jinnah says "Up until now the British just ignored me, now they are laying the Red Carpet for me"

In the end, this is actually what happened

Jinnah's message to AMERICA 

"Please don't oppose the Creation of Pakistan, we as a Muslim Nation will be able to serve you not only in South Asia, but in Middle East also because of our cultural links"

British Army 

1946 – Lieutenant General Francis Tucker's statement 

"we need to create an ISLAMIC ARC extending from Algeria, into Arabian Desert, into Turkey, into Northern Hindustan; where through Islamic Ideology and British Science, we can prevent Soviet Communism" 
Francis Tucker – pro Muslim League, anti-Congress

Sir Claude Auchinleck (Supreme Commander South Asia) was ordered to make a memorandum on Pros/Cons of Partition 

On 11 may 1946 he submits the memorandum – decides against the 'Partition of India' 

12 May 1947 – meeting between 3 heads of British Army + hero of WW2 Field Marshal Mintgumri on whether to 'Partition INDIA'

Outcome of this meeting – Partition of INDIA is in the Interest of BRITISH

"Hindustan may go its own way, but JINNAH has interest in joining the Common Wealth, we should demand Pakistan access to – Karachi port facilities, Pakistan air fields, Muslim Man Power"

British Government 

Jinnah & Muslim League supported British Army during WW2, but Gandhi & Congress where pressing 'Quit INDIA Movement' 

Nehru was – anti colonial, anti-imperial, inclined towards communism, leftist 

From the British point of view – Partition of INDIA was a way of holding on to the sub-continent even after power had been transferred  
If British were not interested in 'Partition of India' – they would have put Jinnah in Jail, the Muslim League movement would have been fizzle out (weakened) – just as they thrown all Congress Leaders in Jail during 'Quit INDIA Movement' 
For British 'British Interest' was paramount (everything was subservient to that)
People in INDIA & PAKISTAN should understand – 'Partition of India' was a British Decision 

Nehru v/s Jinnah who was right? – these are secondary issues  
Moral: beggars are not choosers

27 December 1945 – Break Down Plan (of India)

If Partition of India is imminent, then necessary plan to implement it 

One-sided Communal Riots in North West Frontier Provence (present day Khyber Pakhtunkhwa, Pakistan) 

In December 1946, the Sikhs and Hindus of Hazara district, NWFP, were subjected to unprecedented savagery of Muslim mobs. Thousands fled to Punjab, some got refuge in Rawalpindi, but most went eastwards where Sikhs were in substantial numbers.
Hindu & Sikh Genocide happened in Hazara district (Mansehra, Balakot, Bafa, Shinkiari) 
Hundreds if not thousands were killed 

Clement Attlee, the Prime Minister of the United Kingdom, announced on 20 February 1947 that: The British Government would grant full self-government to British India by 30 June 1948 at the latest, The future of the Princely States would be decided after the date of final transfer is decided 
8 March 1947 – Until then Congress was still hoping to retain INDIA as a united unit, but then realized that it may not be possible 

8 Mar 1947 – CONGRESS High Command Resolution 

"we support SIKH demand for the Partition of PUNJAB" 

Observation: 

Now Congress also wants PARTITION, not on Muslim League's conditions, but on its conditions 

Communal tensions in Punjab (Western India) 1947 

2 March 1947 – 'Malik Khizar Hayat Tiwana (Punjab Unionist Party)' Chief Minister Punjab resigns 

Unionist party was a secular party. Initially Unionist party + Congress + Akali Dal formed a coalition government 

*Punjab Riots explained in detail (compulsory watch) 
5 March 1947 – Multan Riots 

Seth Kalyan Das (prominent business man) & his Family were butchered   
150-200 Hindus killed 

Sikh Genocide in Rawalpindi 6-12 March 1947 – 5000 to 7000 killed 

Rawalpindi City was a Hindu & Sikh majority city, while Rawalpindi District was Muslim majority district. 
Sikh's were property holders in Rawalpindi City 
Neither Jinnah nor Mamdot (Muslim League – Punjab Chief) issued a public statement condemning the killings 
Observation: 

*British Indian Army's Northern Command was in Rawalpindi – why didn't they stop the riots? 

April 1947 – Communal Riots in Amritsar & Lahore 

Fight was equal on both sides  

Mid April 1947 – JINNAH persevering SIKH Leaders to join Pakistan (post Rawalpindi Genocide)

*YouTube (27:00 to 42:35): https://www.youtube.com/watch?v=JN2UQ2vv5iA&list=LLk0ZEFnOOCsw9rrN_Xjp59Q&index=2 
Jinnah wanted to accommodate Sikh's also and in return wanted 'Total Punjab' to Pakistan
Jinnah promised a blank cheque to Sikh Leaders

Jinnah "what all your demands are, I am ready to accept" 
Jinnah even promised Sikhs, they will have a separate Army & administrative province inside Pakistan 
Sikh Leader Gyani Kartar Singh was inclined to accept Jinnah's offer 
Hardit Singh Malik to JINNAH "Sir you are making all the promises but God forbid if something happens to you, what will happen then?" 

"My friend, in Pakistan my word will be like the word of God. No one dare go back on it," replied Jinnah. " 

Even though this is a tempting offer, Sikh's rejected it. Rawalpindi Genocide may be the main reason for rejecting the offer. 

* Observation:

If Sikhs had accepted this offer, entire Punjab may have gone to Pakistan. 

Total Punjab = West Punjab (now in Pakistan) + East Punjab (Punjab, Haryana, most of Himachal Pradesh) 
East Punjab & entire JAMMU & KASHMIR would have become part of Pakistan 
Thanks to MASTER TARA SINGH it did not happen 

*In today's Pakistan if any Pakistani says "my word will be like the word of God", he will be put immediately in Jail under Blasphemy Laws & later DEATH penalty will be awarded  

3rd March 1947 – voting inside 'Punjab Assembly' by its Legislators – on the issue of whether PUNJAB should be part of 'India or Pakistan'
3 Christian Legislators in Unified Punjab Assembly voted in favor of Pakistan instead of India
89 votes came in favor of India, 91 votes came in favor of Pakistan, 3 Christian votes played a decisive role
89 votes came against the division of Punjab, 91 votes came in favor, 3 Christian votes played a decisive role
Had these 3 Christians voted in favor of INDIA, India may have got LAHORE (the crown jewel of the British Raj) & more land during partition
Why did these 3 Christian Legislators voted in favor PAKISTAN ?

Answer: British told them to vote in favor of 'Creation of Pakistan'
Master Tara Singh (leader of Sikh Community) came out of Punjab Assembly (in LAHORE) and shouted 'Pakistan Murdabad'
22nd March 1947 – Lord Mountbatten (Last Viceroy of British Raj) arrives in India

Mountbatten was ordered to transfer of power by June 1948
Mountbatten talks with all kinds of leader – Congress, Muslim League, Ambedkar, Dravidian parties
Around mid-April 1947 – Mountbatten came to the conclusion "Partition of India" is the only workable solution

Jinnah's appeal to Mountbatten

"we Muslims have been a loyal people, we never opposed British Rule, How can British refuse our (Pakistan) entry into British Common Wealth"

Communication between Jinnah & Winston Churchill (Leader of Opposition Britain)

Jinnah says he has the support of Churchill in regards to 'Creation of Pakistan'
Churchill hated Hindus & Congress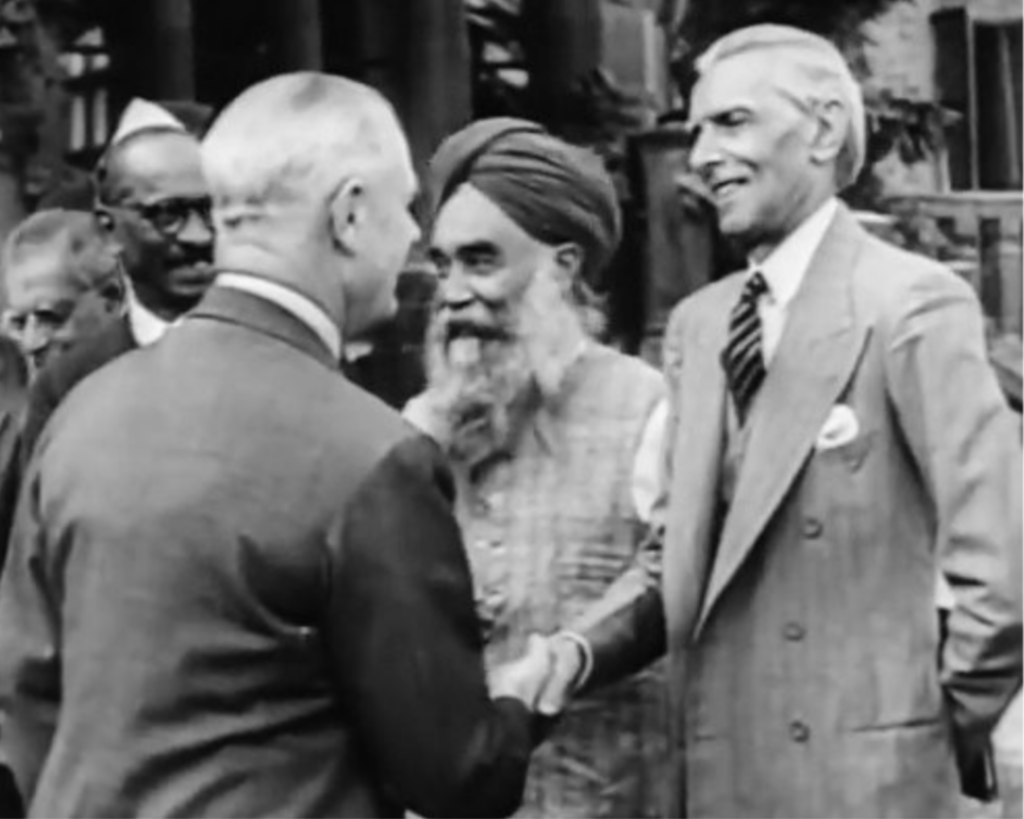 Jinnah contradicting '2 Nation Theory' 

Hindus & Muslims can't leave together at All-India level, at the same time Muslim League demanded not divide Punjab & Bengal on religion bases 
 May 1947 Jinnah Says 

"Punjabi is 1st a Punjabi, next he may be Sikh or Hindu or Muslim"
"Bengali is 1st a Bengali, next he may be Hindu or Muslim"

3 June Partition Plan 1947 (Partition of Bengal & Punjab)

YouTube (42:34 to 1:14:01): https://www.youtube.com/watch?v=JN2UQ2vv5iA&list=LLk0ZEFnOOCsw9rrN_Xjp59Q&index=2 
Partition Plan – There will be a Boundry Commision, the effected parties will present their case. The Muslim & non-Muslim contiguous areas will be separated and given to India & Pakistan, and other factors will be taken into account. 
Partition plan doesn't talk about STATUS of Princely States (Bahawalpur, Patiala, Junagarh, KASHMIR, Kalat)
23rd July 1947 – Punjab Assembly 

All Muslims (including Unionist Party) voted against Partition of Punjab 
All Hindus & Sikhs voted in favor of Partition of PUNJAB

21st June 1947 – Bengal Assembly 

All Muslims voted against partition, all Hindus (except 1 or 2) voted in favor of Partition of BENGAL

British wanted to leave INDIA before it Explodes because of Communal Riots 

*YouTube (1:00:05 to 1:02:52): https://www.youtube.com/watch?v=JN2UQ2vv5iA&list=LLk0ZEFnOOCsw9rrN_Xjp59Q&index=2 
If British stayed till 30 June 1948 as stated by Clement Attlee (PM of UK) – British would have been held responsible for failure of Law & Order & Ultimately the Genocide of 1-2 Million (ordinary Hindu, Muslim & Sikhs)

That's the reason why British left INDIA 11 months early in August 1947

In 1946 – Uprising in Indian Navy happened 

Few British Navy Officers were killed, few were taken as hostages  

Punjab Partition 1947

From July 1947 onwards – retaliation from Sikhs & Hindu mobs in East Punjab 
Maharaja of Patiala – played a huge role in Genocide of Muslims during the partition of Punjab 

Bengal Partition 1947 

Bengal was a Muslim majority province 
Congress – "if INDIA gets divided, then Bengal should also be divided on basis of religion" 
In Bengal – Congress took support of Hindu Mahasabha  
Jinnah was against the 'Partition of Bengal'

Reason: In Bengal province, Calcutta was the only large city with Government Institutions & Infrastructure. Calcutta is a Hindu majority city (~74%), there is no chance Calcutta would be awarded to East Pakistan. 

3rd June 1947 – Mountbatten said "India will be Partitioned, Punjab & Bengal will have a right through their assemblies to decide whether they want the Whole Province to go India or Pakistan" 
11 August 1947 – Khan of Kalat declared Kalat as independent country 

Pakistan Military annexed Kalat

Jinnah's 11 Aug 1947 speech (this speech contradicts 2 Nation Theory)

For liberals in Pakistan, it was a crucial speech in which Mr Jinnah spoke in the clearest possible terms of his dream that the country he was creating would be tolerant, inclusive and secular. 
Jinnah – "You are free. You are free to go to your temples, you are free to go to your mosques or to any other place of worship in this state of Pakistan," Jinnah declared. "You may belong to any religion or caste or creed – that has nothing to do with the business of the state."
Decoding Jinnah's 11 Aug 1947 Speech: Prof. Dr. Ishtiaq Ahmed – https://www.youtube.com/watch?v=TY2N6LWwc9M&list=LLk0ZEFnOOCsw9rrN_Xjp59Q&index=3 

*Actual Reason: If all the Muslims in India (30 million) were expelled, Pakistan would have collapsed in its inception. This is the reason why Jinnah gave that Secular Speech. 

KASHMIR 

Partition of India was 'Partition of British India', not the Princely States (ex: Kashmir, Bahawalpur, Hyderabad, Kalat, Patiala) 

British was not willing to give India complete Independence, it wanted India to be its Dominion 

48:56 – 52:52  https://www.youtube.com/watch?v=2RTXqyI_clM 
18th July 1947 – Indian Independence Act (passed in British Parliament) – 2 Independent Dominion (Pakistan & India) 

Princely States were ordered to negotiate either with India or Pakistan

History of West Punjab (present day Pakistan)

Sir Ganga Ram – civil engineer and architect – the father of modern Lahore 
Lahore – Paris of East 

Hindus & Sikhs were confident that Lahore will remain with India, but Lahore was given to Pakistan 

Radcliffe Award or Radcliffe Line 

https://en.wikipedia.org/wiki/Radcliffe_Line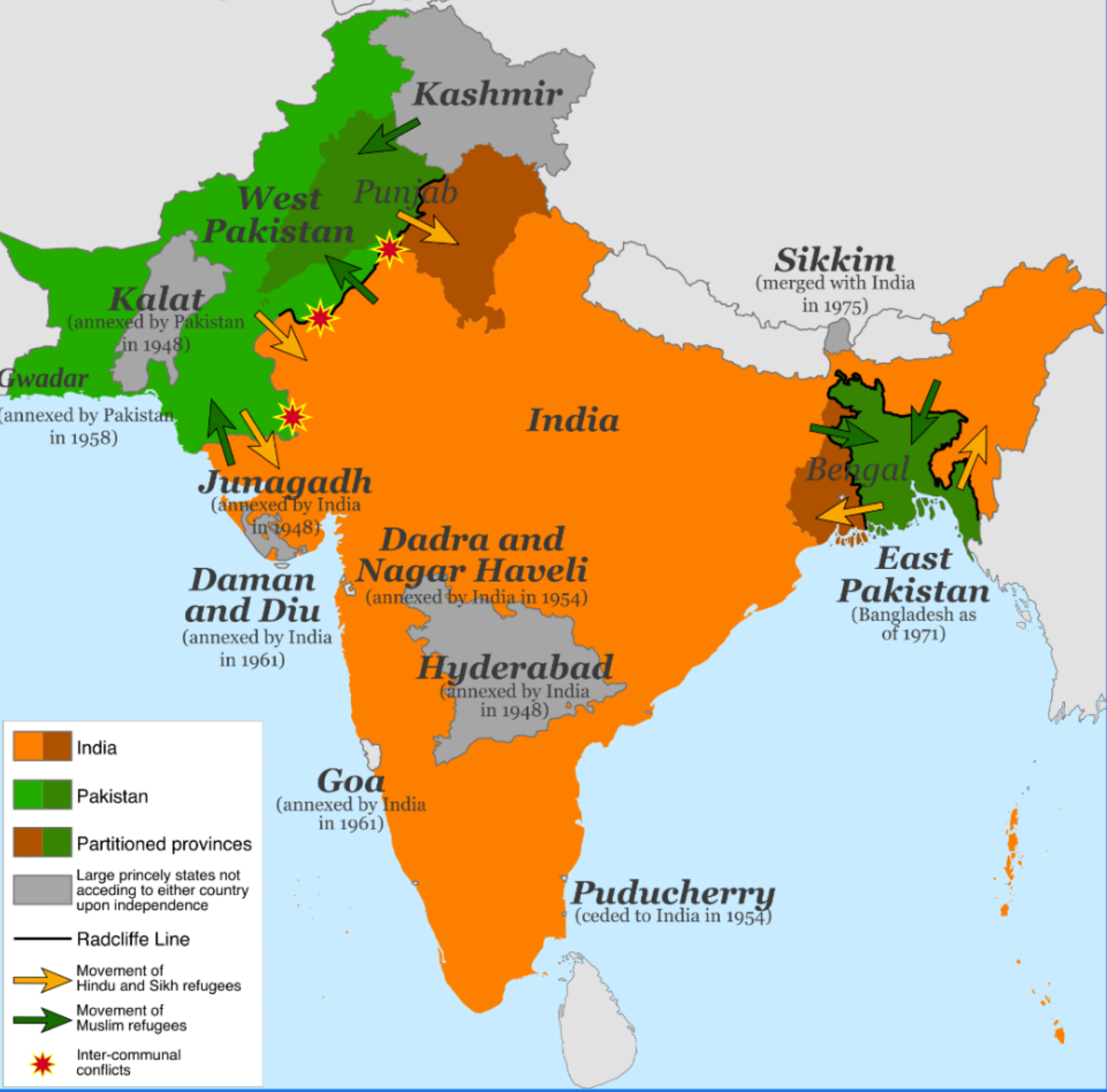 Punjab Division 
In Punjab 80% properties were owned by Hindus & Muslims. 75% revenue is generated by Hindus & Muslims. 
80% of Businesses were controlled by Hindus & Sikhs in LAHORE. Congress demanded – Lahore 
Sikhs demanded – Sialkot, Nankana Sahib, Gujranwala, Sahiwal (Montgomery), Faisalabad (Lyallpur), Lahore 
All of the above places were given to Pakistan 
*Radcliffe Line satisfies 99.9% of Muslim Leagues demands. Muslim League wanted Division of Punjab only based on Religion (they achieved what they want)  
17 Aug 1947 – Redcliffe Award was made public (all HELL broke loose in Punjab)
Role of Princely States in Ethnic Cleansing of 'Unwanted Minorities'

Maharaja of Patiala & Kapurthala were involved in ethnic cleansing of Muslims in East Punjab
Nawab of Bahawalpur – peacefully sent Hindu & Sikh minorities in his province (not involved in ethnic cleansing)
Horrors of PARTITION

Punjab

Punjab population – 33.9 million
10 million Punjabis literally ran for their lives (ethnic cleansing happened on the both sides of Punjab)
6 million people migrated from East Punjab (India) to Pakistan
4.5 million people migrated from West Punjab (Pakistan) to India
500,000 – 800,000 killed
90,000 women abducted (most of them raped)
Conclusion: More Muslims were killed in East Punjab then Hindus & Sikhs in West Punjab.

PUNJAB was out of control

March 1947 to end of June 1947 – communal riots in Muslim majority districts of Punjab (West)
From July 1947 till end of Dec 1947 – retaliatory attacks on Muslims in Hindu & Sikh majority districts of Punjab (East)
~3 lakh Hindus & Sikhs killed in West Punjab
~5 lakh Muslims killed in East Punjab

Ethnic Cleansing of Muslims in East Punjab

Carried out in a much more organized way
YouTube (till 51:00): https://www.youtube.com/watch?v=2Yt5L4qAY2c
From 9 Aug onwards – attack on Trains started
Jalandhar, Ludhiana, Ferozepur in these cities of East Punjab Muslims were in majority
These 2 reports admit 'a very large scale massacre of Muslims has taken place in East Punjab'

Gurbaksh Singh Talib – SPGC report
Justice GD Khosla report

Sikh Leadership was involved in massacre
Large scale massacre of Muslims happened in Jalandhar, Ludhiana, Patiala, and Kapurthala

Kashmir

Jammu massacre (October 1947 – November 1947) 20,000–50,000 Muslims killed
Mirpur massacre November 1947 (20,000+ Hindu/Sikh were killed)
Rajouri massacre (7 November 1947–12 April 1948) (30,000+ Hindu/Sikh were killed)

Undivided India

Total population 380 million
1-1.5 million killed
14-15 million crossed Radcliffe Line
*If all the Muslims in India (30 million) were expelled, Pakistan would have collapsed in its inception

Parents killed their daughters (they didn't want their women gang-raped & butchered in hands of Muslim mobs)
Worst form of Killings

Spears (weapon) were inserted into Women's Vagina
Women's breast were cut off
People were burnt to death
Children were beheaded

* "Nobody died for Pakistan, a lot of people died because of Pakistan" – Moeenuddin Qureshi (Prime Minister Pakistan)
*Partition of INDIA (Punjab, Bengal & Kashmir) is the ultimate defeat of all that is humane and good in Human Beings
Jinnah

None of Jinnah's immediate family came to PAKISTAN (except his sister Fatima Jinnah)
Jinnah never visited any riot hit areas

*At the END even Jinnah (Architect of 2 Nation Theory & eventually Partition of INDIA) seems to have regrated his decision of Partition

Compulsory Watch (30:46 – 32:25) August 1947: The Parting of Ways – https://www.youtube.com/watch?v=NIC8pFJdL28&list=LLk0ZEFnOOCsw9rrN_Xjp59Q&index=3
December 1947 (after partition) – In his address to All-India Muslim League Council Meeting in Karachi

Jinnah – "I still consider myself to be an INDIAN. For the movement I have accepted the Governor-Generalship of Pakistan, but I am looking forward to a time when I would return to India and take my place as a citizen of My Country"
Jinnah's heart was not in his Government House in Karachi but in the beautiful mansion he had built for himself at Malabar Hill in Bombay. An authentic and fascinating account of this is given by Sri Prakasa, India's first High Commissioner to Pakistan, in his memoirs Pakistan: Birth and Last Days (Meenakshi Prakashan; Meerut, 1965). In the aftermath of Partition, the governments of India and Pakistan had started acquiring evacuee properties left behind by those who migrated from one country to another. Out of goodwill, Prime Minister Nehru decided not to disturb the Jinnah House in Bombay. However, since there was a shortage of accommodation for consulates, the government directed Sri Prakasa to consult Jinnah's wishes and the rent he wanted for letting it out. Jinnah, writes Sri Prakasa, was flabbergasted by the inquiry "and almost pleadingly said to me: "Sri Prakasa, don't break my heart. Tell Jawaharlal not to break my heart. I have built it brick by brick. Who can live in a house like that? What fine verandahs? It is a small house fit only for a small European family or a refined Indian prince. You do not know how I love Bombay. I still look forward to going back there"

4 major mistakes of 'Congress Party' that led to the rise of 'Muslim League -Jinnah'

Congress won elections in UP – 1937. Congress didn't share power with Muslim League.
In 1936 speech Nehru promised abolition of 'Zamindari and Jagirdari system'
Congress refused to support the British when WW2 started.
Quit India Movement

Muslims were overrepresented in Police & Army in United INDIA

According to 1941 census – Muslims are 25% of Undivided India
In British Indian Army Muslims are 38-42%
In UP Muslims are 15% of population, 50% of police are Muslim
In Punjab Muslims are 57.1% of population, 73% of police are Muslim
Conclusion

*The reason why British could hold on to power for 200 years in Indian Sub-continent
Finally, Jinnah's vision of PAKISTAN (land of PURE(Muslims)) became reality. What next:

Zamindars & Jaghirdars (Feudal Lords) are happy
Infact they played a vital role in CREATION OF PAKISTAN
Pakistan didn't abolish Zamindari System, India abolished Zamindari System
Mulla & Maulvi (Religious Clerics) are very very happy
In 1974, a constitutional amendment deemed AHMADI Muslims as Non-Muslims

Ahmadi Muslims played a vital role (politically & financially) in creation of Pakistan

Pakistan Army (Military Industrial Complex) is Happy
Shia genocide is happening in Pakistan
DISCLAIMER: The author is solely responsible for the views expressed in this article. The author carries the responsibility for citing and/or licensing of images utilized within the text.