Congress Vs AAP – Who will lead the Opposition Space??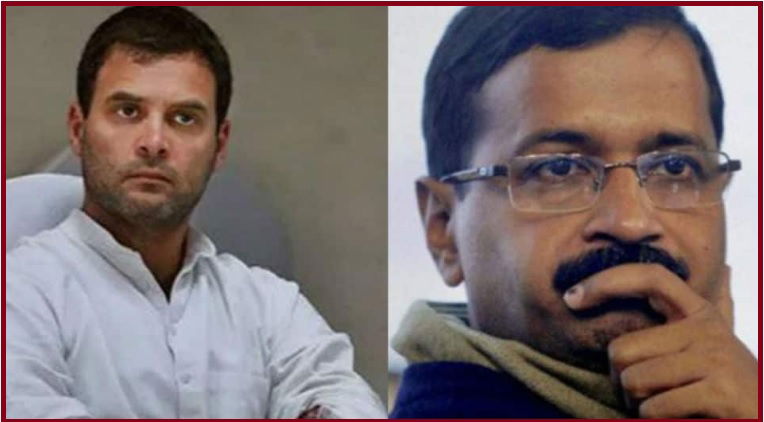 Congress had a past and AAP has a presence, but to conclude who will lead in future depends upon their leadership and their actions.
While debate is centered on the leadership of the opposition, it should be unambiguously acknowledged that the central position of Polity has been captured by BJP for many decades to come. And hence opposition actions and policy will counter BJP policies.
Let us not forget, Congress still holds nearly 19% of Vote in the last parliament election though with nearly  54 Lok Sabha Seat only. And AAP has no Representation in Lok Sabha today with dismal vote share in last Lok Sabha Election. Yet what has changed in between.
AAP is led by a very astute Arvind Kejriwal, an IIT educated, Ex-Civil Servant and politician of inconceivable ability. He started with Anna hazare and deserted. Worked with Prasant Bhusan, Yogendra Yadav, Kumar Vishwash and ditched him. Lok Pal institution, Citizen Charter bill, Reformed Governance and Corruption free administration were his public promises.  But these also turned out to be a big disappointment for the aspiring middle class.  He started his political career by publicly declaring a list of corrupt Political leaders. Something that was never heard or seen in Indian Polity before. He challenged all the mighty and spared no one like Shard pawar, Laloo Prasad, Mulayan Singh, Pranab Mukherjee, P Chidambaram Nitin Gadkari etc etc. However later he conveniently retracted, begged for forgiveness to few and collaborated with the rest of the leadership.
And yet he is roaring in Public. He is seen meeting, interacting and cajoling people all across India. He practiced the art of distributing free benefits like free electricity/ water / scholarship with perfection which no other political party has exploited in history before with such a success. His flurry of advertisement on both print and electronic Media across India has blunted the possibility of the remotest of uncomfortable question or critical analysis of his governance. He does lack a visible second line of leadership, yet he has cornered the imagination of a section of society. With his style of pungent rhetoric and scathingly targeted criticism of BJP, he has positioned himself as an advocate for the disgruntled section of masses.
Yet, You may dislike and discredit him but cannot ignore him.
Congress on the other hand has a talented, popular pool of long leadership, a charismatic history led by Gandhi Family. Despite a decade of loss of both power and many mass leaders, it still commands loyal followers among intellectual, resourceful sympathizers, Media and in the Left ecosystem. The congress had some of the best recalled policies on social, political and economic front in the past. From Poverty alleviation program, 20 Point Program to Economic reform, it has a long list to claim. Its policy on secularism which is seen more as minority appeasement has long ruled the Hindi heartland political discourse. Though it has contradicted many of its past policy stands or has not been able to advertise its achievement, to say Congress finished from opposition space is grossly unfair and immature statement.
Between Rahul Gandhi and Arvind kejriwal, there has not been any boxing as yet. Both are avoiding and ignoring each other. While AAP has emerged at the cost of Congress in both Delhi and Punjab, yet both have maintained a tacit silence and graceful distance in attacking each other.
The second line political leadership of both AAP and congress has its own mess. While APP has virtually no second line, congress has aged discredited and poor performers. Both the parties trust loyal and "Yes Sir" followers. And both have suffered from the loss of talent on account of this similarity.
With an overlapping vote bank, common Political Goal and adversary, it is left between mercurial Arvind Kejriwal against the left over skeleton organization of Congress.  While AAP has no organization, Rahul has yet to prove his mettle in public oratory, commitment and political decisions.
It is a long road to both AAP and congress. The third and forth front can undo, spook or destroy any potent opposition. Both AAP and Congress have known the destructive ability of third and forth front.
Outcome 2024 is settled. It is Modi Vs none. The fight for opposition space is for 2029. Let us see what unfolds.
DISCLAIMER: The author is solely responsible for the views expressed in this article. The author carries the responsibility for citing and/or licensing of images utilized within the text.