Delhi: ABVP students launched protests against the barbaric beheading of Kanahiya lal and others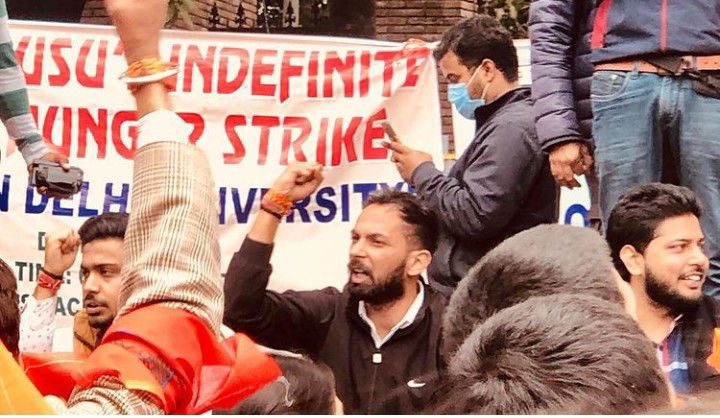 On 4th July, ABVP had planned a protest march in South Campus of Delhi University against the barbaric beheading of the Hindus in different parts of the country by the Islamists. The students accumulated in the South Campus demanding justice for Kanahiya lal and others who have been a target of Islamic extremism.
The administration tried to play spoilsport and detained Naveen Yadav, Joint Secretary ABVP and cancelled the permission citing law and order issues. However, after seeing students of Delhi University getting infuriated, they gave a permission for the march in limited numbers with police accompanying the activists.
The demonstration took place 5 days after Kanahiya lal was beheaded by the Islamists for allegedly supporting Nupur Sharma in a post. Another case emerged later was that of Umesh Kolhe that was earlier framed as a robbery case but it was revealed later that Umesh Kolhe was murdered for supporting Nupur Sharma in his posts.
Naveen Yadav, Joint Secretary of ABVP stated in media that ABVP's protest is for demand of justice for Kanahiyalal and others who became target of Islamic extremism. He added further that the protest against the patternwise killings of innocent Hindus who have just voiced their opinion. The students of DU along with ABVP activists led a strong protest against the state governments under whom kanahiyalal wasn't given any protection despite multiple requests. and in case of umesh kolhe, the same state administration framed it as a robbery case.
DISCLAIMER: The author is solely responsible for the views expressed in this article. The author carries the responsibility for citing and/or licensing of images utilized within the text.