Devotees Protest Against DMK Govt Building TOILETS in Ancient Srithalasayana Perumal Temple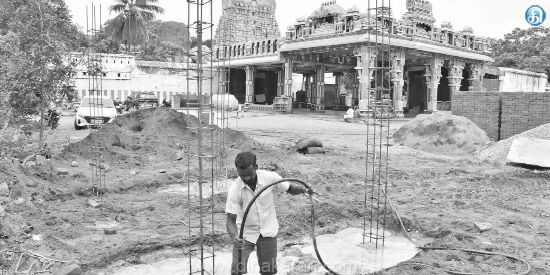 After going on a demolition drive singularly against Hindu Temples, the DMK government is now building Toilet Complexes very close to ancient Temple shrines bringing foul odour, unhygienic conditions and desecrating the spiritual atmosphere in temples hurting the religious sentiments of devotees.
The ancient Srithalasayana Perumal Temple is located in the heart of scenic Mamallapuram near the ancient site where Arjuna did Tapas thousands of years ago. The Temple is revered as the 63rd Divya Desam of the total 108 Divya Desams.
Divya Desams or Divine Worship places were enumerated by the revered spiritual ancient devotees of Bhagwan Vishnu from Vaishnavite tradition respectfully called the Azhwars. The 12 Azhwar saints enlisted a total of 108 Divya Deshams regarded as most holy shrines dedicated to Bhagwan Vishnu.
The Srithalasayana Perumal Temple at Mamallapuram is therefore considered as a very holy pilgrimage centre and visited by lakhs of devotees not only from Tamil Nadu but from all over India and Hindus around the world. The Temple complex has an ancient well and drinking water tank near the main shrine.
The Panchayat administration issued tenders for Rs.5 lakhs for constructing six toilets as basic infrastructure facilities for the devotees visiting the ancient Temple. The HR&CE department instead of finding a secluded corner for building the Toilet Complex has started constructing the toilets near the main shrine.
All construction material like sand, bricks and laying of foundation work to construct the Toilet Complex near the shrine has begun in full gusto under the inspection of HR&CE.
This action has naturally raised the ire of local residents and devotees who are protesting the move and demanded that the Toilet Complex be shifted to a place far away from the main shrine area and the ancient well.
The devotees are objecting to the fact that having the Toilet Complex near the shrine complex would result in bad odours circulating in the area defiling the spiritual ambience. Also, having Toilets near the ancient well and drinking water Tanks would pollute the water. The devotees also objected to many huge luscious green trees being cut in the Temple premises to build the Toilets.
The local residents and Hindu devotee pilgrims have petitioned the Chengalpattu District Collector to personally visit the place and build the Toilet Complex under his personal guidance in a secluded area far away from the main shrine, ancient well and drinking water tank.
It is hoped that the district administration takes immediate corrective measures, restores the greenery around the shrine and gets the Toilet Complex constructed at a suitable distance away from the main shrine complex maintaining the sanctity of the ancient Temple.
News input and source of featured image: Dinakaran
DISCLAIMER: The author is solely responsible for the views expressed in this article. The author carries the responsibility for citing and/or licensing of images utilized within the text.