Double Standards of Bollywood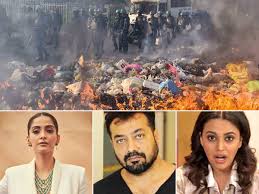 Yesterday 38 Producers and Production houses of Bollywood file Defamatory Suit against Republic TV, Times Now and other Journalists.
Their claim is that these media houses blindly defaming Industry by using some defamatory words like "druggies, scum, filth" but during investigation which was done by the NCB. Agency got some solid evidence of drug supplies on Bollywood parties and also their is evidence that their are some big bollywood actors and actress use to take drugs.
This is the same bollywood who defame Hindu God and Goddes and when they were asked they call it creativity and hide behind the shield of Freedom of Expression and Freedom of Speech.
Do you Remember?
During the time of CAA many bollywood actors and actress suppot the movement aginst Government by misleading the common Muslims and they were succesful in making afraid to Muslim citizens aginst Central Government and make them believe that they lost their Citizenship because of the new bill which is passed by parliament recently.
But we all knows this bills is not for taking the Citizenship of Muslims beside this bill is used to provide Citizenship of Refuges of Pakistan, Bangladesh and Afganistan.
All the Bollywood Actors and actress justify the Protests and Violence which were done during Anti CAA protest in the name of Freedom of Speech and Expression. Hundreds of common citizens lost their lives because of Violence during Protest from Lucknow to Delhi.
What it means?
Bollywood Stars and Producers treat Freedom of Speech and Expression for their sake. It means when the use of these rights benefits them they will use it. And when these rights were used to Show their harsh reality to Public then they want to crush everyone who stand aginst these bollywoodias.
Now it is our turn to show the Bollywood that they are not allowed to set narratives.
BOYCOTT EVERYTHING WHICH DEFAMES HINDUS AND BHARAT.
Jai Hind..????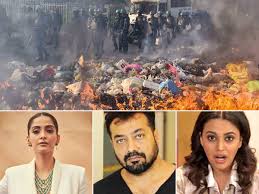 DISCLAIMER: The author is solely responsible for the views expressed in this article. The author carries the responsibility for citing and/or licensing of images utilized within the text.