Dismantling the propaganda video of BBC.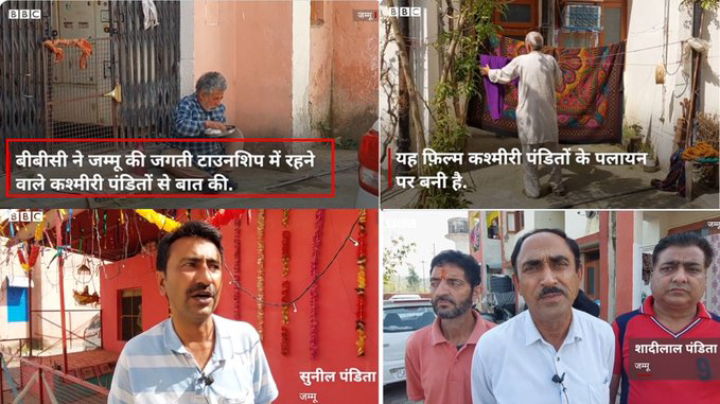 In social media, leftists-Islamists can be seen sharing a video of BBC where BBC could be seen interviewing some Kashmiri Pandits who are lashing out at the movie 'The Kashmir Files' and Bhartiya Janta Party for injecting hate among Hindu- Muslim community. A Twitter handle The Hawk Eye (username- @thehawkeyex) went up to expose the propaganda video of BBC. Here is the thread he wrote-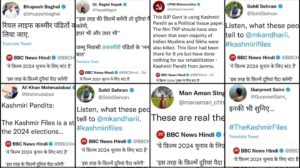 BBC published a report citing the views of 'real' KPs over #TheKasmirFiles, which garnered 1mn hits, promoted by INC, CPM & entire left cabal. Let's take a deep dive if they really represent 'real' voice of KPs or are just used as tool for BBC's propaganda.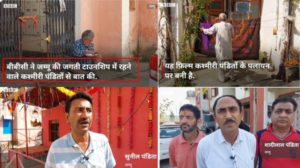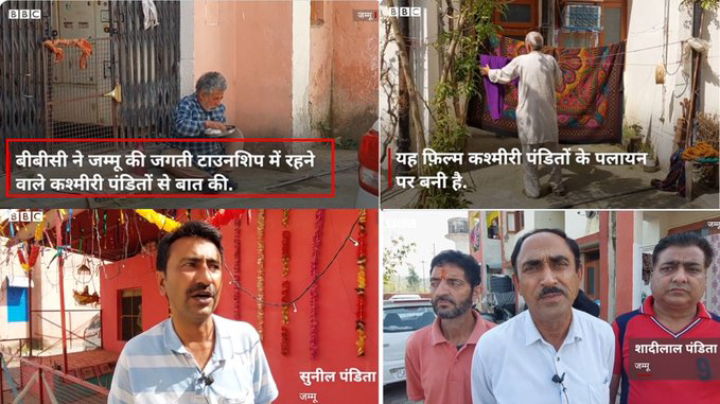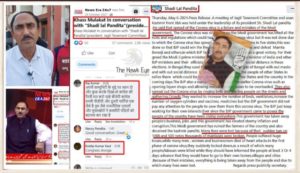 BBC selected Jagti Township at Jammu, where "residents" are criticizing the film as a 'political stunt gearing up for 2024'. Let this be clear that this location & these 3-4 ppl are not randomly picked. There is a specific agenda behind it.
Vid started with a 'resident' Shadilal Pandita (accompanied by a few), who happens to be society president. Currently, he is leading a protest against govt for relief demand supported by local Congress. He appears to be staunch anti-BJP by his SM posts & public interviews.
Another person who delivered the 'tissue paper' dialogue is Sunil Pandita, a local 'India Against Corruption' activist. He shared similar views about the film on social media & the rest is history. Check the harsh comments he received from FELLOW KPs from the vicinity.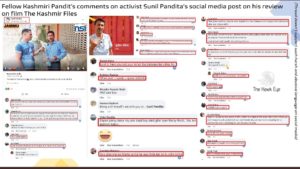 The lady was shot purposefully in front of the society plaque which is inaugurated by then PM Manmohan Singh & Omar Abdullah. We shall not focus today on the corruption & favoritism charges on the flats allocation that eventually led to evict notices to many illegal occupants.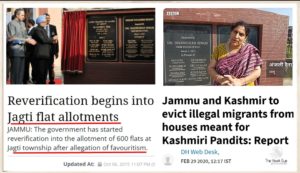 The point here is not individual's political views, which they are free to have. But do they really represent the whole of KPs community as projected by BBC?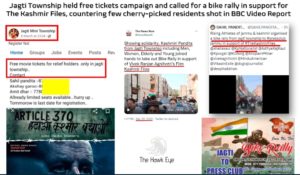 As a matter of fact, forget community, they don't even represent the views of their fellow Jagti residents. How?
Evidentially Jagti residents promoted the film by distributing free tickets! If it is not enough, today (20-Mar) Jagti residents had a bike rally in support of the film, read- to protest against those "KP rep" shot in BBC video. (Listen that slogan in the orig post).
With the same confused mind that many of us had about "what's the reality & motive of BBC report", here it is excerpts of interaction with a few of Jagti's residents. Spend two mins to read the raw views. (Identity cant be revealed, so this section is at readers' discretion).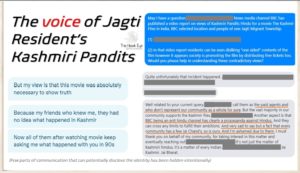 Apart from political reasons, after watching/reading many local news & public posts, one pattern is clear. Few KPs seem compelled to talk about 'brotherhood' in one sentence & 'film may cause trouble for us' in another. If there is love & respect, then what's the threat?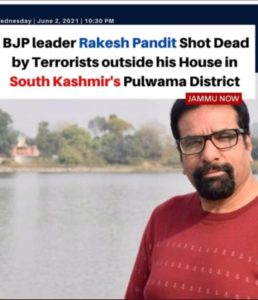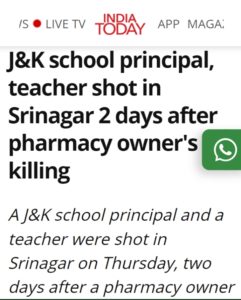 Few KP's public opinions living in J&K may differ from KPs living across the world. They all have gone through a lot but local KP still facing it and they may not like to promote film that supports the abrogation of 370 openly. The threat is real. These headlines are real.
In conclusion, BBC exploited the selection as "KPs real view" with their anti-India agenda. They never dared to share KPs story to the world but jumped to malign honest efforts.
#TheKashmirFiles is not a film, it's an agonized truth that waited for 3 decades to set free.
DISCLAIMER: The author is solely responsible for the views expressed in this article. The author carries the responsibility for citing and/or licensing of images utilized within the text.