DMK MP admits demolishing 100-year-old temples and river banks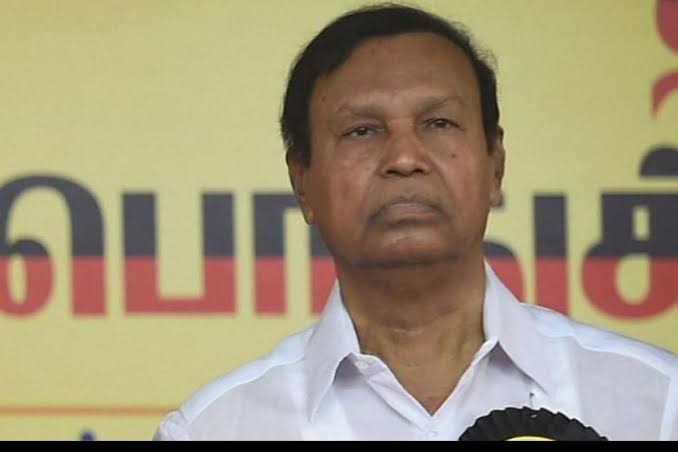 At a function organized in support of the Sethusamudram project i.e. the road to be built by destroying Ramsetu, a DMK MP confessed that he had demolished 100-year-old temples. DMK MP and former shipping minister TR Balu has proudly admitted that he has destroyed temples and damaged river banks, and yet nothing has happened to him.
He even claimed that he knew very well how to get votes, no matter how many anti-Hindu things were being said.
The DMK government is anxious about Sethusamudram to such an extent that it has got a resolution passed in the assembly to launch the scheme. Although the proposal was opposed in the House itself, yet the DMK and Dalit organizations are supporting the project because it will bring prosperity to South Tamil Nadu. Dravidar Kazhagam, the parent organization of DMK, held a meeting in Madurai and urged the government to start the project without any delay.
Hindu-hating Dravida Kazhagam chief K Veeramani, VCK chief Thol Thirumavalavan, Congress chief KS Alagiri and Finance Minister PTR Palanivel Thiagarajan were also present along with Lok Sabha MP TR Baalu. Balu insulted Hindu beliefs and proudly said that he destroyed 100 years old temples of Lakshmi, Saraswati and Parvati and yet the gods did nothing to him.
He said, "3 shrines in Rameswaram temple were shifted from their original place without listening to public opinion. Did it hurt religious sentiments? I demolished 100 year old temples of Lakshmi, Saraswati and Parvati on GST Road in my constituency (Sriperumbudur). Many people told me that because of this I will not get votes. I myself know But I know very well how to buy and garner votes. I blasted and built bridges across the Ganges, Kaveri and Kollidam (a tributary of the Kaveri on the banks of which the Srirangam Ranganatha Swamy Temple is situated). God didn't do anything for me. If people really believe that Ram Setu is real then shouldn't there be a revolution against the project now?"
Interestingly, he also clarified "his religion" by saying that he would cut off the hands of anyone who would dare to touch their leader (MK Stalin) or Ayya (K Veeramani). Ever since the Sethusamudram project was proposed during the UPA era, the DMK has been hurting Hindu sentiments in the name of alleged logic or science.
Late DMK chief and CM's father M Karunanidhi had said, "There is no history that talks about Ram's existence or that he studied engineering or that he built a bridge for that matter. (Laughs) What is it?"
TR Balu and others are only insulting Hindu beliefs by following in the footsteps of him and EV Ramasamy. Late TN CM J Jayalalithaa had opposed the project when it was proposed, saying the DMK was supporting it because of the shipping firms' interest in it. He alleged that TR Balu's family members and Kanimozhi own shares in shipping and logistics companies.
Tamil Nadu Bharatiya Janata Party president K Annamalai shared on Twitter the video of TR Balu's claim of demolishing temples and said that this is the reason why BJP wants to free temples from the clutches of the government by dissolving the Hindu Religious and Charitable Endowments Department. On the other hand, such an incident of Waqf Board has also come to the fore in Tamil Nadu, which has once again told the injustice being done in the name of that black law, which has become a big weapon to grab the land of Hindus.
The Tamil Nadu Waqf Board took over 50 acres of Hindu farmers' land in one night. Recently, a video of some Hindu men and women arguing with police and government officials over confiscation of their agricultural land went viral on social media. Later details came to light that government officials were asking Hindus to hand over their land to the Waqf Board as the people of the Waqf Board had claimed their land. The incident took place in Veppur village of Ranipet district near Vellore. Ranipet is a Muslim dominated area.
Bharatiya Janata Party leader H Raja raised his voice on this issue on social media and tweeted that the government took 56 acres of land from Hindu farmers and handed it over to the Waqf Board. He said that he went to the village and spoke to the victims. He said that Hindus will have to get their property back through the courts from one of the wives of some Wahab because he could not repay his debt.
Describing the DMK rule as the rule of Malik Kafoor, he alleged that the amount of land that has been encroached through the Waqf Board is 7 times more than the money that was earned from the 2G scam. He claimed that he has received more than one lakh complaints on his twitter account about the forcible acquisition of Hindu property. He assured that the Bharatiya Janata Party would stand by the victims.
How the Waqf Board is encroaching on the cultural properties of Hindus, it had claimed rights over two islands in Dwarka. Then the High Court, while hearing the matter, had questioned that how the Waqf can claim the land of God! Although still these incidents are not discussed, there is no discussion!
DISCLAIMER: The author is solely responsible for the views expressed in this article. The author carries the responsibility for citing and/or licensing of images utilized within the text.