Do You Know: The teacher who taught Barkha Dutt teaches in Vision IAS coaching institute.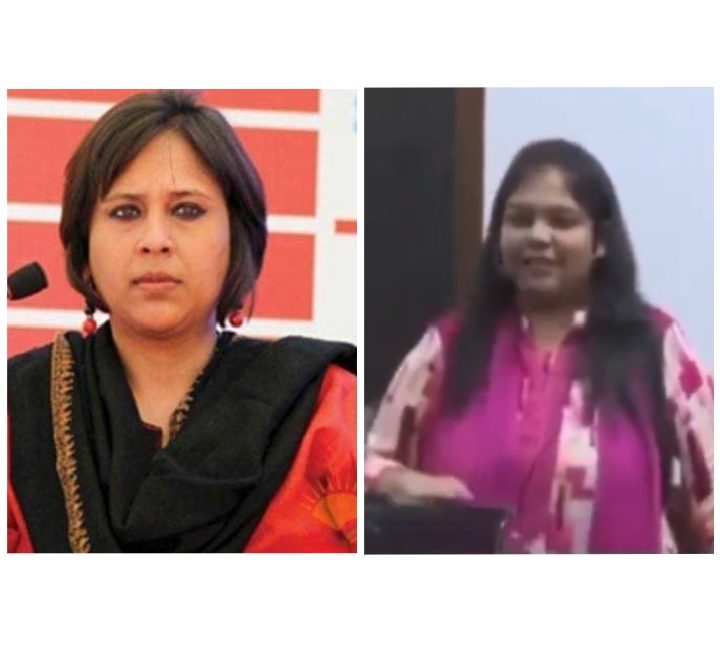 This article is a work of sarcasm
The shocking revelation came out in front of the people and also the people of Bharat took no time to recognise the teacher who taught Barkha Dutt. The thing here to note is – people did not recognise the teacher of Barkha Dutt by his face but through the same Anti-Hindu mindset her teaches poses with Barkha Dutt.
The educator who came out to be the teacher of Barkha Dutt, name is Smriti Shah. Some videos are going viral around the internet where it can be seen that the tutors of Vision IAS coaching is openly inciting hate against Hindus and is leaning with Islamists and tyrants like Aurangjeb and Owaisi in front of the students who are preparing for civil services. In the videos going viral it can be seen that the educator of Vision IAS, Smriti Shah is spewing venom against Sanatan Dharma and Hindus. Smriti Shah is seen taking the same position as Barkha Dutt in the Hindu exodus from Kashmir in 1990s. Smriti Shah tries to justify the exodus of Kashmiri Hindus like Barkha Dutt by trying to cover the whole pogrom generated through Islamic hate under the garb of "Peasant movement". She called Sheikh Abdullah as a secular and Socialist person who was trying to do land reforms. She stated that in Kashmir, the landlords were the oppesorse who oppressed poor peasants and majority of the landlords belonged to the Hindu faith and muslism were poor peasants. And therefore, poor peasants revolted against rich lardlords ie Hindus and therefore the peasant movement took the communal colour.
Smriti giving gyaan on KP exodus by saying Sheikh Abdullah was a socialist and a secular person. pic.twitter.com/GhjGEFXjdk

— Koul Utsav ఉత్సవ్ కౌల్ 🇮🇳 (@koul_utsav) March 1, 2022
Smriti Shah also also be seen spewing venom against Sanatan Dharma and is calling "Bhakti movement" as Bhakti cult. She goes on to eulogize Islam and falsely claims Islam as a liberal religion which is devoid of injustices and discrimination. In other video the same bigot Smriti Shah is seen glorifying and binding praise for Asaduddin Owaisi whose is a known Hindu hater. She asks students of Vision IAS to follow and hear speeches of Asaduddin Owaisi. She also spews venom against Hindus of Haryana and Punjab 'purchase 1 wife for 5 sons'.
DISCLAIMER: The author is solely responsible for the views expressed in this article. The author carries the responsibility for citing and/or licensing of images utilized within the text.