Exposing Presstitutes Shielding Anti-nationals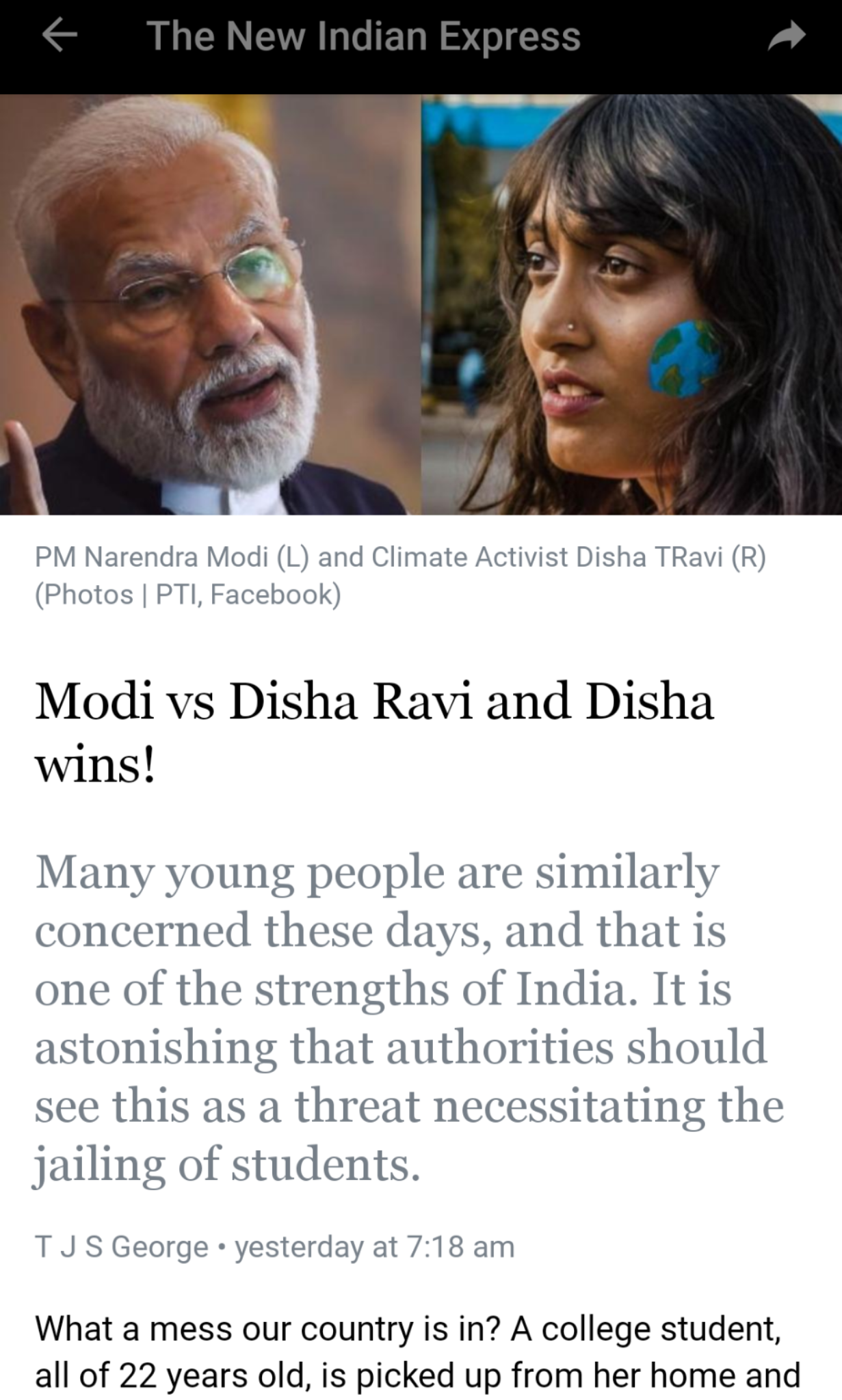 Recent article by one T S J George in New Indian Express shamelessly depicting the arrest of 22 year old Disha Ravi for her involvement in anti-national activities related to Greta toolkit as a fascist act by Modi govt. Here's why the article proves that presstitutes like NIE show their hypocrisy and we folks continue to look for news on their site. Make no mistake about what this nie printed on Palghar Sadhus lynching.
Questions to New Indian Express
Is it first time that 22 year girl or boy was arrested? Have we not seen recently people in their 20's were arrested just for calling CM a penguin? Have we not seen a girl in Jharkhand of 19 years of age arrested for just a tweet and judge released her saying to distribute Quran s as punishment? How can they write this type of crap? Who is she? An Environmental activist ? What is her achieviment till now to save environment till now? Nothing except Modi hatred.
Campaign of fake narratives for public sympathy
These people are running a campaign for her to pressurise the Govt or police, the campaign is to intimidate the judges. Did you hear what ex CJI Ranjan Gogoi said on India today regarding this creation of trends to get favourable judgements. All these articles are to pressurise them.
Articles and opeads by these people about 22 year show their frustration, fear. Frustration as well hatched plan botched, waste of huge resources and time. Fear about legal action as agencies have far more evidence than discussed in public.
One more angle is an attempt to play victim card before judiciary. They know they are on a very weak ground this time.
If the suicide bomber who killed Rajiv Gandhi was caught alive, she would be out of jail in one year. Shocked! She was just 17 yr old. Using youngsters is an old practise worldwide by terror organizations and Marxists or communists.
Strategies used by left ecosystem in the past
Colonial powers gave up their colonies because they understood physical presence of their troops triggers intense reaction. Instead they decided to use issues like Human rights,climate ,FOE ,women rights, democracy, sustainable development ,religious prosecution to create ruckus through funded activist and then interfere in other countries. Here the girl uses cover of climate change activist to create violence and chaos in Bharat. Western countries used HR issues to stop counter terrorism activities against Khalistani/Kashmiri terrorist in the past.
Ajmal Kasab carried out attack on Mumbai at the age of 21yr. There were 2 others of age 21yr, one of 22 yr. The youngest in that suicide squad Shoaib was just 18 yrs old. In the same way Disha Ravi 22 yr old is not a kid.
Dhanu the suicide bomber who killed Rajiv Gandhi was just 17 yr old. Nalini the standby suicide bomber was 24 yr old at that time.
The reason Disha Ravi was arrested
Disha Ravi was not arrested FOR being 21. She's not arrested FOR being a climate activist. She's arrested FOR being a seditious traitor. She's arrested FOR editing a document that promotes riots. She's arrested FOR editing a document that wants to break Bharat.
The Age At which you decide to work for or against the nation
?Arun Khetrapal the youngest recipient of Param Vir Chakra was just 21 yr old. He showed exemplary courage in tank battle, destroying many Paki tanks. But Paki were in great number and Bharat suffered reverses. He was told to abandon the tank. He refused and singlehandedly fought and destroyed more tanks. More importantly he held on Paki armour advance. The way he fearlessly charged towards Paki tank squadron he should be icon for youths of the country rather than brainwashed communist pawns like Umar Khalid, Disha Ravi.
?Shivaji Maharaj took oath at Raireshwar temple to establish Hindavi Empire at the age of 16 yrs. Same year he lead the attack and took first fort Torana.
?Skandgupta defeated all powerful Huns who invaded Bharat at age of 17 yrs. At 21 woke liberals are dreaming of destroying Bharat. SHAME!
Now, the big picture!
Some people say why arrest and make Disha Ravi a hero. Youngsters with communist or Marxists leaning join anti national activities thinking there is glamour, money and career in it. Fear has to put in their mind. UAPA on dozens of JNU/DU/JMI students has silenced tempers in University campus and put brake on maoist recruitment.
Lets be very clear Nikita Jacob, Disha Ravi and Shantunu were given a specific task. Investigation will tell who gave them this task.
Article says Bharat's global image dented. In the same period Bharat gets highest FDI, highest no of MNC's shifting to Bharat, none raking up Kashmir issue, no sanctions.
The ecosystem creates, starts, speaks, writes, makes videos, circulates, rants, appreciates, opines about its success but all amongst themselves. Exactly like the cat closing it's eyes syndrome.
The way ecosystem is rattled shows that Disha Ravi is important catch and not a small fish!
DISCLAIMER: The author is solely responsible for the views expressed in this article. The author carries the responsibility for citing and/or licensing of images utilized within the text.