Fascist Anti-Hindu CPM Arrests RV Babu Of Hindu Aikyavedi For Appealing Against Halalonomics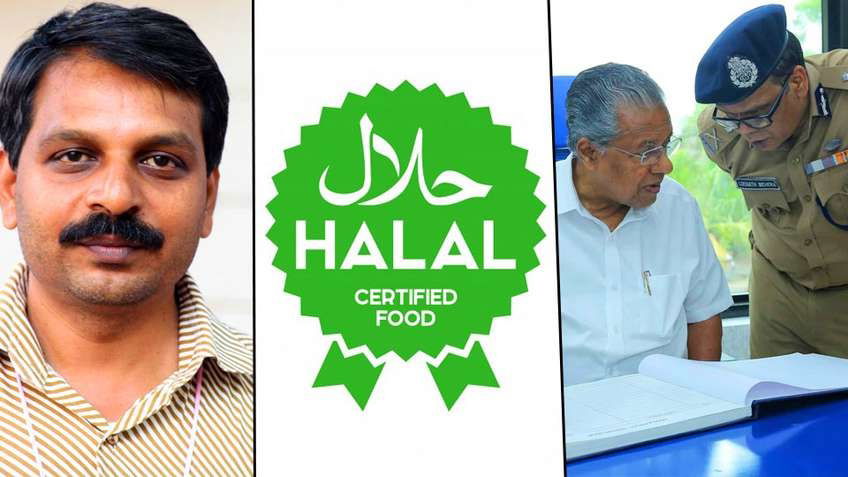 The CPM government in Kerala is as Fascist and dictatorial as Hitler and runs Kerala like an mini Islamic Republic, having made a tacit political arrangement with the SDPI, a political wing of the radical Islamist jihadi terror linked PFI. The law enforcing agencies of Kerala looks the other way when the jihadi PFI members or other linked Islamists kill Hindus and brazenly indulge in love jihad by entrapping young Hindu and Christian women and coercing them to convert to Islam.
Notably, only Halal food products, specially meat, is available in Kerala. A Hindu or a Christian who wishes to not buy Halal meat is left with only two choices, buy Halal meat which is against the bsic tenets of their religion or not consume any non-vegetarian food.
Halal industry in Kerala has now moved beyond meat, now there are Halal rice, wheat all purpose flour, dates, sugar, oil etc.and even Hala housing complex.
There is a whole Halanomics worth billions of rupees economy which excludes people who do not follow Islam to be employed in these industries. The tenets of Islam requires Muslims to term anything Halal or proper only when the product is made only by Muslims and Islamic prayers are chanted while making them.
Just before Christmas, many Christian organisations ran a campaign to appeal to Christians to only buy non-Halal meat as Halal meat is proscribed in Christianinty.
Hinduism also demands that its followers do not subject animals to torture, thus ruling out consumption of halal meat which involves slow slaughter of animal by draining out all its blood.
Hindu Aikyavedi's General Secretary RV Babu, started an awareness programme among Hindus how buying Halal products is unethical and also encourages unemployment of Hindus, prompting poor Hindus to convert to Hinduism if they want to remain in meat business.
The fascist anti-Hindu CPM government headed by Pinrayi Vijayan arrested for appealing to boycott Halal products the General Secretary of Hindu Aikyavedi for appealing Hindus to boycott Halal certified products.
The Organiser reported that, the Kerala police arrested RV Babu from his workplace. He had earlier uploaded a video in Youtube where he explained 'Halalanomics' and the made an appeal to the Hindu community not to fall prey to this trap.
Kerala police has arrested him under a non-bailable offence under the pretext that his YouTube video could trigger 'communal tensions' between the Hindus and Muslims. This argument of the Kerala police flies on their face as Islamists grow financially at the cost of Hindus Christians in Kerala and develop global terrorist networks including the ISIS when the Islamists grew financially and developed fundamentalist networks within the state.
The Hindu Aikyavedi has called for state-wide protests against arrest of RV Babu. Notably, five of the Hindu Aikyavedi activists were earlier arrested for protesting against the Halal symbol in a bakery.
The organisation educated the ignorant non-Muslim public at large how Halal system was discriminatory against non-Muslims and eventually leading to the monopoly of Muslims in every sector of business.
In an interview RV Babu reportedly told Organiser Weekly,
"In India Halal certification authority, for example, Jamiat-Ulama-i-Hind trust charges a certain amount as fees from the applicant. They give a portion of this amount as Zakat. Here the interesting fact is that this Zakat is used for purposes that trigger suspicion. It is used for providing legal aid to terror accused people who are currently behind the bars. Every such activity is listed on their website,".
The National Convener of Prajna Pravah, J Nandakumar questioned the Kerala government over this politically motivated arrest and asked how can protesting against the discriminatory Halal system be considered a criminal offense!.
K Surendran, BJP Kerala state President strongly criticized the state government of appeasing the fundamentalist Islamists through his arrest and warned the government that they can't frighten Hindu leaders by sending them to prison.
India needs to ban imposed Halalonomics legally and socially by bringing an awareness among Hindus who tend to be careless as they take secular democratic India for granted, if they do not wake up now, the water will soon come over their head and they will drown in the deluge of Islamism, like the Hindus of Kashmir.
Source of news:https://www.organiser.org/Encyc/2021/2/5/Kerala-Hindu-Aikyavedi-General-Secretary-RV-Babu-arrested-for-his-appeal-to-boycott-HALAL-products-.htmll
DISCLAIMER: The author is solely responsible for the views expressed in this article. The author carries the responsibility for citing and/or licensing of images utilized within the text.