Fasting Away Cancer: What West Prides Science, That has been the Hindu Way of Life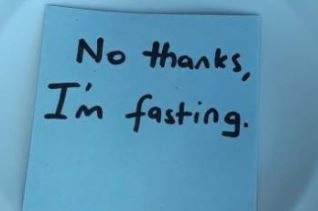 Fasting has been a way of life for Hindus from time immemorial. Ekadashi Vrat, Nirjala Ekadeshi Vrat, Satyanarayan Vrat, Mahashivratri Vrat, Janamashtami Vart, Akshay Tritya Vrat, Karva Chouth Vrat, Vatt Savitri Vrat, Mahalakshmi Vrat, Ahoi Ashtami Vrat, Chhat Vrat, Kanya Daan Vrat, Navaratri Vrat, are some of the Vrats observed by Hindus till date. Vrat means Fasting; voluntarily not eating any food or taking water for varying lengths of time.
Fasting and Calorie Restriction (CR)
Calorie Restriction (CR) means limiting the consumption of food, without resulting in malnutrition, to less than what an organism would eat if given free access. Fasting is the same with additional aim of building self-discipline and will power.
Benefits of Fasting Vis-à-vis Cancer
Cancer is still the deadliest of the deceases. According to a review by Drs. Longo and Fontana of the University of Southern California, CR without malnutrition is the most potent and reproducible physiological intervention for increasing lifespan and protecting against cancer in mammals. CR reduces the levels of a number of anabolic hormones, growth factors and inflammatory cytokines, reduces oxidative stress and cell proliferation, enhances autophagy (cell destruction) and several DNA repair processes. For the mechanisms for cancer prevention by calorie restriction cause several key metabolic/hormonal adaptations that alter the expression of several genes and signaling pathways, which produce major cellular adaptations that result in a reduced cancer incidence, please see Figure below. (Longo VD, Fontana L. Calorie restriction and cancer prevention: metabolic and molecular mechanisms. Trends in pharmacological sciences 2010;31:89-98.)
Thus, what modern science calls Calorie Restriction (CR), Hindus had called it fasting. What is celebrated, prized and awarded in the West as some of the greatest scientific discoveries and innovation has been a matter of daily routine for ages for Hindus.
Gyan, Vigyan
Indeed, in the Hinduism, there is tradition of gyan and vigyan. Vigyan is study of observable (manifest). Gyan is study of Unobservable (unmanifest). The study of unobservable or unmanifest is much more challenging than the study of observable or manifest. That is where Hindu scholars of the ancient focused, after study of observable (manifest). And the West instead of pursuing the study of unobservable (unmanifest) called it myth and took exceptional pride in the study of observable/ manifest, called Vigyan in Sanskrit or Science in English.
Fun Fact
When will be the next Lunar eclipse?
Would you like to take help from the science of National Aeronautics and Space Administration (NASA) or Indian Panchang, readily available at the corner bookshop for a few cents? The date and time will be exactly the same.
Punchang
Panchang is a Hindu Vedic Almanac. Panchang is a collection of five (Panch) elements (Ang), based on sunrise, moon's position, time etc. For example, Today's Punchang (November 26, 2021) reads as follows:
Tithi
Krishna Paksha Saptami – Nov 26 04:42 AM – Nov 27 05:43 AM
Krishna Paksha Ashtami – Nov 27 05:43 AM – Nov 28 06:00 AM
2. Nakshatra
Ashlesha – Nov 25 06:49 PM – Nov 26 08:36 PM
Magha – Nov 26 08:36 PM – Nov 27 09:43 PM
3. Karana
Vishti – Nov 26 04:42 AM – Nov 26 05:18 PM
Bava – Nov 26 05:18 PM – Nov 27 05:43 AM
Balava – Nov 27 05:43 AM – Nov 27 05:57 PM
4. Yoga
Brahma – Nov 25 07:57 AM – Nov 26 08:02 AM
Indra – Nov 26 08:02 AM – Nov 27 07:36 AM
5. Vara
Shukrwar (Friday)
Hope you noticed the accuracy by seconds. Of course, Hindus have measurement of
time taken to pronounce a letter with one मात्रा (vowel), and time taken for twinkling of eye.
ENOUGH IS MYTHS AND FOLKLORE PROPAGANDA !


DISCLAIMER: The author is solely responsible for the views expressed in this article. The author carries the responsibility for citing and/or licensing of images utilized within the text.