Ganesh Shankar Vidyarthi – The Freedom Fighter butchered by Jihadis.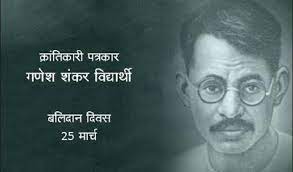 Ganesh Shankar was his birth name and he adopted the pen-name 'Vidyarthi' – the seeker of knowledge.
Ganesh Shankar was born on 26-Oct-1890 at Prayagraj, he had his private education from his father and joined school when he was 12.
Poverty made him to leave studies after matriculation and join a job as clerk….meanwhile the fiery articles at Swarajya and Karmayogi attracted him.
After working with couple of newspapers and magazines, in 1913, Ganesh Shankar Vidyarthi started #Pratap, his famous revolutionary weekly, which identified itself with the cause of the oppressed wherever they might be.
The Popularity and Circulation of Pratap increased day by day. During the course of these fights, he had to face numerous prosecutions, pay heavy fines and suffer five prison sentences.
On 11 January 1915, he said the following quote:
Now the time has come for our political ideology and our movement no [to] be restricted to the English-educated and to spread among the common people [samanya janta], and for Indian public opinion [lokmat], to be not the opinion of those few educated individuals but to mirror the thoughts of all the classes of the country… the democratic rule is actually the rule of public opinion".
Vidyarthi first met MKGandhi in 1916 and whole heartedly supported him in Ahimsa.
In 1920, the weekly Pratap started daily edition and was called as Dainik Pratap and in the same year Vidyarthi got arrested.
From 1920-24, he served Prison term twice and in 1924, he joined hands with Bhagath Singh (Who was still with Congress) and later with Chandrashekhar Azad.
In 1925, when the Congress decided to contest elections of Provincial Legislative Councils and organized the Swaraj Party, Ganesh Shankar won a resounding victory on its behalf, from Kanpur and served as a Member of the U.P. Legislative Council.
In 1930, British arrested him again, but Vidyarthi was released on 09th March 1931 due to Gandhi-Irwin Pact.
As readers may be aware, Gandhi didn't seek clemency for the 3 Freedom Fighters Bhagath, Sukhdev and Rajguru and there were protests against Gandhi across Akhand Bharath after 23rd March.
In Kanpur, this protest turned ugly into Communal Riots,
And Ganesh Shankar Vidyarthi who was supposed to attend Lahore conference, stayed back and threw himself in the midst of furious mobs and saved the lives of thousands of innocent persons belonging to both the Hindu and Muslim communities and it was on this mission of mercy that he was butchered to by a rioting mob of Muslims only to be found a few days later near litter where it took some time to identify him due to multiple wounds by a knife.
MKGandhi, PseudoSecular always, wrote in Young India, "The death of Ganesh Shankar Vidyarthi was one to be envied by us all. His blood is the cement that will ultimately bind the two communities."
#VANDEMATARAM
DISCLAIMER: The author is solely responsible for the views expressed in this article. The author carries the responsibility for citing and/or licensing of images utilized within the text.