GHMC Elections 2020: TRS/Owaisi Family Combo vs BJP
Top 25 reasons why Hindus should reject TRS/MIM in the coming GHMC elections.
TRS shows its anti-Hindu face by allowing & supporting Muslims encroaching Temple lands.
KCR (founder of TRS) has joked about Covid 19 saying it can be cured by paracetamol, behaved irresponsibly which resulted in spread of Corona in Telangana due to which many lives lost.
TRS has been irresponsible in handling flood situation in Hyderabad due which lot of people lost their homes and were left to starve for days together.
TRS behaved stupidly by demolishing secretariat in pandemic times and decided to spend 500 crores on it while people were struggling with pandemic and lockdown.
TRS demolished temple along with masjid in secretariat but only assured Muslims that masjid will be built.
TRS announced 12% reservations to only Muslims
TRS expressed that Shariya courts will be approved.
Because we still remember his comment "Hindu gaalu bondoo gaalu".
TRS failed to fulfill his promise of 2 bedroom flats.
TRS failed to support lot of BC communities on his promise that he has 1000 crores CM fund which he assured will be allocated to various BC castes.
TRS failed to fulfill his promises towards the people who fought in Telangana movement.
TRS failed to give one job per home.
TRS hiked the alcohol prices in pandemic without any concrete reason.
TRS failed to take action against the Love Jihad murder of that girl in old city.
Openly supports extremely divisive, openly Hindu hating MIM who call Hindus dogs and make statements like withdraw the police for 15 minutes and we will erase 80 crore Hindus.
Supports encroachment of lakes and finally poor residents of near by areas are left homeless.
Has harassed RTC staff which also resulted in several people's death.
Has failed to safe guard the health workers during pandemic especially at Gandhi Hospital.
Opposes CAA bill. Supports MIM who oppose NRC
Indirectly supporting Rohingyas illegally settling down in Telangana.
Because our contributions and donations in our temples are being used for development of Muslims.
TRS takes Hindu votes and appeases Muslims.
Twenty intermediate students died due to mishandling of correction process of intermediate exam papers.
TRS declared a separate IT corridor for Muslims @ Hindus tax payers which means Hindus are tax bank and Muslims are vote bank.
Moreover, BJP is the only party national as well as regional which doesn't do appeasement of anti-Hindu herds.
Needless to mention, BJP is the only party that works for the Nation and strengthens its Armed Forces.
Biggest Scam in GHMC Polls.
10,000 crore assistance scheme is implemented as per whims and fancies of local strong men.
Proper Mechanism is not designed.
Outright Purchase of Votes via Government money. With so much technology and this Digital age why KCR Govt having KTR as IT Minister distributing cash in hands? Why not use direct credit electrically? Can twitter star KTR answer?
TRS: Rohingyas Party
Rohingyas came to Hyderabad or Telangana in 2012 ,8 years back under Congress rule. They spread all over Bharat during UPA regime. About 5,000 Rohingya Muslims came to Hyderabad live in two separate camps earmarked by United Nations High Commissioner for Refugees (UNHCR) in Balapur and Saheennagar in the city. But with their population growing, they have been spreading out and have started living in huts built on the lake area with help from local TRS politicians.
Recently, in 2019 PMO asked Telangana govt to probe how an illegal camp has emerged.
If you remember, immediately after Modi govt came to power they took up this Rohingyas issue and made preparations to deport them but as usual it went to SC and SC stopped their deportation. Govt is talking to Myanmar and Bangladesh to take back their refugees.
TRS: Telengana Razakars Party
TRS actually stands for Telangana Rashtra when time for voting comes, but when in power they turn into Razakars (Razakars were the ones appointed by Nizam those days to massacre or prosecute Hindus).
SHOCKING: Telangana saw a 19% increase in cases of missing children in 2019
The state recorded 445 instances of missing children who were deemed as kidnapped & 156 missing cases
Hyderabad has become a hub for Rohingyas..to the extent that they have their own football team and a you tube channel!
No one is talking about this. Recently even HC intervened in this mater and asked response.very serious issue. Promise : 1 Lakh Houses to be built for the Poor in Hyderabad.
Reality : 632 Houses Built and 431 Delivered.
KCR Rule has become Synonym for Incompetence. #GHMCElections2020. TRS Party fails miserably in meeting the promises made for Hyderabad in their manifesto.
Many experts believe, laziness of people on voting day is helping TRS.
If every one in Hyderabad votes, TRS will not make even 20% of seats in GHMC elections. Rice meant for poor are being diverted and will be sold somewhere.
What's the use of Central government giving funds and commodities to Telangana if they are to be diverted and sold for profit.
Such a scam. TRS while demanding money from Centre will be in first line.
TRS govt while releasing funds to Agencies in state will be in last line.
Hypocrisy at its peaks in Telangana.
Central Funds released for Mid Day meals while Agencies are waiting for state to release funds.TRS Govt spreads lies and Fake News on Central government on issues like GST and devolution of funds.
But same Telangana govt consumes fevicol when funds have to be given to municipalities.

This list will be endless but now is the time to make a difference by showing TRS the strength of Hindus.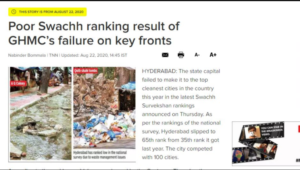 DISCLAIMER: The author is solely responsible for the views expressed in this article. The author carries the responsibility for citing and/or licensing of images utilized within the text.