Grooming Gangs: Why it is wrong to use the term 'Asian' instead of 'Pakistani'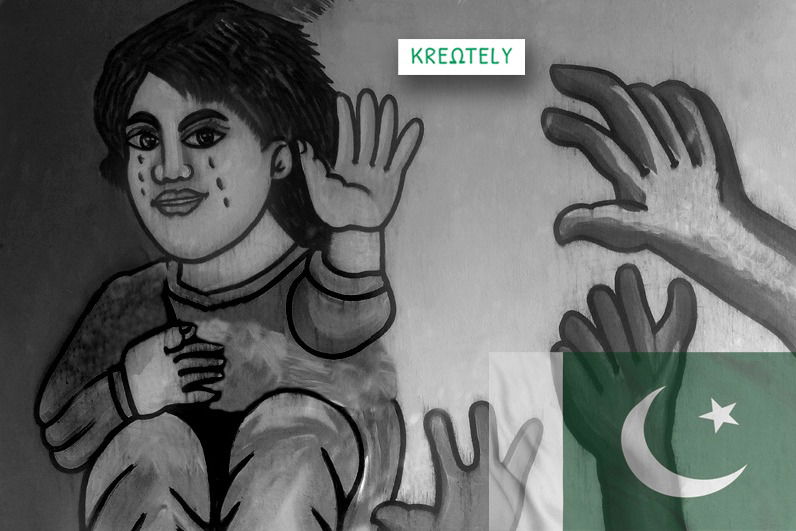 Whenever there is a mention of grooming of young children in Britain, the first thing anyone would think of, is the Rochdale Grooming gang, where two separate grooming gangs were rounded up in late 90s and then in 2000s. Of the 56 offenders convicted since 1997 for crimes relating to on-street grooming of girls aged 11 to 16, three were white, 53 were Asian of which 50 were Muslim, and most were from the British Pakistani community.
Four of the convicted had dual British and Pakistani citizenships. They were stripped of their Beitish citizenship and deported to Pakistan.
This is just one of the ghastly stories about the grooming of underaged girls at the hands of Pakistani men.
Years ago, I was talking to a friend, who had a Pakistani Dad and German Mum, but she didnt look Asian at all. She was 14 at the time. She told me that, at our mutual work place (a B&B) in London, where we were summer jobbing, she met two Pakistani British boys in their mid-teens, and they had an older man with them. The brother of one of the boys was going to the same school as her. She said they were very polite and normal, and the talk moved to music and bands. Then she heard them talk to each other in Punjabi, and the older man saying to them "Is chitti chamdi ko Ch***ne ke liye tayar karo". She kept her best poker face and didnt give them any sign that she knew what they had said. The boys then invited her for a milkshake with 'a bunch of other lads from the school'. Thankfully she got out of that one.
In November 2021, 50-year-old Zia Chishti — an American businessman and multi-millionaire who served as the CEO of Bermuda-based Afiniti — was made to step down after a former employee alleged that he sexually assaulted her.  In a video statement, Tattiana Spottiswood shared how Chishti knew her family since her childhood, and how he groomed her in later years.  Chishti is a close acquaintence, and a prominent donation giver to the political party of former Pakistan Prime Minister Imran Khan.
In 2014, a report on the Rotherham grooming gang by Professor Alexis Jay revealed how more than 1400 children were raped, trafficked, and abused between 1997 and 2013 by men predominantly of Pakistani heritage.  The report mentioned the nationality of the perpetrators
by far the majority of the perpetrators were described as 'Asian' by victims, yet councilors did not engage directly with the Pakistani-heritage community to discuss how best they could jointly address the issue. Several staff members described their nervousness about identifying the ethnic origins of perpetrators for fear of being thought racist, and others remembered clear directions from their managers not to do so
A report considering Operation Augusta was launched in 2004 in South Manchester after the death of a 15-year-old girl,  who told those supposed to be caring for her of her sexual abuse at the hands of men.  Victoria Agoglia died after she was injected with heroin by a Pakistani man then aged 50 in Rochdale who was later convicted and jailed.  The report tells how children were raped and abused by up to 97 suspected members of a grooming gang 15 years ago in south Manchester.  At least 57 children were identified as potential victims.
Telford is small town with a 20% Muslim population, and it came under the microscope with a grooming and child sex scandal in 2007.  Due to below standard investigation, the case was put in cold storage for nearly 10 years, after which it was reopened.  In 2018, after more exploitation of children was carried out, it was revealed that up to 1,000 girls may have been abused, with some even murdered, in incidents dating back to the 1970s.  The following was part of the discovery report for these cases
"the Inquiry also heard that teachers with management responsibility had sought to raise the issue of child exploitation with Council officers, telling the Council that there is a "problem in this authority with Pakistani youths" only to be accused of being racist by a Council officer."
In Glasgow, recently, Abdul Samad sexually assaulted a young woman "repeatedly as he drove his hot food delivery route after tricking her into believing he was a private hire driver." He spotted his victim waiting for her Uber on the street at 5 am. He immediately pounced, allowing her to think she was his ride.  He had a baby seat in the back vehicle, indicating that he is a father, which would make the assault or rape of a vulnerable young female all the more horrific, at least to non-Muslim eyes. When arrested, he stated that felt she was the aggressor who couldn't keep her hands off of him, and that he also thought her behaviour was "culturally acceptable." In other words, all non-Muslim women are insatiable and hungry for Muslim men.
The Newcastle grooming gang was rounded up over 4 years between 2013 and 2017.  Overall, it was reported that by the end of 2017, 112 offenders had been handed jail terms totalling nearly 500 years for abusing more than 270 victims.  18 of the gang members were convicted of nearly 100 offences, and here they are:
Mohammed Azram, 35 – inciting prostitution, sexual assault, supplying drugs
Jahangir Zaman, 43 – inciting prostitution, sexual assault, supplying drugs, rape
Nashir Uddin, 35 – inciting prostitution, sexual assault, supplying drugs
Saiful Islam, 34 – rape. Jailed for 10 years
Mohammed Hassan Ali, 33, sex with a child, supplying drugs. Jailed for seven years
Yasser Hussain, 27 – beating, possession of drugs. Jailed for two years
Abdul Sabe, 40 – incite prostitution, trafficking for sexual exploitation, drugs offences
Habibur Rahim, 34 – causing or inciting prostitution, drugs, sexual assault, trafficking for sexual exploitation
Badrul Hussain, 37 – drug offences
Mohibur Rahman, 44 – pleaded guilty to conspiracy to incite prostitution, supplying drugs
Abdulhamid Minoyee, 33 – convicted of rape, sexual assault, supply of drugs
Carolann Gallon, 22 – pleaded guilty to three counts of trafficking
Monjour Choudhury, 33 – incite prostitution, supplying drugs
Prabhat Nelli, 33 – incite prostitution, supplying drugs
Eisa Mousavi, 41 – incite prostitution, rape, supplying drugs
Taherul Alam, 32 – incite prostitution, supplying drugs, attempted rape
Nadeem Aslam, 43 – supplying drugs
Redwan Siddquee, 32 – supply or offering to supply a class B drug. Jailed for 16 months
In 2011, UK's former Home Secretary said that Pakistani men find white girls as easy meat.
In 2017, Labour MP Sarah Champion admitted gang grooming by Pakistani men was going on in every city and town of the UK.
In 2021, former Labour MP Ann Cryer talked to TV presenter Trevor Phillips about the 1st time she was told about grooming gangs.
"Nearly always the gangs are from the Pakistani community, we told West Yorkshire Police, Social Services, no one will do anything, friends in the Labour Party had known about it for years"
Grooming of young girls and boys is practiced inside houses and religious places by the community.  Additionally, the women belonging to a faith other than their own are considered "game" for being exploited for financial and physical gratification.
Two years ago, rape survivor Dr. Ella Hill revealed that at least half a million Non-Muslim (Kaffir) girls have been raped by grooming gangs, operated by Muslim (mainly Pakistani) men in the United Kingdom, in the past 40 years.  Hill informed that she was targeted as a teenager by her Pakistani Muslim boyfriend. She said that the relationship soon turned into a 'controlling, obsessive, and religiously charged' one. She reminisced about being taken to different flats around Rotherham, Sheffield, and Bradford and subsequently raped, tortured, and strangled. "You know (I) was covered in bruises that lasted over a year." Her Pakistani boyfriend also threatened to kill her and her parents if she confided in them, the harrowing tale of brutality. She was raped multiple times by a number of friends and associates of her boyfriend.  As such, she was coerced into silence.
According to statistics, a British Pakistani man is 70 times more likely to indulge in grooming activities.  Also, there are no recorded incidents in UK or anywhere else, where a non Muslim girl has attempted to groom a Muslim girl.  The attacks on these girls are a lot more than just sexual abuse.  They go through unspeakable acts of violence, including severe beatings including savage acts like having the victim's tongue nailed to the table, mental trauma, threats to kill parents, belittling, and making the victim feel insignificant.
These cases that we mentioned here, are those which have come to the fore due to the courage shown by victim women and efforts, albeit delayed at times, by the concerned authorities.  It will not be far from the truth to assume that the overall situation is at least 100 times worse than this.  9.5 out of 10 times, the perpetrator is a Muslim, of Pakistani origin, and the media, in an effort not to alienate Europe's largest 'misrepresented' population group, commits the harrowing crime of labelling them as 'Asian'.
DISCLAIMER: The author is solely responsible for the views expressed in this article. The author carries the responsibility for citing and/or licensing of images utilized within the text.