Gujarat: Six detained after drugs worth Rs 200 crore seized from a Pakistani fishing boat.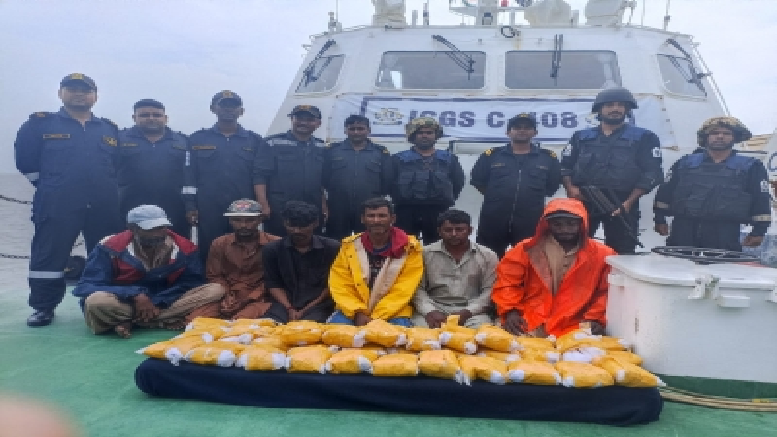 Six people were detained in connection with the seizure of 40 kilos of heroin worth Rs 200 crore from a Pakistani fishing boat by the Gujarat Anti-Terrorist Squad and Indian Coast Guard (ICG) close to the International Maritime Border Line (IMBL).
The ICG strategically placed two fast interceptor class ships, C-408 and C-454, for patrolling in the vicinity of the IMBL during the intervening night of September 13 and 14, based on a particular information feed.
The Pakistani boat was seen cruising suspiciously in Indian waters at midnight, 5 nautical miles inside the notional IMBL and 40 nautical miles off Jakhau. The Pakistani boat began evasive maneuvers after being challenged, according to a statement from the ICG.
One of the two ICG ships skillfully recovered the shipment, which turned out to be a cocaine haul.
According to the ICG, "Based on a visual inspection, the substance is thought to be heroin, with a quantity of around. 400 billion rupees in market value and 40 kilograms. The other ICG ship maneuvered and halted the boat despite the extremely heavy waves, pitch-black night, and poor weather."
The boat is being taken to Jakhau so that the agencies can conduct an additional cooperative investigation.
In the past year, the ICG and ATS, Gujarat, has conducted five similar cooperative operations in which significant amounts of drugs have been confiscated and criminals have been apprehended.
DISCLAIMER: The author is solely responsible for the views expressed in this article. The author carries the responsibility for citing and/or licensing of images utilized within the text.