Hamid Ansari : The then Ambassador of India in Iran, know what allegations was levelled by RAW against him..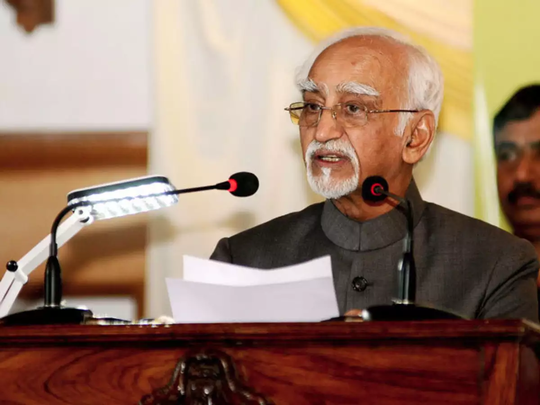 The former vice-president has often been accused of compromising the interests of the country when he was Iran's ambassador.Hamid Ansari was posted as India's ambassador to Iran's capital Tehran from 1990-1992.Former RAW officials wrote a letter to Prime Minister Narendra Modi in August 2017 urging him to investigate Ansari's tenure.
Former Vice President of India Hamid Ansari is once again in controversy. This time the root of the controversy is the interview of Pakistan's columnist Nusrat Mirza, which was shadowed on social media in the past. Nusrat Mirza took the name of Hamid Ansari in the interview and said that he had come to India on his invitation. Mirza has said that on visiting India, he has collected many information for Pakistan's intelligence agency ISI. Hamid Ansari has dismissed this interview by issuing a statement. Hamid also commented on his role as Iran's ambassador in the statement he issued to dismiss the interview. Hamid has said that the allegations against him as ambassador are completely baseless. Know why these allegations are leveled against Hamid Ansari and when he was the ambassador, what was the incident that had put him in the dock.
Hamid Ansari, the former vice-president of India, during his tenure in Iran has often been accused of compromising the interests of the country when he was Iran's ambassador. Hamid Ansari was posted as India's ambassador to Iran's capital Tehran from 1990-1992. At that time, he was accused of collusion with Iran's Intelligence Agency, Sawak and the Iranian government. Sawak was officially closed in 1979. In its place again a new organization Sajman-e-Ettelayat Aminiyat-e-Milliey Iran was started. But even today it is called by the name of Sawak.
Wrote a letter to PM Modi..
In August 2017, former officials of the Indian Intelligence Agency Research and Analysis Wing (RAW) wrote a letter to Prime Minister Narendra Modi urging him to investigate Ansari's tenure and bring the whole truth in front of the country. The former officers had cited four developments in their complaint due to which the security of the country was endangered. He said that the Indian officials posted at the embassy were kidnapped by Sawak and Ansari could not fulfill his duties as ambassador. NK Sood, who retired from RAW in 2010, claimed in an interview that Ansari had even said that RAW stations in Iran should be closed.
Kidnapping of Indian officer
Sood had told in his interview that in May 1991, Indian officer Sandeep Kapoor was kidnapped at Tehran airport. But when the issue was brought up to Ansari, he took it very lightly. Even he was personally informed about this by the then Raw Station Chief. The RAW chief was in Dubai at that time and understanding the incident as an emergency, he immediately reached Tehran to brief Ansari.
In Sood's words, 'Ansari did not take any step to trace Kapoor. But a secret report was sent to the Ministry of External Affairs that Kapoor is missing and his activities are being suspected in Iran as he has a relationship with a woman here. According to Sood, he deliberately did not mention RAW and took the name of Sawak in this matter.
Three days later, an unidentified call came to the Indian embassy stating that Kapoor was lying on the side of a road. He was given drugs and its effect was seen on him for several days. RAW had advised him to file a report and lodge a protest with Iran's State Department, Ansari did not take any action.
told the name of the detective..
In August 1991, RAW was keeping an eye on Kashmiri youth who were constantly going to the religious city of Qom in Iran and taking weapons training. Ansari was informed about his operation by the new station chief of RAW. According to Sood, Ansari had told the Iranian Foreign Department the name of DB Mathur of the officer who was dealing with this entire operation. Sood alleges that Ansari passed this information on to Sawak and Mathur was picked up one morning by some people when he was coming towards the embassy. By evening it was clear that he had been kidnapped by the people of Sawak.
Identity given to intelligence agency
The letter to PM Modi states that when Ansari refused to report Mathur's disappearance to Iran's State Department and did not tell India that he had been kidnapped by Sawak, RAW officials called on someone. In this way, this matter was conveyed to Atal Bihari Vajpayee. Vajpayee had told the then PM Narasimha Rao about this. After this Mathur was released from Avin prison in Iran. He was released on the fourth day of his kidnapping but within 72 hours he was ordered to leave the country. Mathur had come to the Indian embassy and told what had happened to him and how Sawak recognized him and the RAW station chief.
How was the visa being
received, in the complaint made to PM Modi, there was also a mention of the first secretary who was posted in Iran for 10 years. It told how visas to India were given for US$500 to those who posed as students. In an inquiry conducted by RAW, it was revealed that no such letter had been issued by any Indian university in which it was proposed to grant visa to the citizens of Iran. A letter was also written by RAW to Ansari regarding this but this matter was also forgotten. Apart from this, former RAW officials had also accused Ansari of regularly meeting the Ambassador of Pakistan in Tehran, about which the Ministry of External Affairs did not know anything.
RAW operations stopped
There were also allegations against Ansari that those RAW operations which were defensive were also stopped and it was done only on the orders of the former Vice President. Apart from this, Ansari had summoned the Indian ambassadors from Dubai, Bahrain and Saudi Arabia with the aim of targeting the RAW units present at the Indian embassies. In the complaint made to PM Modi, it was said that the capabilities of RAW in the Gulf countries were in complete disarray at the time of the blasts in Mumbai in March 1993.
DISCLAIMER: The author is solely responsible for the views expressed in this article. The author carries the responsibility for citing and/or licensing of images utilized within the text.