HC Cites Sharia To Rule Without Divorce Second Nikah Of Woman Invalid Only Men Have Right To Contract Multiple Nikahs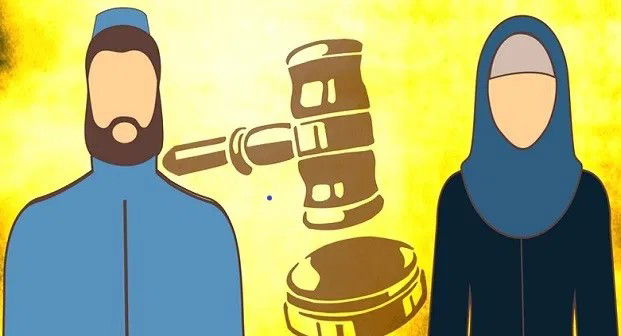 The Punjab & Haryana High Court declared invalid a marriage between a Muslim woman and a man both of whom already had another earlier subsisting marriage, by stating a Muslim man is allowed by Shariat to have multiple wives, while a Muslim woman can have only one husband as reported by Amar Ujala.
The petition filed by a newly wed Muslim couple of Mewat in Haryana seeking protection from courts as they were being physically threatened by their families objecting to their marriage.
But the Punjab and Haryana High Court declared the marriage between the two lovers illegal as the Muslim woman was already married to another man and not divorced before she entered into a marriage with her lover. Notably, the woman's lover was also married and did not divorce his wife before entering into a marriage with her.
The Muslim woman told the High Court that her first marriage was conducted against her will and she did not want to live with her husband and wanted to live with her lover.
The Punjab and Haryana High Court ruled the marriage between the two lovers invalid by citing Muslim Personal Laws, the Shariat Application Act,1937 and the Dissolution of Muslim Marriage Act, 1939.
HC Rules A Muslim man can have multiple wives without divorce, but a woman will need to divorce her husband first To Marry Again
The Muslim couple were  reportedly threatened by their family members and therefore filed a petition at the High Court seeking protection. However, dashing their hopes the High Court stated that under the Muslim law, a man can contract mutiple marriages without divorcing any of his wives as he is allowed to have four wives according to Shariat while a Muslim woman cannot contract another marriage without taking divorce from her husband.
Justice Alka Sarina stated that a Muslim woman needs to take divorce from her current husband under Dissolution Of Muslim Marriage Act,1939 to contract another marriage. As a woman is allowed to have only one husband at a time unlike her male counterpart who can have four wives without divorcing any of them.
Notably, according to Shariat, Sunni Muslims can have a fifth wife also, which would be irregular and not invalid. The man's marriage with his fifth wife can get regularised as soon as he divorces any of his other four wives, this reminds one of the Reservation Against Cancellation (RAC) facility for procuring Railway Tickets!
Also, A Shia Muslim man is allowed to contract as many 'Mutah' marriages, i.e. marriage for a set term period as he pleases. The Mutah marriage would dissolve as soon as the term set in the contract of marriage expires. The term period can be as short as one day or one single night! Mutah marriages are just institutionalized prostitution and affront to womanhood and needs to be completely banned.
Coming back to our story, the couple told the High Court they were facing death threats from their families and also evicted from their homes. The counsel appearing for them contended before the court that the couple could remarry as per Muslim law. The counsel argued that since the first marriage of the woman was contracted without her assent her first marriage was invalid and she was free to marry whoever she chooses.
Responding to this the High Court said that only a Muslim man is allowed to marry a second wife without divorcing his first wife but a Muslim woman needs to divorce her husband if she wants to contract another marriage.
The court after hearing the petitions, reportedly refused to issue orders to ensure their safety as a married couple. But the HC said that they could approach the local Superintendent of Police to seek protection as the police is bound to provide protection to all individuals irrespective of their marital status.
The concept of polygamy, halala, mutah marriages is completely unjustifiable, gross violations of human rights and needs to be banned in India immediately through legislations as the Courts, including the Supreme Court, do not have the gumption to do so. Regardless of the fact that the Supreme Court and other apex courts do not mind even dictating how much water or milk or ghee should be poured by Bhaktas while worshipping the holy Mahakal Jyotirling at Ujjain!
Image sourced from internet.
DISCLAIMER: The author is solely responsible for the views expressed in this article. The author carries the responsibility for citing and/or licensing of images utilized within the text.