Hindu Activist Rinku Sharma Stabbed In His Back By Jihadi Neighbours, Secular Media & Secular Politics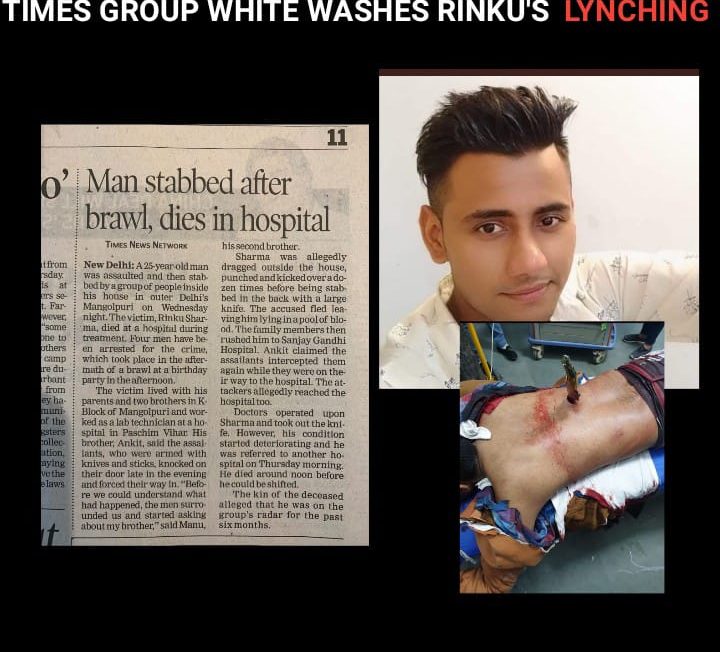 Rinku Sharma and his entire family was attacked by a mob of about 30 jihadi Muslims, who were interestingly his own neighbours in Mangolpuri in the national capital in full public view, which resulted in death of Rinku Sharma with a huge knife stuck in his back.
Rinku Sharma Stabbed In The Back By Jihadi Muslim Neighbours
Rinku Sharma, a Bajrang Dal activist was literally and figuratively stabbed in the back by his own Muslim friends who became his foes because being a devout Hindu, he was collecting funds for the construction of Ram Mandir at the Ramjanmabhoomi site in Ayodhya. He was killed because his Islamist neighbours could not bear him hailing Prabhu Shri Ram.
About five months back, Rinku held a Shobha Yatra in his locality for the Ram Mandir construction, that started the fight. The Muslim neighbours, which essentially consisted of four big houses in the narrow street of Mangolpuri occupied by members related to a single family consisting of nearly 30-40 people, incessantly taunted Rinku and his younger brother Ankit as they were devout Hindus and went to a nearby temple for chanting Hanuman Chalisa.
These Muslim neighbours while they took favours from him as reported by the daily Amar Ujala, that Rinku Sharma donated blood to one of his murderers', Islam's pregnant wife about one year ago not once, but twice.
Not just that, Rinku also helped Islam's brother Shakru to get admitted to a hospital when he was infected with Corona virus. Despite all this, all this just a few months later the same huge family, both men and women together laid siege on his house in the dead of the night, barged in dragged Rinku out to the streets, when his other brothers tried to resist, even they were beaten up.
The nozzle of the LPG cylinder in the house was also opened by the jihadi perpetrators so as to engineer a blast and blow up the whole family. But that didn't happen because Rinku saved his mother and father, removed the cylinder and put it out while they were raining blows on him with sticks, hammer and huge knives.
He was stabbed multiple times over the whole street was filled with blood and a huge knife remained stuck on his back.
Rinku was thus betrayed by his own Jihadi neighbours despite being very helpful them. Then why was he murdered?
The answer is simple, he was a good neighbour and a proud devoted Hindu. His jihadi neighbours could not tolerate the fact that he chanted Jai Shri Ram and collected money for construction of the Ram Temple.
Rinku was stabbed in the back for two things: Being a good neighbour to the jihadi Muslims and trusting them to do not cause any harm to him or his family, despite the constant bickerings and taunts by some members of the jihadi family taunting him for chanting the Hanuman Chalisa and chanting Jai Shri Ram. He always tried to ignore these ranklings and skirmishes and paid with his life.
Rinku Sharma Stabbed In The Back By Secular Media
The mainstream media which camped in Dadri for weeks together claiming lynching by 'communal' Hindus when a Muslim family slaughtered a cow's calf and consumed the beef in their house was attacked, it has now gone completely silent over Hindu activist Rinku Sharma's mob lynching by jihadi Muslims.
Some of the media outlets which reported the incident after a huge outcry by the citizens, they gave whitewashed reports of the incident without even mentioning the attackers names or their communities name, and the whole incident was whittled down to a brawl.
The Times Of India claimed it was just a brawl over an argument in a birthday party, which translated later into a fight at Rinku's home and Rinku died in the process.
In its sanitised version The Times Of India, does not even state that he was a Bajrang Dal activist, was collecting money for the construction of Ram Temple and he was being harassed by jihadi Muslims of his locality for organising a Shobha Yatra for the construction of Ram Temple. Nor does it state that his Muslim "friends" turned foes beat him and stabbed him to death for chanting "Jai Shri Ram". It glosses over the whole issue. While we can see live reports from Sudarshan News and even by personal visits by other activists in the area to find details about the matter, leave alone Rinku's family, Hindus in the area now feel unsafe because the young boy was lynched in front of their eyes just for chanting Jai Shri Ram and collecting money for the Ram Mandir.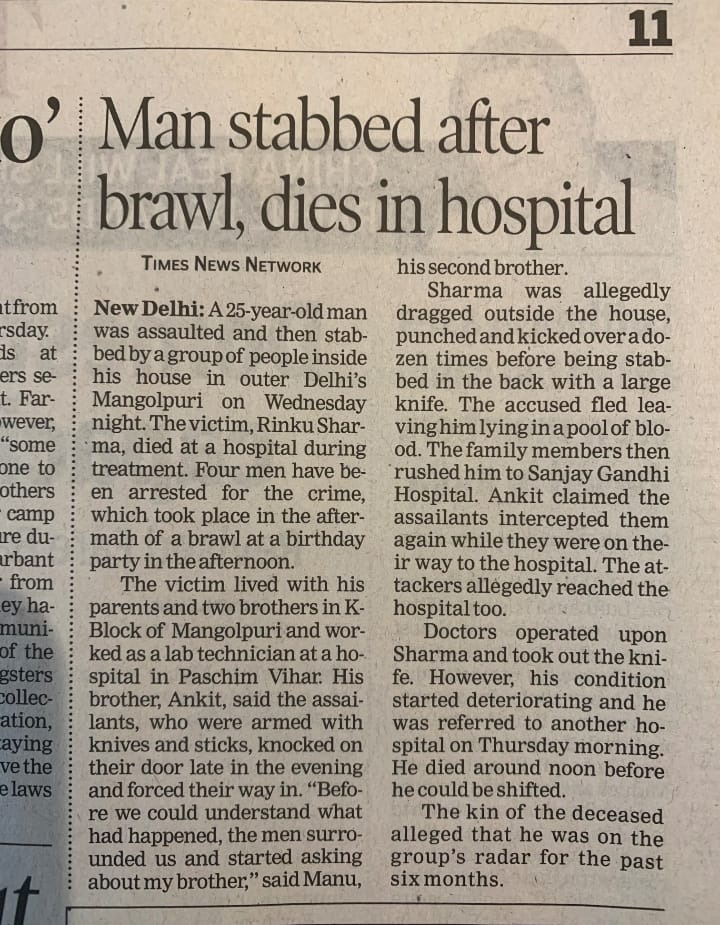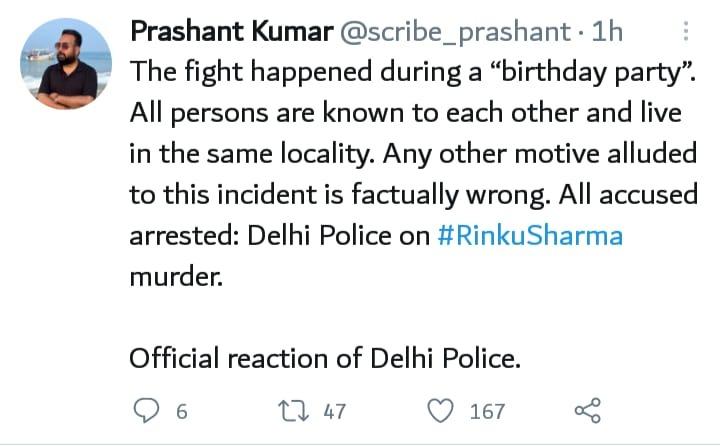 While we have scribes from the Times Now like Prashanth Kumar Telling us that we should believe the sanitised version that "four people" killed Rinku Sharma over an argument in a birthday party and no other reason should be alluded.
Then there are people like Barkha Dutts who are otherwise very hyper about interviewing any victim of mob lynching or even a murder victim's family, has gone completely blind over the issue. It is as if Rinku Sharma never existed for the Barhas, Ravishs, Rajdeeps, Sagarikas, Siddharths, Abhishars, etc. and perhaps for the Rana Ayubs, Saba Naqvis, Arfa Khanums, Arundhati Roys, Harsh Manders etc. it was a reason to celebrate like their friend in Gaana, Tanzila Anis.
So, Rinku Sharma was again stabbed in the back by the secular media trying to either completely bury the issue or trivialise it. Next comes the community of Indian politicians.
Rinku Sharma Stabbed In The Back By Secular Politics
While in the Dadri episode we had all "secular" parties falling over each other to go to Dadri and empathise with Mohammad Akhlaq's family, which was attacked by a group of people because Akhlaq's family had consumed beef by butchering a calf which the local Hindus fed daily. We had no one even mention Rinku Sharma's name.
The whole secular community of politicians went completely silent over the matter. The Delhi Chief Minister, who loved to camp at Mohammad Akhlaq's home in Dadri and wherever a Muslim dies, did not even bother to visit or send any of his ministers to the grieving family of Rinku Sharma who are Delhi residents and directly responsible for their welfare.
So, was there complete silence from the Congress, the communist parties, the SP, BSP, etc. who practice warped secularism which appeases Muslima and Christians while dividing Hindus in caste, language and regional lines.
But what hurts the most is the complete silence of the main leaders of the BJP, a party which came into being due to their self-professed commitment for the construction of Ram Temple at Ayodhya. The BJP reached to its most powerful position politically because of the votes of Ram Bhakts and it is sad that when a young committed Ram Bhakth, Rinku Sharma who died for avidly participating in raising funds for the Ram temple is completely ignored by the party.
So, Rinku Sharma paid the price for being a Hindu activist and got stabbed in the back by his Muslim neighbours, by the secular-liberal media, the secular political parties and even the BJP!
It is true that Hindu Lives Don't Matter, There Is No Country For Hindus!
DISCLAIMER: The author is solely responsible for the views expressed in this article. The author carries the responsibility for citing and/or licensing of images utilized within the text.