Hindu Gurukul Vs Christian Convent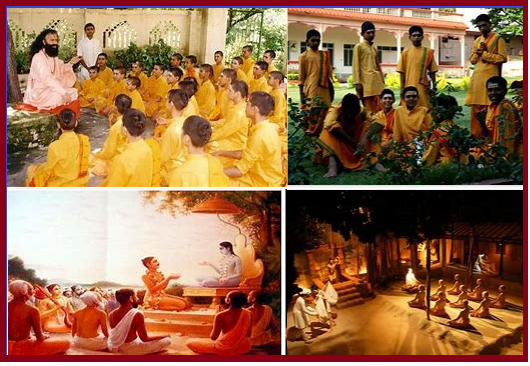 The Hindu Gurukul was conceptualized for the purpose of Learning and Scholarly objective since ages. It successfully nurtured, preserved, evolved the earliest and most innovative literature and Science learning. There is still no parallel to the Vedic Literature, the Astronomy, the Medicine and the Art which Hindu Gurukul system preserved and transferred to the posterity. Sanskrit, a language with purest of Grammatical composition and summary phonetics emerged in this Hindu Gurukul alone.
Sanskrit is the only complete language available to mankind for its scale, depth and grammar.
The two British Clerk Makaulay and William Zones was visionary enough to assess the strength of Indian Gurukul very early. Conspiracies were hatched to destroy the Hindu Gurukul system.
Hindu temples across India were financing the Hindu Gurukul. And Christian British rule appropriated the Hindu Temple. All its wealth, resources and donations were taken over to destroy both Hindu temples and self-financing Hindu Gurukul.
And it was promptly replaced with Christian convent. Administrative order by British Christian Government attached huge land and other assets to teach and train generation of slave who can read write and speak English but cannot their native language. Gradually this breed of native Indian started demeaning their literature, tradition, rituals and ancestral repository. Social fault lines were manufactured and a generation of Hindu were averse to the idea, merit and values of Hindu Gurukul while Christian convent emerged and strengthened its role and reach.
The idea of Christian convent goes back to the 15th century. The Social set up and family system was gradually breaking in Christian world. The practice of unwed mothers, Single mothers and frequent divorce had created both moral and social dirt. Orphan Children had no shelter, no address and no family system to support their upbringing.
A structure of convent was created to conceal these immoral acts of society. It was perhaps the best veil to the sins of society based on promiscuous value. It gradually emerged as a prison center and home for most lawless citizens, rebellions and unmarried women in their time. With such a background and legacy without any objective of reform and education, it evolved into just an orphan home.
Can you imagine the level of Slavery of today's generation of convent trained Hindu, they would not believe and research the truth?
Christian convent appropriated land, building and Government donation in India. Spreading Christian belief, teaching Bible, insulting other beliefs especially Hindu, demeaning local tradition and cultural identity were tutored as primary objectives. Behind the veil of lofty statements about humanity, service and charity, there is a sinister conspiracy to undo Hindu ways of life.
Time has come when all the illegally acquired land and buildings should be nationalized. Education system and Christian belief should be segregated. While the right to pursue one's belief as enshrined under Indian constitution should be protected, all rest of activities like Conversion and illegal congregation should be banned and punished.
World is changing fast. Africa and Latin America have realized the historical blunder of conversion and are reverting to their original belief. Hindu Sanatan is the oldest belief system on earth. It must assert and reclaim its glory.
DISCLAIMER: The author is solely responsible for the views expressed in this article. The author carries the responsibility for citing and/or licensing of images utilized within the text.