Hindu minor married and converted by a Bangladeshi returns to India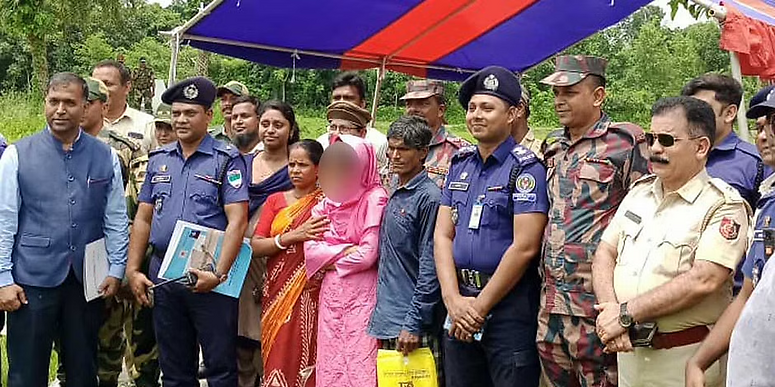 Despite numerous, verifiable instances of Hindu girls dying horribly at the hands of Islamists, cases of grooming (love jihad) are on the rise. Hindu girls are enticed in by Bangladeshis from over the border as well as targeted by local Islamist men, particularly in West Bengal, the state that shares international borders with Bangladesh. After a 10-month struggle, a young Bharatiya woman who was trapped by a Bangladeshi has finally returned home.
The victim, a 17-year-old minor, comes from Radhakantpur hamlet in Nadia, a WB area that has seen a significant rise in Bangladeshi Muslims moving there. While playing games online two years ago, when she was only 15 years old, she met Omar Ali, the son of Bangladeshi citizen Abdul Halim of Kushtia Sadar.
The two began communicating, and the Hindu girl eventually fell in love with him. She crossed the Satkhira border into Bangladesh illegitimately on November 14, 2021. She went to Omar Ali's house in Kushtia, where she initially converted to Islam before marrying Ali.
After a drawn-out legal procedure, the girl was returned to Bharat on Sunday (September 4) afternoon via Darshana Joynagar in Chuadanga, according to Abu Naim, the immigration officer at the checkpoint. Additionally, Abu Naim revealed that the child was detained by the Kushtia District Police's Cyber Crime Unit on March 21, 2022.
She had been turned over to the court by the police. The court mandated that she be enrolled in the Social, Disability, and Rehabilitation Center in Kushtia because of her early age. The immigration officer continued, "After going through several legal procedures, the girl was returned to her homeland following a flag meeting at the Darshana border in Chuadanga."
In the presence of Naib Subedar Abdul Jalil, Darshana ICP Commander of BGB, Zaheer Uddin, Inspector (Investigation) of Kushtia Sadar Police Station, and Debavrati Chakraborty, Deputy Consul of Indian High Commission in Bangladesh, the girl was returned to her family in Bharat.
The Indian Border Guards BSF Gede Company Commander SA Nagendra Halder, Gede Customs Superintendent Ajay Narayan Roy, Gede Immigration Incharge Sandeep Tewari, Nadia District Krishnaganj Police Station Inspector Bapin Mukherjee, and Customs Inspector Prashant Kumar Ghosh were also present.
DISCLAIMER: The author is solely responsible for the views expressed in this article. The author carries the responsibility for citing and/or licensing of images utilized within the text.