How are RSS and PFI different?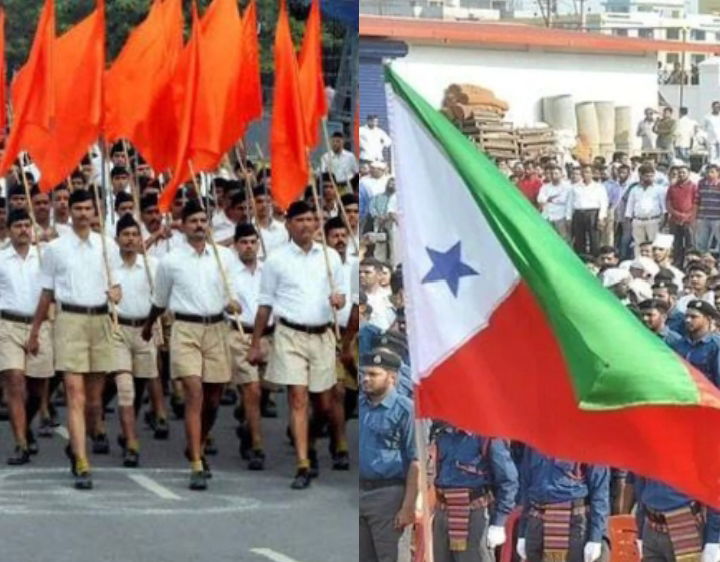 An unfortunate incident took place in Gujarat. On 30th of October,Sunday nearly 100-year-old suspension bridge over the Machchhu River in Gujarat's Morbi crumbled and nearly 141 people have been reported dead so far. Search and rescue operations are under way. Big Politicians are paying visit to the site. But this unfortunate incident showed us how RSS and PFI are diametrically opposite of each other.
When this unfortunate incident took place, some Bajrang Dal members were present. These brave karyakartas of Bajrang Dal went up to rescue 170 people from drowning in the river. Chirag Parmar, a Bajrang Dal worker who was present there at the time of this accident stated "Many people were battling between life and death after the bridge collapsed and fell into the water. After seeing this, we immediately started the rescue work. During this, the sight of women and small children drowning was heart-wrenching."
This is not the first time Bajrang Dal- RSS stood up for the society. There are numerous examples to show Bajrang Dal-RSS are our internal warriors. Few days ago when Islamist organization Popular Front of India was banned and their members were arrested, some politicians went up to equate the Islamist organization with RSS-Bajrang Dal-VHP and requested the government to ban them as well. Drawing false equivalences is not something new for Leftists-Izlàmists. Equating an Islamist organization with organisations which forms the backbone of our society shows the love these people have for Bharat.
The National Investigation Agency (NIA) and the Anti-Terrorist Squad (ATS) on Thursday , 22nd of September raided several locations of the radical Islamist organization PFI. Many office bearers of the organization were also arrested. On 22nd September NIA raided 93 places of PFI on Thursday. Out of this, 39 in Kerala, 16 in Tamil Nadu, 12 in Karnataka, 7 in Andhra Pradesh, 1 in Uttar Pradesh, 2 in Rajasthan, 2 in Delhi, 1 in Assam, 1 in Madhya Pradesh, 4 in Maharashtra, Goa 1 in West Bengal, 1 in Bihar and 1 in Manipur have been reported to have been killed. It is being said that so far a total of 106 people have been arrested from these states. The radical organization PFI and its affiliates were accused of terror funding, terrorist training activities and linking people to the organization.
After the ongoing nationwide action by the administration against PFI, violent protests were being organised aorganization. In this sequence, there were reports of some objectionable slogans being raised in Pune. A video of the incident went viral on social media, in which people can purportedly be heard raising slogans of 'Pakistan Zindabad'. Slogans of 'Allah Hu Akbar' and 'Pakistan Zindabad' were heard in the video.
The highest incidents of violence have been reported from the state of Kerala. It was being said that PFI members supporting the bandh in Thiruvananthapuram and Kottayam vandalized and damaged government buses, auto-rickshaws and a car. Vehicles were also pelted with stones in Kollam, Pathanamthitta, Alappuzha, Ernakulam, Kozhikode and Wayanad districts of Kerala.
DISCLAIMER: The author is solely responsible for the views expressed in this article. The author carries the responsibility for citing and/or licensing of images utilized within the text.