How Mughals Are Occupying Europe?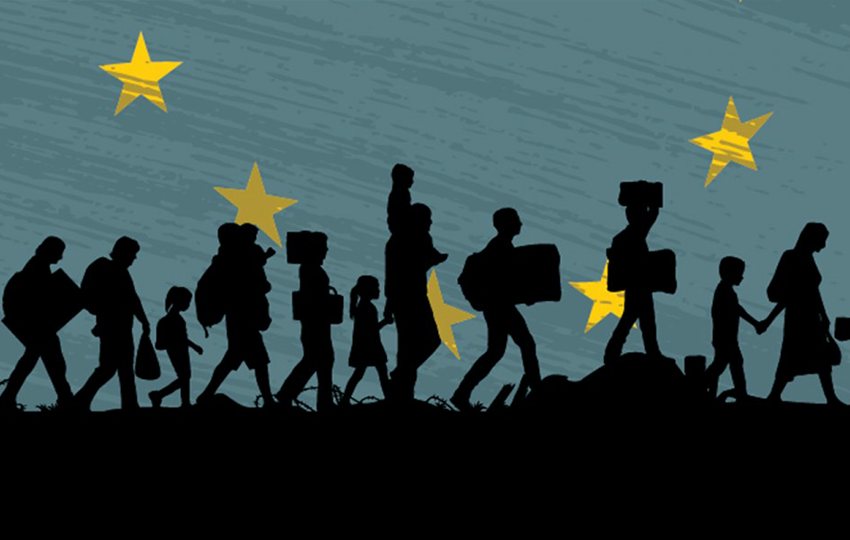 With only about 5% of the population, Muslims constitute a very small minority in Europe. The percentage of Muslims in the population is higher in some nations, such as France and Sweden. Furthermore, the Pew Research Center predicts that the proportion of Muslims in the continent's population will increase over the next few decades and may even more than double.
Many European countries have already experienced political and social upheavals as a result of these demographic changes, particularly in the aftermath of the recent arrival of millions of asylum seekers, a large portion of whom are Muslims. For instance, immigration, particularly Muslim immigration, dominated the recent national elections in France and Germany.
As per a report by Organiser, thousands of germans are fleeing their homeland and taking refuge in Paraguay to escape the hostilities by Muslims. All other European nations, including the United Kingdom as well as Canada, Australia, and the United States, will soon experience similar events. The situation will be particularly bad in Britain, where Muslim immigrants have already begun enforcing Sharia laws in many areas of England. Meanwhile, London is fast emerging as the "capital of the Islamist Caliphate," with thousands of Muslim immigrants openly donning clothing similar to that of the Taliban, Al Qaeda, or the Islamic State, including the hijab, burqa, and men's alkhalla. Muslims are being heavily indoctrinated with anti-Semitism, jihad, and religious hatred in every mosque in Britain.
Immigrant Muslim men and women view "non-Muslim" Britons as "enemies of Allah" and are pleased with themselves for being successful in imposing shariah laws. Even the silent opposition to Christmas, the English new year, Halloween, and even birthday and wedding celebrations have begun among Muslim immigrants in Britain. Additionally, they are frantically promoting Jihad culture by seducing "non-Muslim" ladies, particularly Jews and Christians, and forcing them to engage in religious discourse through emotional and romantic blackmail.
Columnist Robert Spencer made the following statement regarding Germans fleeing their own country: "What options do these individuals have? They were demonized as Nazis if they voiced any opposition to the mass immigration of Muslims domestically. As we frequently report here, many Muslim immigrants committed random jihad assaults, rape, and other crimes. However, anyone who dared to voice even the slightest criticism was labeled "racist." The establishment of politics and media refused to even consider the concept that anyone may object to mass Muslim immigration for reasons other than bigotry."
According to a BBC investigation, thousands of German citizens have moved to Paraguay in the past year because they feel uneasy around Muslim immigrants in their own country. It should be noted that, according to data from the German equivalent of the FBI, an average of two women or girls are victims of gang rapes every day, with foreigners accounting for 50% of all offenders.
According to statistics made public by the German Federal Criminal Police Office (BKA), there were 704 gang rape incidents nationwide in 2020. This contrasts with 649 in 2018 and 710 in 2019. The shocking data was made public by the German newspaper Bild-Zeitung, which claimed that half of all suspects in gang rape cases were not German citizens and that the perpetrators frequently came from Islamic nations like Afghanistan, Iraq, and Syria.
In the statistics on gang rape, Afghani refugees were reportedly significantly overrepresented. Despite making up only about 0.3 percent of the population, suspects from Afghanistan made up 6% of the total in 2018. Most of the rapes happened as the migrants were submitting applications for asylum.
According to Breitbart, there has been an increase in German immigration to Paraguay as a result of the country's rigorous coronavirus regulations, as well as Germans fleeing Islamic immigrants already there. The German, Michael Schwartz, who is reported to have arrived in Paraguay in November 2021, expressed concerns about Islamic immigration to Germany, according to the German.
Another German woman who had fled to Paraguay stated, "I think we should have more regulated migration [to Germany]," urging Berlin to set a limit on the number of immigrants it will accept and make appropriate plans.
"We've gotten to meet a lot of folks here, and we share similar values. In Germany, it is not possible.
"We've got to know a great many people here and we're on the same wavelength. In Germany, it can't happen like this, because in general the Muslims act so provocatively", he said.
Another person who works with German immigrants in Paraguay and goes by the alias "Hana" was reluctant to express herself in an open manner; she only agreed to speak to the BBC on the condition that they not reveal her identity or use her true name.
All Western nations, including the UK, should immediately outlaw the growing trend of burqa, hijab, and alkhalla. Law enforcement and security agencies should not hire radicalized Muslim men or women for any sensitive posts. The hijab, burqa, and alkhalla should be outlawed immediately in Britain and other Western countries.
DISCLAIMER: The author is solely responsible for the views expressed in this article. The author carries the responsibility for citing and/or licensing of images utilized within the text.