In Unprecedented Move Centre To Provide All 77 BJP MLAs Security Against Bengal Violence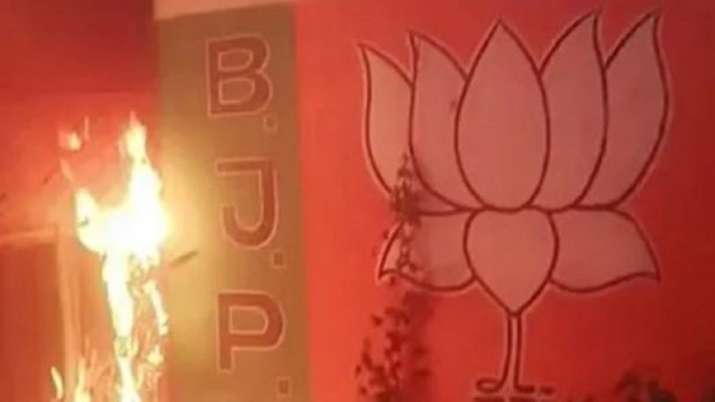 Due to the unabated massacre and brutal targeted state sponsored violence against BJP workers and leaders in West Bengal from 2nd May, unleashed right after the assembly election results were declared.
The brutal massacre has seen about a lakh Hindus turn homeless, several dead, many maimed, mass women gangraped, their shops & homes burnt and looted forcing them to flee from Bengal to seek refuge in Assam.
Today in a meeting with the BJP central leaders all BJP MLAs chose Suvendhu Adhikari, who trounced Mamata in Nandigram as their leader in the assembly and he was elected as the opposition leader in the West Bengal state assembly.
During the meeting with the central leaders, the BJP MLAs expressed their inability to visit the areas where their workers are being beaten up and killed by the TMC goondas as they feared for their own lives due to lack of security. Their concern was conveyed to the central BJP leadership, which requested the central government to provide Central security to all the 77 BJP MLAs. The centre has agreed to provide each MLA at least four Jawans of the central forces for their safety. Additionally, the state is also said to provide two security men to each MLA.
It is unprecedented for the central government to provide security to MLAs as it is the job of the state government to ensure law and order in the state. But with Mamata Banerjee on a complete denial mode and whitewashing pogrom by her party criminals as 'fake news' aided by card carrying members in the mainstream media, the central government led by BJP is left with no alternative but to provide central security for its MLAs.
The central government should also be sensitive to the massive killings of the BJP workers, sympathisers and voters on the ground by the TMC goons. Islamists in Muslim dominated areas in Bengal are targeting Hindus and hounding them out of their homes in Muslim majority areas under the garb of political violence.
In effect, there is an ongoing genocide of Hindus in Bengal; it is hoped that the centre takes some urgent measures like deploying the army and declaring West Bengal Disturbed Area under AFSPA.
News input: News18
DISCLAIMER: The author is solely responsible for the views expressed in this article. The author carries the responsibility for citing and/or licensing of images utilized within the text.