Indo-Pak Relations : A legacy with nothing to celebrate (PART 1/2)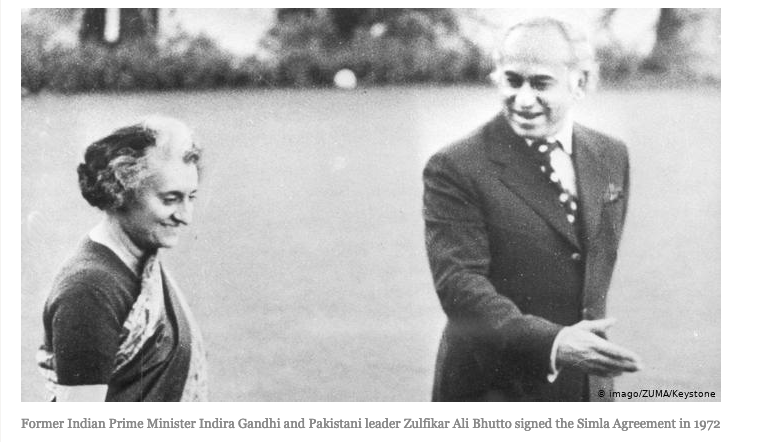 It's not a hidden fact that ever since 1947, India and Pakistan have nourished a deep-rooted mutual antipathy. Since this stupid line of partition has been drawn we haven't had a single year of peace at the India-Pakistan border. In August, 1947, when, after three hundred years in India, the British finally left, the subcontinent was partitioned into two independent nation states more precisely 3 as of today (India,Pakistan and Bangladesh) : Hindu-majority India and Muslim-majority Pakistan. Once the partition papers were signed then begin the biggest migrations in human history, as millions of Muslims trekked to West and East Pakistan (the latter now known as Bangladesh) while millions of Hindus and Sikhs headed in the opposite direction. Many hundreds of thousands never made it. The blood-shed took place is hard to put in words, there were incidents when the train reached other side of border has just dead bodies, everyone on-board was massacred and many more such incidents occurred.
Now to understand things in a better and organized manner let's divide this into periods or timeline :
1947 -1949 [(First year of Pak formation)]
The first war between India and Pakistan was fought over Jammu & Kashmir.after armed tribesmen (lashkars) from Pakistan's North-West Frontier Province (now called Khyber-Pakhtunkhwa) invade the disputed territory in October 1947, the armed Pakistani tribesmen aided by the newly created Pakistani Army. The legal ruler of the State of Jammu & Kashmir at that time Maharaja Hari Singh, had to fight on two fronts as there was already an internal revolt going on and then this external invasion. He requested the assistance of the Indian armed forces and agreed to accede to India or simply became a part. He handed over control of his defence, communications and foreign affairs to the Indian government. Fighting continued through the second half of 1948. The war officially ended on 1 January 1949, when the United Nations (UN) arranged a ceasefire, with an established ceasefire line, a UN peacekeeping force and the recommendation that a referendum on the accession of Jammu & Kashmir to India be held. When this war ended Pakistan controlled roughly one-third of the State of Jammu & Kashmir, referring to it as Azad (Free) Jammu & Kashmir and claiming that it was semi-autonomous which proved to be hypocrisy in coming years. A larger area, including the former kingdoms of Hunza and Nagar, was controlled directly by the central Pakistani government.
1950-1964
After the first Indo-PAK war and UN's intervention, the following years had relatively no major clash on border although the regular infiltration and cease fire in between continued. In 1954 the accession of Jammu and Kashmir to India was ratified by the state's constituent assembly. In 1957 Jammu and Kashmir's constituent assembly approved a constitution. India, from the point of the 1954 ratification and 1957 constitution, begins to refer to Jammu and Kashmir as an integral part of the Indian union. Now at this point of time a certain political unrest between India and Pakistan started getting intense. On the other hand despite of all diplomatic efforts relations between India and China was getting worse and finally in 1962 Sino-Indian war occurred. In 1963 foreign ministers of India and Pakistan – Swaran Singh and Zulfiqar Ali Bhutto – hold talks under the auspices of the British and Americans regarding the Kashmir dispute. The specific contents of those talks have not yet been declassified, but no agreement was reached. In the talks, "Pakistan signified willingness to consider approaches other than a plebiscite and India recognized that the status of Kashmir was in dispute and territorial adjustments might be necessary," according to a declassified US state department memo (dated January 27, 1964).
1965–1971
In 1965, India and Pakistan fought their second war, that was preceded by skirmishes that took place between the two nations between April and September of same year. The second Indo-Pak war was sparked by a series of clashes across the India-Pakistani border. Hostilities broke out in August when Pakistani soldiers crossed the Line of Control into Indian-administered Kashmir in an attempt to start an insurgency against India (Operation Gibraltar).  The war ended in January 1966 when officials from India and Pakistan signed a declaration affirming their commitment to peace.There were thousands of casualties on both sides in the war, and it witnessed the largest engagement of armored vehicles and the largest tank battle since World War II. It ended after a UN mandated ceasefire was declared following diplomatic intervention by the Soviet Union and the United States (US), and the subsequent signing of the Tashkent Declaration. On January 10, 1966, Indian Prime Minister Lal Bahadur Shastri and Pakistani President Ayub Khan sign an agreement at Tashkent (now in Uzbekistan), agreeing to withdraw to pre-August lines and that economic and diplomatic relations would be restored.
1971-1972 (Formation of Bangladesh)
East Pakistan (now Bangladesh) became the reason for the third war between India and Pakistan. The conflict between East and West Pakistan begins when the central Pakistani government that was seated in West Pakistan, led by Zulfiqar Ali Bhutto, refused to allow Awami League leader Sheikh Mujibur Rahman, an East Pakistan-based Bengali whose party won the majority of seats in the 1970 parliamentary elections, to assume the premiership of the country.The Pakistani military cracked down on protestors in the Dhaka March in 1971 in which students and teachers were killed in large numbers. India became involved in the conflict in December, after the Pakistani Air Force launched a pre-emptive strike on airfields in India's northwest. India retaliated with a coordinated land, air and sea assault on East Pakistan. The Pakistani army surrenders at Dhaka, and its army of more than 90,000 become prisoners of war. Hostilities lasted 13 days, making this one of the shortest wars in modern history.ast Pakistan becomes the independent country of Bangladesh on December 6, 1971. In 1972 Pakistani Prime Minister Zulfikar Ali Bhutto and Indian Prime Minister Indira Gandhi sign an agreement in the Indian town of Simla, in which both countries agree to "put an end to the conflict and confrontation that have hitherto marred their relations and work for the promotion of a friendly and harmonious relationship and the establishment of a durable peace in the subcontinent". Both sides agree to settle any disputes "by peaceful means".
The Simla Agreement designates the ceasefire line of December 17, 1971, as being the new "Line-of-Control (LoC)" between the two countries, which neither side is to seek to alter unilaterally, and which "shall be respected by both sides without prejudice to the recognised position of either side".
DISCLAIMER: The author is solely responsible for the views expressed in this article. The author carries the responsibility for citing and/or licensing of images utilized within the text.