Inflamed: Deep Medicine and the Anatomy of Injustice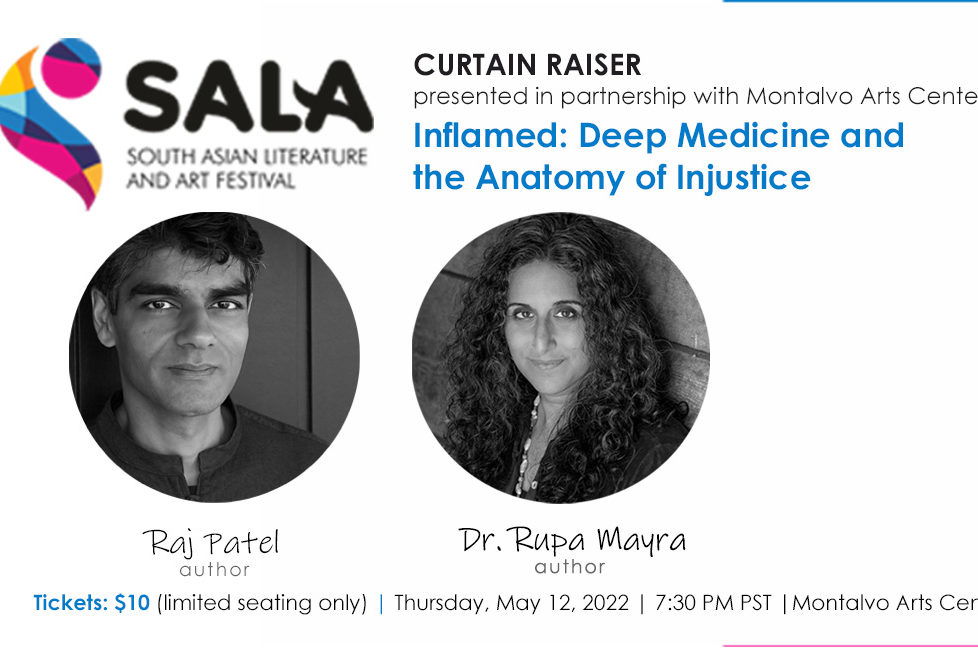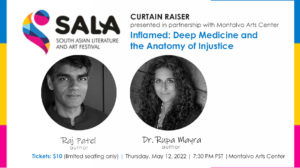 2022 SALA Curtain Raiser presented in partnership with Montalvo Arts Center.
This exclusive event is a conversation on the systemic effects of colonization on our health and the environment, followed by a Q&A with Dr. Rupa Mayra and Raj Patel.
Date:     May 12 | 7:30 pm
Venue: Montalvo Arts Center, 15400 Montalvo Rd, Saratoga, CA 95071
Tickets: $10 at www.my.montalvoarts.org/1893/1894 (limited seating only)
The COVID pandemic has placed health as a primary focus; Social Injustice is seen more clearly than ever before, and can no longer ignore the changing climates. "Your body is part of a society inflamed," write the authors in their book "Inflamed: Deep Medicine and the Anatomy of Injustice."
Please join co-authors Dr. Rupa Mayra and Raj Patel as they share their latest work, a profoundly radical and intensively researched look at the cross-disciplinary links between the human body, the environment, and the injustices of our political and economic systems.
The evening will be a conversation with the authors, and creators, whose work sits at the nexus of climate, health, and racial justice and a shared value in creating decolonizing food and medicine.
Dr. RUPA MAYRA
Dr. Rupa Marya is a physician, activist, writer, mother, and composer. She is an Associate Professor of Medicine at the University of California, San Francisco, and a co-founder of the Do No Harm Coalition.
Her work sits at the nexus of climate, health, and racial justice, and she works to decolonize food and medicine. Dr. Marya is the co-author with Raj Patel of the book Inflamed:
Deep Medicine and the Anatomy of Injustice.
She has toured twenty-nine countries with her band, Rupa and the April Fishes, whose music was described by the legend Gil Scott-Heron as "Liberation Music."
RAJ PATEL 
Controversial author, journalist, professor, and food policy expert Raj Patel continuously challenges our presumptions about the global economy with his work both as a policy analyst and activist. Having worked for some of the most prestigious international organizations —and protested against them—Patel constantly finds ways to improve the world's food system.
Regularly featured in major international news publications and media, Patel's cutting-edge thoughts on food distribution and globalization have become some of the most important and trusted in the world.
ART FORUM
Art Forum is a not-for-profit that strives to define and promote all art forms emerging from South Asia and its diaspora. We endeavor to present the visual, the literary, and the performing arts in their manifold versions, thus promoting a more extensive reach for South Asian voices.
Art Forum provides a confluence for various art forms to develop and collaborate while retaining the identity yet relating to the global. For more information, please visit www.artforumsf.org.
DISCLAIMER: The author is solely responsible for the views expressed in this article. The author carries the responsibility for citing and/or licensing of images utilized within the text.