Will Chinese economy become communist again?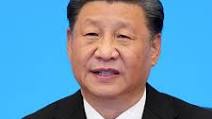 Mao proclaimed the establishment of The People's Republic of China from the Gate of Heavenly Peace (Tian'anmen) on October 1, 1949, and later that week declared "The Chinese people have stood up". In January 1958, Mao launched the second Five-Year Plan, known as the Great Leap Forward, a plan intended to turn China from an agrarian nation to an industrialized one which failed miserably later. He remained the Chairman of the Communist Party and supreme leader of China till 9th Sept 1976.
After Mao Zedong's death in 1976, Deng gradually rose to supreme power and led China through a series of far-reaching market-economy reforms, earning him the reputation as the "Architect of Modern China". Deng quoted the old proverb "it doesn't matter whether a cat is black or white, if it catches mice it is a good cat." The point was that capitalistic methods worked. Starting Deng's period, China allowed private investments and grew at the rate of 10% per annum for nearly 30 years. Before Deng, Chinese economy was even smaller than Italy's. Now, China is the second largest economy of the world only after US.
But, with Xi Jinping becoming the President China, whatever democracy was there was stifled. China had single political party, but at the top level all the decisions were taken based on voting in the Central Politburo. But now, with Xi Jinping having absolute power, his word is law. The President could hold a maximum of two terms in office. But that was changed by amending the constitution which opens way for Xi Jinping to hold office for life.
Apart from these Xi Jinping has started a crackdown on the private companies. No one knows the details, but I guess as private companies grow larger the CCP is threatened. On top of that, the CCP leaders cannot dictate their terms in the matters of economy or politics. In the process, the role of State Owned Enterprises has increased while private companies face growing restrictions, especially in the technology arena.  
Until recently, global investors seemed oblivious to what was happening. Last November when the Chinese authorities cancelled the IPO for Ant Group that was spun off by Alibaba a decade ago, investors viewed it as a one-off reprimand for Alibaba's founder Jack Ma. (He had referred to the "pawn shop" mentality of China's banking system in a public forum.) This was followed by Alibaba being fined a record $2.8 billion for alleged anti-monopoly violations.
This past month, however, international investors became concerned by the government's crackdown on several leading tech companies and companies that raise capital offshore. According to the Wall Street Journal, four leading companies – Alibaba (BABA), Kuaishou Technology, Meituan, Tencent Holdings (TCEHY) – lost about 20% of their market capitalization in July. These developments have raised a host of concerns among investors. One is whether similar actions could be taken against private companies in other rapidly growing sectors such as healthcare and property. 
Beijing has since all but shut down the lucrative after-school tutoring market, may fine food-delivery app Meituan $1 billion for alleged antitrust violations, and is threatening the online gaming platform of Tencent, which is listed on the Hong Kong stock exchange. Another target has been Didi, a popular ride-hailing app, which was instructed to stop taking new customers days after it raised $4.4 billion in an initial public offering in New York.
Why is CCP doing all these? I can think of the following reasons:
Communism (and Jihadism) are based on principle of looting other's wealth. After Mao came to power, he nationalized all private enterprises. But after exhausting the wealth of those enterprises when no money was left, the CCP needed to create wealth. Hence CCP allowed private enterprises.
Now, a lot of wealth has been created by the private companies. Hence, CCP leaders under Xi Jinping have kicked off the process of looting that wealth.
Hence, I wont be surprised of Xi Jinping nationalizes the big private companies in China. The Govt has started the process of acquiring stakes in several technology companies.
What is happen eventually?
China will become poor in next few decades.
After becoming poor, if it wants to do further reforms, then investors wont trust it?
Or another bitter outcome would be: there could be widespread protests and CCP is dethroned.
In nutshell, the future for China looks bleak and probably this is the reason why it is turning to be a colonial predator. By looting others' wealth, the CCP can keep its hold inside the country.
DISCLAIMER: The author is solely responsible for the views expressed in this article. The author carries the responsibility for citing and/or licensing of images utilized within the text.