Is Democracy in India Nehru's Idea?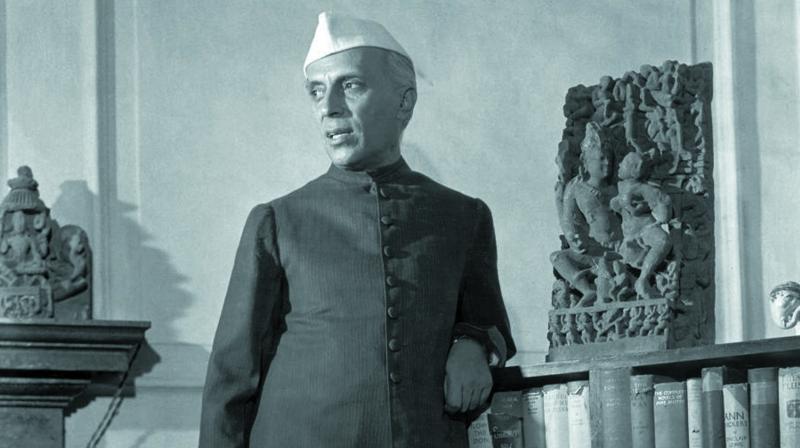 People who tend to criticize Nehru are frequently reminded that Nehru is to be credited for democracy in the nation. Does the argument hold up?
In India, elections were held both under British rule and before.
Gandhi wanted Congress to be disbanded after independence because, in addition to winning the 1937 elections and establishing cabinets in many states, Congress had already grown to be so corrupt once they got the reins of power. In 1946, the final pre-independence elections were held. Many democratic institutions, including the electoral system, were passed down to independent India; yet, it required support to handle universal suffrage. In reality, the provisions for the universal adult franchise and a democratic system were included in the Constitution of India, which was drafted by Dr. Ambedkar and adopted by the Constituent Assembly, which was led by Dr. Rajendra Prasad and included a large number of honorable individuals. So how can Nehru be given credit?
When India gained independence, Nehru became the country's first prime minister, although his election as Congress President in 1946 was not democratic.
A responsible democrat would have diligently sought to construct a multi-party, or at the very least, a two-party democratic system for the long-term benefit of the country. However, Nehru made sure that India's fledgling democracy was not fostered by strong opposition since he was too eager for himself and his dynasty to remain in power for all time. He made every effort to disparage, undermine, and weaken the opponents.
How can someone like Nehru be referred to as a democrat when he brought dynasty politics to India? Because dynasty is the source of all other threats, it is not corruption, poor government, reforms, or Babudom that pose the greatest threat to India. Nehru never made an effort to make India a truly developed democracy. His efforts actually succeeded in transforming it into a hereditary, Nehru-dynastic democracy. As a result, India developed into a nepoticracy, feudocracy, and chamchacracy as a corollary to a dynasty (dynastic democracy).
Motilal Nehru improperly promoted his son Jawaharlal Nehru, and in classic dynastic fashion, Nehru supported Indira, who then shamelessly supported her offspring. When Motilal Nehru stepped down as Congress president in 1929, he made sure that his son, Jawaharlal, rose to the gaddi over the heads of individuals who were considerably more experienced and competent than him by pleading with Gandhi.
On how Nehru favored his sister, Wrote S.Nijalingappa in 'My Life and Politics, "Another such instance I remember was when Dr. S. Radhakrishnan was
President of India…I used to call on him whenever I was in Delhi…In his
talks with me, as I believe with others too, he was very frank and open.
One day, when I went to him he said, 'Nijalingappa, today I put my foot
down. Do you know why?' He then continued, 'Pandit Nehru comes to
me and wants me to make his sister, Vijay Lakshmi Pandit, vicepresident of India. I had to tell him, "You are the prime minister of
India, your daughter is the president of the Indian National Congress and
you want your sister to be vice president. What would people say? I
cannot have it." I put my foot down and sent him away.' I think Nehru
had promised his sister the post and when she could not get it, she was
very angry with her brother. She complained to me about it when she
came to my house for breakfast and said that her brother did not keep
his promise. I did not tell her what Dr. S. Radhakrishnan had told
me."
Despite the fact that Indira Gandhi had not contributed anything to the Congress, she was 1955 saw her election as a member of the Congress Working Committee.
Instead of ascending from the bottom, it came right from the top. Indira in 1955 was appointed to the influential Central Election Committee.
As Durga Das explains in his book "DD,"
statement in his weekly column in 1957
He said in the Hindustan Times that Nehru was preparing his daughter to succeed him. Prior to penning the piece, he claims to have spoken with Maulana Azad, who confirmed that both of them had independently come to the same conclusion. A similar view was held by Govind Ballabh Pant as well. When Nehru later complained to Durga Das about the piece, Durga Das reassured him that what he had written would benefit Indira and put her in a positive light, which made Nehru happy and smiling.
Indira joined the Central Parliamentary Board in 1958, and Nehru cleverly created a place for her by retiring from the Board. After an extensive behind-the-scenes drama that Nehru orchestrated through others, she was eventually elected President of the Congress in 1959, much to the surprise of everyone. In response to her appointment as president, Nehru stated, "I am proud of Indira Gandhi as my daughter, my comrade, and now as my leader. It is unnecessary for me to express my affection for her. Her honesty and integrity make me proud.
Source: Nehru's 97 Major Blunders by Rajnikant Puranik
DISCLAIMER: The author is solely responsible for the views expressed in this article. The author carries the responsibility for citing and/or licensing of images utilized within the text.