How ISI ran prostitution rings in the name of national interest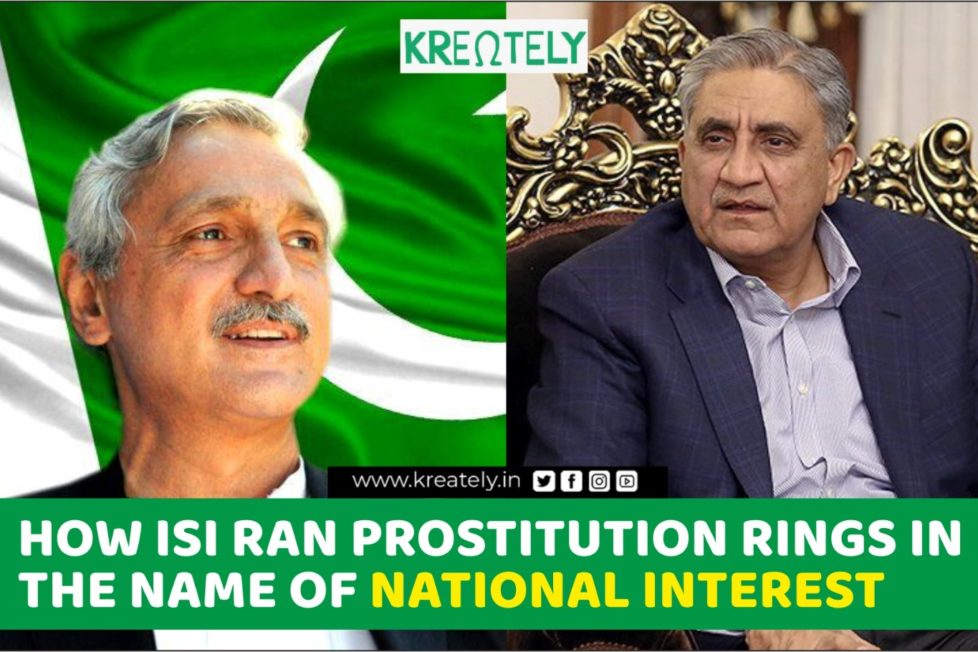 Pakistan leadership systematically abuses and exploits it's women citizens. This a huge claim, and it is not made in thin air. The contents of this claim have been shared by no other but the former Pakistan Army chief, Qamar Javed Bajwa.
According to an explosive article by seasoned journalist Absar Alam, Bajwa had called over some senior news anchors including Pakistan's first TV anchor Syed Talat Hussain in 2020, immediately after he got the extension. He narrated an incident to these people. He said that during a meeting with Saqib Nisar, who was Chief Justice of Pakistan at that time, he shared a video with the latter.  The video showed a woman carrying out 'immoral acts' with an ambassador of a country. These acts were blatantly sexual in nature. Bajwa admittedly told Saqib Nisar, that these are the extents we have to go to, to ensure 'national security', and to get foreign diplomats to divulge sensitive information. Bajwa boasted to the audience that Nisar was extremely impressed by the 'sacrifice' offered by the woman in the video, all in the zeal to 'serve the nation'.
Through this conversation, Bajwa effectively admits that the Army and ISI run prostitution rings, exploring innocent women across Pakistan. Imagine the level of social decline in a country where it's chief protector indulges in such a lewd and crass interaction with the head of judiciary, then proudly boasts about it in front of the anchors.  According to Absar Alam, Talat Hussain has confirmed this incident during a conversation with him, and has also mentioned it in one of his vlogs.
Alam goes on to share another incident which took place in 2014, and which was shared firsthand with him. According to Alam, he received a phone call by a news reporter who has now agreed to share her name in public forums. Her name is Batool Rajput. Batool was approached by an Army Colonel and asked to honey trap a senior TV anchor. Batool was instructed to make a video with the male anchor in objectionable position, which would then be used to blackmail him. The said anchor had taken to criticising Imran Khan and the PTI on governance matters on his TV show. PTI was in power in the Khyber Pakhtunkhwa province at the time and Imran Khan was being launched as Allah's own gift to Pakistan by Bajwa and the Army. The purpose of the whole exercise was to use these videos so he could be made to toe the line, and only share positive news about Imran and PTI. According to Batool, she was completely taken aback by the matter-of-fact manner in which she was 'offered' to fulfill this task by a serving Colonel. This job was described to her as 'national duty'. She was also told that she will become a 'national asset' which is why she was being approached in an official capacity. The Colonel offered Batool all kinds of monetary and career benefits. When she flatly refused and also informed the anchor in question about this sinister plan, Batool lost her job. At this point, the male anchor has also decided to make his name public.  His name is Saleem Safi.
It is to be noted that Batool came from a relatively well-to-do family, and is the daughter of a retired Army officer.  One can assume that many others with lesser options, who could not afford to lose their job for financial reasons, or were not strong enough to say no, accepted all such offers which came their way. There are a number of social media handles in the names of famous Pakistani women which are used by ISPR and ISI to generate suitable narrative, which is consumed effortlessly by the Pakistani masses and some western media outlets. The same narrative is used by propagandist mafia in India on need basis, with a clear purpose to malign the country and it's leadership.
The filth and rot is embedded deeply in the Pakistani system. These nefarious tactics planned and executed by the leadership have ruined the lives of countless women who have no one to turn to. Absar Alam continues to share more disturbing stories in his article, and this next one is again dated back to 2014. This time, he discloses astonishing information about Jahangir Tareen, Pakistan's sugar baron and a stalwart in the business community.  Tareen was the top financer of PTI until 2021, and it was his private jet in which Imran Khan famously used to travel around the world. Alam shares that a property present next to Tareen's own house in Islamabad was used to make obscene videos of various important people. This building was run by a former colonel, who was in-charge of ISI Islamabad Directorate, and these spurious activities have been running under him for over 20 years.  The girls used in these videos were mostly from smaller cities who come to Islamabad in search of jobs or for education. These innocent and helpless girls are trapped through drugs, alcohol and rape, then blackmailed into carrying out 'unseen and undesreved' tasks. Senior officers of ISI and ISPR have often been found on the property. The miscreant retired ISI official would lure the girls on the pretext of giving them a job or a program on a YouTube channel and use the name and appearance of senior military officers to intimidate them.  They would get badly trapped in this dirty and disgusting trap and could never get out of it. 
During the infamous PTI dharna of 2014, senior ISI officers used to come to this house to settle matters with Jahangir Tareen. So it can be safely assumed that several dirty videos of many in power circles exist, which are used to carry out political engineering in the country.  Another point is, these incidents are not one off, but are planned and executed with sinister intentions, and are part an integral part of the country's strategy.
This is a nothing more than a peek into the operations of a country which was famously labelled Riyasat e Madina, and which is currently running on empty stomachs, empty coffers, and pure spite against Kafir Hindu India.
Reference: https://pakistan24.tv/2023/03/10/51909
DISCLAIMER: The author is solely responsible for the views expressed in this article. The author carries the responsibility for citing and/or licensing of images utilized within the text.