ISKCON Bangladesh built the most expensive temple in Chittagong.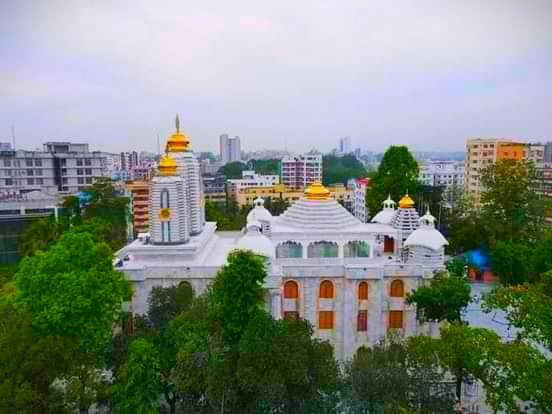 The International Society for Krishna Consciousness (ISKCON) under Panchlaish thana Station in Chittagong has established this 9-domed temple in 16 Ganda places. The whole temple is 100 feet long, 50 feet wide and 75 feet high. The entire temple is built of Makrana marble in Rajasthan. Door-window timber has been collected from Africa and Myanmar. Srila laid the foundation stone of the temple.
The foundation stone of the temple was laid by Srila Joypataka Swami on January 23, 2006. The three-storied temple was designed by Indian architect Pundarik Vidyadas Brahmachari. The temple will be inaugurated on March 15 and the life of the idol will be established, said Rupeshwar Gouranga Das, a member of the board of directors of ISKCON promoter Sri Krishna Mandir. He said the temple has been constructed at a cost of around Tk 40 crore. This is the most expensive Sri Krishna temple in Bangladesh.
Karmayajna started from 2010. 30 Indians and 50 Bangladeshi workers have worked together for 9 years to build the structure of the entire temple. Since 2013, workers in Rajasthan have been replacing traditional carvings with marble.
According to the temple management board, the ground floor of the Krishna temple will be used as an auditorium. Then Natmandir on the 1st floor, Vigraha Mandir on the 2nd and 3rd floor. The enjoyment room (Prasad kitchen) adjacent to the idol room will be out of sight of the visitors. The temple authorities said that the bhogghar is being kept out of sight for the purpose of performing the devotional activities in front of the deity after cooking. And on one side of the roof is the living room of the priests.
The seats of the idols made of wood brought from Africa are decorated in the temple.
The idol of Acharya Srila Abhayacharanarbinda Bhaktivedanta Swami Prabhupada, the founder of ISKCON, is being placed on a gem throne facing the idol in the womb of the temple. A group of 130 Krishna devotees from 36 countries, 20-25 monks-maharajas and principals of ISKCON temples in different districts of Bangladesh, Krishna devotees are coming to the temple inauguration ceremony.
DISCLAIMER: The author is solely responsible for the views expressed in this article. The author carries the responsibility for citing and/or licensing of images utilized within the text.