Islamists In Bangladesh Attack Temples & A train, Chant "Direct Action" To Protest PM Modi Visit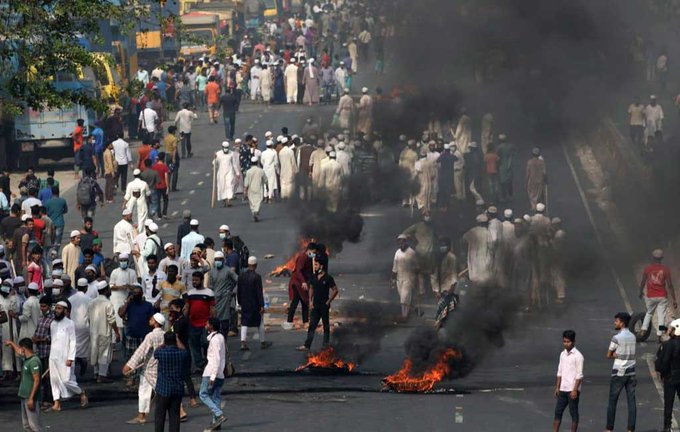 The Islamist outfit Hefazat-e- Islam, Defenders of Islam, are running riot attacking temples, trains, burning buses and government offices and even calling for the infamous "Direct Action" to demonstrate their bigoted protest against PM Narendramodi's visit to Bangladesh as reported by the Reuters. As many as 10 Islamists have reportedly died during attempts by the police to quell the large scale violence perpetrated by the Islamist outfit.
Hefazat-e- Islam members attacked a train in Brahmanbaria on Sunday, injuring ten. A police official told Reuters under condition of anonymity that, "They attacked the train and damaged the engine room and almost all the coaches".
A journalist, Javed Rahim told the Reuters, "Brahmanbaria is burning. Various government offices were set on fire indiscriminately. Even the press club was attacked and many injured, including the press club president. We are in extreme fear and extremely helpless." Many Hindu temples were attacked too in the town.
Buses were burntin Rajshahi district and hundreds clashed with the Police in Narayanganj, near Dhaka. The jihadi mob pelted stones on the police forcing the security forces to retaliate with rubber bullets and tear gas shells.
On Friday five were killed and on Saturday six were killed in police action according to an AFP report. Th Islamist mob in Narayanganj chanted, "Action, action, direct action" menacingly, in a reminder to the Direct Action call by MA Jinnah in 1946, which led to genocide of Bengali Hindus in an infamous event referred to as 'The Great Calcutta Killing'.
Facebook services had been suspended in Bangladesh in order to prevent Islamists to provoke people and organise mass assembly through online communications. Border Guards have been deployed for enforcement of law and order in various violence affected areas of Bangladesh.
Notably, the extremist Islamist organisation Hefazat-e-Islam is said to be secretly funded by Pakistan High Commission in Bangladesh as stated by Bangladesh Chhatra League (BCL) president Al Nahean Khan Joy in a ANI report on 20th March.
Joy, the president of BCL, the student wing of Bangladesh ruling Awami League, in th a tweet said that the people of Bangladesh condemn the attempt by Pakistan spy agency ISI.
"Pak Flag of Pakistan HC #Dhaka's #SecretFunding for @HIBofficial @Hefazot to protest against India Flag of India & its PM @narendramodi. We, #secular & #democratic people of #Bangladesh condemn this attempt by Pak agency #ISI. #Shame on @GovtofPakistan, protector of #Terrorists around the globe," tweeted Joy.
Hefazat-e-Islam has also in the past targeted Hindus, burnt their houses, properties and temples. The Bangladesh government needs to ban the Islamist outfit and arrest all the violent Islamists and give adequate security to the minority Hindus and Hindu temples.
The jihadi Islamists are not only a threat to Hindus and non-Muslims, they are threat to civilized society at large including modern Muslims who do not subscribe to the medieval barbaric ideology and practices with respect to Kafirs and inhuman practices with related to women and blasphemy which are not congruent with modern day civilized society.
News input: Hindustan Times, Opindia.
Image sourced from Opindia
DISCLAIMER: The author is solely responsible for the views expressed in this article. The author carries the responsibility for citing and/or licensing of images utilized within the text.