JAGMOHAN and the saga of genocide of Kashmiri Hindus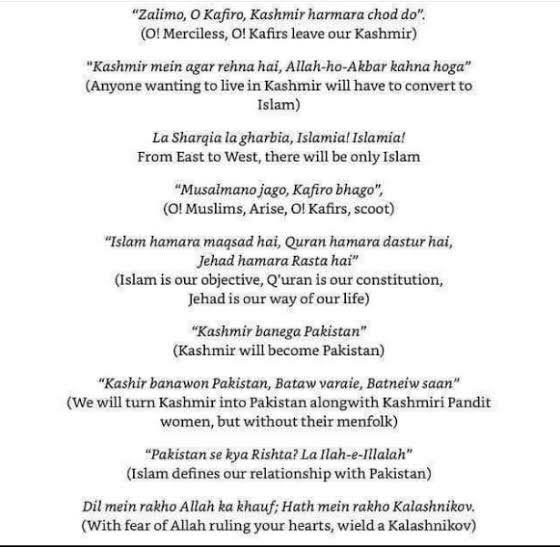 19th January 1990 – A black lettered day in the history of Independent India when announcements from the nearby mosques said – "Asi gachchi Pakistan, Batao roas te Batanev san" (we want to become Pakistan with Hindu women not with their men).To free Kashmir from Kufra. Azadi ka matlab kya La ilaah illillaah."
Let us know about a person who has been made a villain by the so-called elit-left-liberal-privileged cabal of the media, for his sincere efforts towards saving the life of Kashmiri Hindus, who became refugees in their very own country.
And this person is none other than ex DANICS officer, later Governor, Jagmohan. He was the man behind saving the Kashmiri Pandits and hence saving Kashmir in going into the hands of Islamists. If one asks any security forces officer posted in valley on that day (when plan was made to declare kashmir independent). Thankfully I had the privilige to hear a bit of it from the man posted as BSF's senior commandant(later retired as IG BSF) during that period (12–19th January 1990) in Srinagar.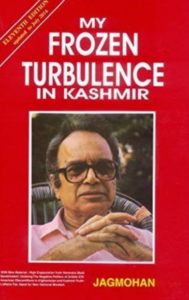 A little timeline is here :
• OnJanuary 19, 1990, Jagmohan was in Raj Bhawan in Jammu when a vicious, orchestrated campaign against Pandits began from mosques all over Valley.
• The frightened Pandits began to make calls to Jagmohan and bureaucrats in North Block, asking for help. They thought they were all going to be killed that night. (The horrible and bone chilling stories can be read through the book " our moon has a blood clot" By Rahul Pandita).
• Jagmohan finally reached Srinagar in January 21. By that time the Pandit exodus had begun. As they were being killed in ones and twos, a prominent Pandit leader, HN Jattu, wrote an open letter to militant leaders, appealing them not to kill Pandits.
• The JKLF responded by killing Jattu's close associate, Ashok Kumar. He was shot in knees, kicked in a drain and pissed upon before being silenced forever.
• On March 7, 1990, Jagmohan issued an appeal to Pandits not to leave even temporarily. He said he will set up camps in Valley itself. But by that time some really brutal killings had taken place. Pandits continued to leave.
The Editor in chief of Srinagar Times, Ghulam mohd Sofi wrote about that situation, when he went to meet Governor :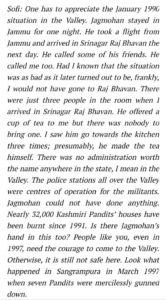 The situation was that Rajiv Gandhi and others believed that "We have lost Kashmir forever and it's just a matter of time before Independence would be declared"; the Bureaucrats and many IPS officers were sure that it's a "gone case" and they were ready to leave Srinagar. Thankfully it was an ex-Bureaucrat turned Governor who saved the Day with Core Commander of Chinar Corps LT.Gen M.A Zaqi (who later acted as security Advisor) and few others.
Those who accuse Jagmohan for exodus are :-
The propaganda of accusing Jagmohan of "Killing Kashmiris" was strated by Benazir Bhutto in her speech in Muzzafrabad, then repeated in Lahore(incidentally Muzzafrabad and Lahore are the two main regions from where terror eminates ).
On her maiden visit to Muzaffarabad, the capital of Pakistan-Occupied Kashmir (POK), she drew loud cheers by threatening to turn Jagmohan in to Bhag Mohan. In Lahore, a week later, she echoed the Kashmiri war cry of "azadi, azadi" before a lakh-strong crowd.
So here are the person who accused Jagmohan : It was Benazir Bhutto and Pakistani ISI. Their statement was re-atriated by Mani Shankar Aiyar (his special love for Pakistan) and left wing commies in Parliament and JNU. This propaganda is used by kashmiri separatists as well as univeristy professors of Jamia and AMU to brainwash it's young generation.
WHY JAGMOHAN WAS NOT RESPONSIBLE FOR EXODUS OF KASHMIRI PANDITS:
The first sign that Kashmir was heading towards troubled times came in 1986 when the state witnessed the worst communal riot of its history. The riots took place in Anantnag district of South Kashmir. According to some estimates, Kashmiri Pandits lost nearly 300 homes in these riots and a few of their temples were also burnt down. Then that famous India – West Indies match in Srinagar where crowed cheered for West Indies and waved Pak flag. Gavaskar said "we were shocked to the extent that we can't even see the balls while fielding". This was followed blast in post office near Maisuma in 1987. Then selected targetting of Kashmiri Pandit started.
It was 1989 was turbulent for Jammu and Kashmir from many accounts. After the massive defeat of Rajiv Gandhi in general elections, V P Singh took over as the Prime Minister of the country on Dec 2, 1989 and Mufti Mohammad Sayeed was made the Home Minister. His daughter (Rubiya Sayeed) was kidnapped by JKLF militants and later she was released in exchange of 5 dreaded militants. The surrender boosted the morale of Militants and then rest is as we say "a history".
By January 1990, the terrorists acting on the instructions of their Pakistani masters, decided to go for ethnic cleansing of Pandits as the first step towards setting up Nizam-E-Mustafa in the state.
Between January 12-19, these terrorists took out a number of anti-India processions in which Hindus were used as human shields so that they could be the first casualty in case Police opens fire on the procession. Provocative calls were being made from mosques to target Hindu men and women. In these 7 days, Kashmiri Pandits were subjected to all kinds of persecution that included brutal killings of men and rape of women. The persecution became so intense that 'Kashmiri Pandits' were left with no other choice than to move out of the state and the the mass exodus started on January 19, 1990.
Every Indians must know about the sponsored massacre of Hindus in the 'secular state' of India!!
DISCLAIMER: The author is solely responsible for the views expressed in this article. The author carries the responsibility for citing and/or licensing of images utilized within the text.