J&K Administration decides to name roads, buildings and colleges after Kashmiri Hindus who were forced to leave the valley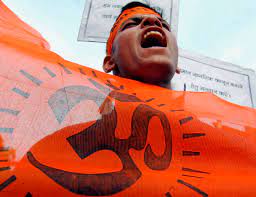 During exodus, lakhs of Kashmiri Hindus were forced to leave the valley because of muslims who used the terminology of "Jihad" against innocent Hindus. From 31 years, Kashmiri Hindus are living in exile and are not able to return their homes. The present Modi government have spoken in the interest of Kashmiri Hindus and has now came up with a decision of renaming famous roads, buildings and colleges in Srinagar after Kashmiri Hindus who were forced to leave the valley during exodus.
As per Times Now report, the government has made a decision of naming a road after Pandit Zinda Koul who was a well known Kashmiri poet, writer and teacher and also to name a college after prominent Kashmiri Hindu and Indian contemporary playwright Moni Lal Kemmu.
Opposition political parties termed this beautiful move of the government as mere "tokenism" and alleged the government of not being serious enough whereas the government stands firmly in its decision and calls it an essential step in giving tribute to the Kashmiri Hindus.
Kashmiri Hindus seems to be very happy from this move of the government. Filmmaker Ashok Pandit who is a Kashmiri Pandit uploaded a video to thank the government for this move and wrote "I thank narendramodi ji govt ,manojsinha ji for naming a road on MasterZindaKaul who was a great scholar of Persian ,Urdu & Kashmiri & also naming a Govt. college in the name of well known author & poet MotiLalKemmu .This is NayaKashmir".
DISCLAIMER: The author is solely responsible for the views expressed in this article. The author carries the responsibility for citing and/or licensing of images utilized within the text.