Karan Johar : kalank of Bollywood?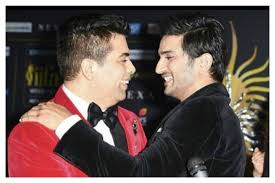 (Karan Johar sporting a red tuxedo and a double chin pictured with Sushant Singh Rajput/Photo: Twitter, News18)
Karan Johar, who is almost 50 years old is a man who has made strides in advancing nepotism in Bollywood is now being summoned by the Mumbai Police to give a statement involving the recent suicide of Sushant Singh Rajput.
Johar has ruled the industry with his production company by producing multiple hit films and exploiting sentiments of Indians around the globe. His films have generally starred big-name actors and often helped launched actors' children on the big screen irrespective of their talent in acting. Noob examples include – seniors such as Kareena Kapoor and juniors such as Varun Dhawan, Alia Bhatt, Ananya Panday, Ishaan Khattar, Janhvi Kapoor, etc.
Johar has come out as being gay. However, instead of being a champion of human rights is often seen as taking "witty" barbs which come off as insults and body shaming of actors and characters. His films also seems to take a strange attitude when depicting non-binary characters in the guise of being funny.
Johar may be the only hope for "star kids" and these days he is receiving a lot of flack for his mistreatment of non-star kids. Sushant Singh Rajput is one such outsider who was marginalized by the usual suspects and Gangs of Bollywood.
Johar's name is continuously coming up in the criticism surrounding the nepotism debate and questions related to Sushant's suicide.
The once untouchable Johar and/or members of his production team seem to have received a summon from the Mumbai police in connection with Sushant's case.
Kapoors and Khans, irrespective of talent have been constantly supported by Johar. However, his kingdom seems to have now collapsed. He is being called out as the biggest promoter if not enabler of corruption and harassment in the failing Bollywood industry.
Johar's tweet after Sushant's suicide states his guilt for not being touch with the dead actor. Is the tweet genuine? The remorse truthful? That is up to the reader to decide.
Recently Johar's photos have emerged with Pakistani intelligentsia which are active working against India and her interests. These links to the Islamic Republic of Pakistan are shocking and alarming. These elements are known to carry out anti-India activities. Let's hope Johar can redeem himself as the current, lead Kalank of Bollywood.
DISCLAIMER: The author is solely responsible for the views expressed in this article. The author carries the responsibility for citing and/or licensing of images utilized within the text.