Kerala District Judge Gives Wife Triple Talaq & Brother Retd HC Judge Kamal Pasha Accused Of Threatening Her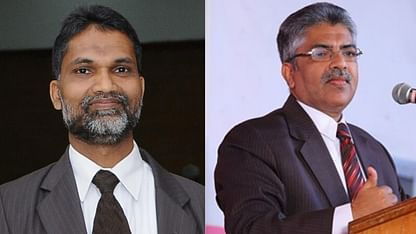 The scourge of Triple Talaq is not limited to poor uneducated Muslim families. In fact, the middle class and affluent Muslim men get away by harassing their womenfolk with élan. No wonder the Ieftists who are more inclined to let the jihadis get away with abusing Muslim women's rights were dead against criminalisation of Triple Talaq.
The Congress was anyway always very obsequious towards medieval barbaric practices in Islam, they steadfastly refused to reform personal laws for Muslims under the garb of minority rights. The Congress even enacted an Act to neutralise a judgement of the Supreme Court in the Shah Bano case which ruled to provide maintenance to a 65 year old lady divorced in her ripe old age by her husband beyond the three months period after divorce as stipulated by the Shariat.
The Organiser has reported a shocking incident from Kerala, where the wife of Palakkad District & Sessions Court Judge B Kalam Pasha, alleged that her husband divorced her unilaterally and arbitrarily by giving her Triple Talaq which is illegal and invites a jail sentence over three years.
The victim Muslim lady has approached Kerala High Court and filed a complaint against her District & Sessions Court Judge husband for issuing her 'Triple Talaq'.
She also alleged that her husband Kalam Pasha's brother, retired Justice B Kamal Pasha had threatened her. The women said that Kalam Pasha issued Triple Talaq on March 1, 2018, through a written letter the same day.
But he later, he sent her another letter as an after thought saying that there was a typing error and the original date was March 1, 2017. He evidently preponed his claim of divorce by an year in a bid to avoid legal proceedings against him as Triple Talaq was banned by the centre in August 2017 with penal provisions.
As per Supreme Court rules permission of Chief Justice of the concerned High Court is required to register a case against a judge. Hence the victim lady complained two years ago at the appropriate forum against her judge husband following which a vigilance inquiry was done on the matter.
Now the case has reached the High Court for registering a criminal complaint against the accused sitting District Judge Kalam Pasha. Notably, the victim has also complained that Kalam Pasha's brother, a retired High Court Judge, Justice Kamal Pasha threatened her with dire consequences if she resists the unilateral arbitrary divorce by his brother and refuses to quietly vanish from his life.
It is highly shocking that the judiciary which is repository of justice and ensuring that rights of women are not trampled by men are themselves being accused of gross violations of human rights. It is very important that the higher judiciary looks into serious allegations of indulging in barbaric medieval practices by people from their own fraternity very seriously and does not sweep it under the carpet to protect their own fellow brothers from facing the rule of law.
Moreover, the Constitutional minority rights cannot supersede basic fundamental human rights of Muslim women and right to lead life with dignity.
News Input and Image Source:https://www.organiser.org/Encyc/2021/2/11/Kerala-Wife-accuses-Palakkad-District-Judge-Kalam-Pasha-of-issuing-Triple-Talaq-claims-former-high-Court-Judge-Kemal-Pasha-threatening-her.htmlAttachments area
| | |
| --- | --- |
| | ReplyForward |
DISCLAIMER: The author is solely responsible for the views expressed in this article. The author carries the responsibility for citing and/or licensing of images utilized within the text.